Berry Patch
4.3
9 reviews
Indulge in this delicious burst of antioxidants that is sure to fill you up and give you the energy you need early in the morning. Toast and coffee is boring! It's time to kick it up a notch without the added work – we take care of all of that for you. #OatstandingMornings
The Goods
Whole Grain Gluten Free Oats
Chia Seeds
Blackberries
Raspberries
Banana
Medjool Dates
Mulberries
Blueberries
Hemp Seeds
Goji Berry Powder
Maple Syrup
Vanilla Extract (non-alcoholic)
Himalayan Salt
Nutrition Facts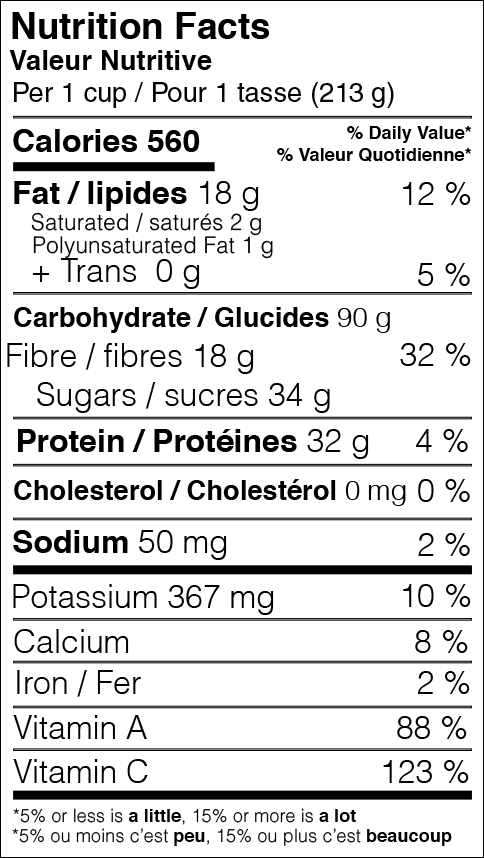 How To Soak
Step 1 Fill your oats cup ¾ of the way to the top with your liquid of choice
Step 2 Give your delicious oats a stir and pop the lid back on before placing in the fridge to soak overnight
Step 3 Take your overnight oats out of the fridge, give everything a stir and enjoy cold!
How To Heat
Step 1 Fill your oats cup ¾ of the way to the top with your liquid of choice and stir
Step 2 Pour all the good stuff into a saucepan or microwave friendly bowl and heat for 3-6 minutes, stirring halfway until ready
Step 3 Stir well, pour back into cup and enjoy!
Reviews
Overall Rating: 4.3/5
based on 9 reviews
aaaaa
Alison B
Verified
September 11, 2019
Too much
Maybe I'm boring but I found it to have too many goodies... would prefer just a couple ingredients
aaaaa
Barbara W
Verified
September 3, 2019
Bit too sweet. Better heated up
I was thrown off by it cold-style, but I enjoyed it heated up. There are LOTS of berries and other additions to the oats so the heated version blends in better with texture and flavor. It's sweet though (not overpowering), so make sure you want that for your breakfast before ordering.
Tips:
Add it to a microwave safe bowl first, I didn't know that my first time because it isn't on the cup itself. Whoopsie
aaaaa
Natalie C
Verified
August 13, 2019
Yummy
This is my favourite oat cup so far. Delicious, but I do find it a bit on the sweet side.
aaaaa
Marie-Soleil S
Verified
July 21, 2019
My absolute favorite!!
I LOVED this one. Would eat it every morning! It's exactly what you'd expect from an overnight oats. Perfect, would def recommend!
aaaaa
Jinghan Z
Verified
June 24, 2019
Berry good!
The berries really secure this meal. Perfectly balanced with the oats and sweet berries. I always wake up looking forward to having this for my morning meal when I head out to work.
aaaaa
Chelsea C
Verified
June 10, 2019
Protein-packed yumminess!
This is gonna be a recurring order from me because not only is it absolutely delicious, it's packed with protein, which I need a lot of (16g in one full cup). Perfect!
Tips:
Made as over-night oats with vanilla oat milk, creamy & delicious.
aaaaa
Brandi b
Verified
May 17, 2019
These are so delicious
I have received two boxes so far and so happy. Even my daughter loves them. So glad we found you guys. Highly recommend for busy people. Comes with all the packaging to take on the run. Love it.
aaaaa
Shreena T
Verified
May 17, 2019
Perfect blend
Love this oats! It's really tasty and filling.
aaaaa
Tess U
Verified
April 3, 2019
Quite tasty
I would prefer less dried fruit and more fresh fruit personally
Tips:
I find warming it up tastes best