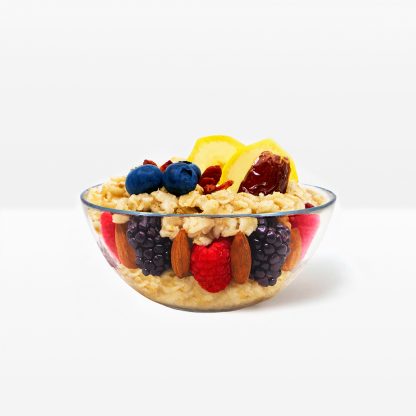 Berry Patch
4.6
376 reviews
Indulge in this delicious burst of antioxidants that is sure to fill you up and give you the energy you need early in the morning. Toast and coffee is boring! It's time to kick it up a notch without the added work – we take care of all of that for you. #OatstandingMornings
Benefits
Heart Healthy

Immunity Boosting

Anti Inflammatory
The Goods
Gluten Free Oats
Blackberries
Raspberries
Banana
Dates
Blueberries
Watermelon Seeds
Maple Syrup
Pea Protein
Non-Alcoholic Vanilla
Hemp Protein
Chia Seeds*
Superfood Highlights
Gluten Free Oats
Oats are among the healthiest grains on earth. They're a gluten-free whole grain and a great source of important vitamins, minerals, fibre, and antioxidants. Oats are high in the soluble fibre, which offer numerous health benefits. Studies show that oats can help reduce cholesterol and stabilize of blood sugar levels promotes healthy gut bacteria and increases feelings of fullness.
Blueberries
This popular berry has great health benefits – not only are the super low in calories they are packed with vitamin C and fibre. The concentrated amount of antioxidants in blueberries benefits brain function and plays a role in delaying mental decline.
Watermelon Seeds
Like chia and flax seeds, watermelon seeds contain nutrients such as vitamin B, potassium, magnesium, and zinc, which studies have linked with various health benefits. They are also a good source of healthy fats and protein.
Chia Seeds*
Despite their small size, chia seeds are one of the most nutritious dense foods. They're loaded with fiber, protein, omega-3 fatty acids and various micronutrients. Great news for those who don't consume dairy - gram for gram, the calcium content in chia seeds is higher than most dairy products. As a result, chia seeds may be considered an excellent source of calcium for people who don't eat dairy.
Nutrition Facts

How To Soak
Step 1 Fill your oats cup ¾ of the way to the top with your liquid of choice
Step 2 Give your delicious oats a stir and pop the lid back on before placing in the fridge to soak overnight
Step 3 Take your overnight oats out of the fridge, give everything a stir and enjoy cold!
How To Heat
Step 1 Fill your oats cup ¾ of the way to the top with your liquid of choice and stir
Step 2 Pour all the good stuff into a saucepan or microwave friendly bowl and heat for 3-6 minutes, stirring halfway until ready
Step 3 Stir well, pour back into cup and enjoy!
Reviews
Overall Rating: 4.6/5
based on 376 reviews
aaaaa
Kaeli G
May 28, 2020
Berry Patch
Great taste and flavor.
Tips:
Put in fridge night before. Add alittle extra liquid for less thickness.
aaaaa
Keli D
Verified
May 28, 2020
Berrylicious
Love this one
Tips:
Added more fresh fruit
aaaaa
Paige H
Verified
May 28, 2020
Heck ya
I love this oatmeal ! Super easy and fast for days that I don't have time
Tips:
I add a tiny bit of coconut milk
aaaaa
Barrie H
Verified
May 28, 2020
Breakfast favourite
My picky children loved this one!!
aaaaa
Samantha B
Verified
May 28, 2020
Pretty good
It tastes really good but has a porridge like texture which I'm not a huge fan of, otherwise it's great!
aaaaa
Erin S
Verified
May 28, 2020
It's okay
I love the berries in this, but for some reason I cannot get the consistency correct. I waited until I tried it a second time to leave a review, but it still comes out watery, even when I use less liquid. I also don't like the bananas, but those can be picked out.
Tips:
Use WAY less liquid to make these, otherwise, they will be runny when the water in the berries thaws.
aaaaa
Kelly W
Verified
May 28, 2020
Great breakfast
Used oat milk for overnight oats. Great flavor!
aaaaa
Ryanne L
Verified
May 28, 2020
Yummy
Very tasty, one of my favourite flavours!
aaaaa
Emily T
Verified
May 28, 2020
Very Berry
I really like how even the flavor of each berry is in the oat bowl. So delicious!
Tips:
Mixed with milk
aaaaa
Elia M
Verified
May 27, 2020
tasty
flavor was good but when i used normal milk it curdled
Tips:
use almond milk
More Reviews