High Protein Berry
from
$6.99
$3.49
-50% OFF
Did someone say they love protein berry much? Sorry, that was us while we were crushing on our High Protein Berry smoothie. This sweet and tart berry smoothie hooks you up with a whopping 26g of protein, and it also contains loads of antioxidants, vitamin C, and fiber from the raspberries, blueberries, and pineapple. On top of that, the vanilla whey protein powder adds a creamy hint of vanilla, giving this smoothie the perfect balance of sweet and flavorful.
More smoothies
INGREDIENTS
Pineapple
Blueberries
Raspberries
Vanilla Whey Proteini

Whey protein concentrate (whey protein concentrate, nos taurus - milk), natural and artificial flavours, xanthan gum, sucralose, non-GMO sunflower lecithin
SUPERFOOD HIGHLIGHT
Honest and simple ingredients that nourish you from the inside out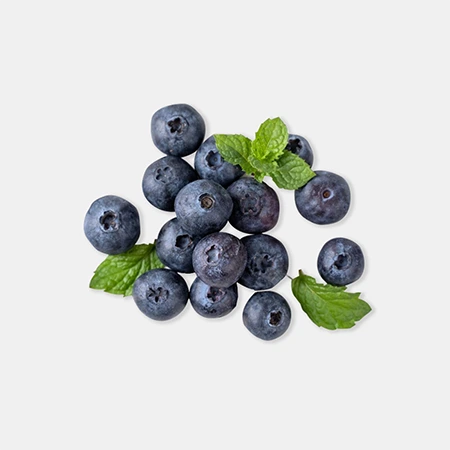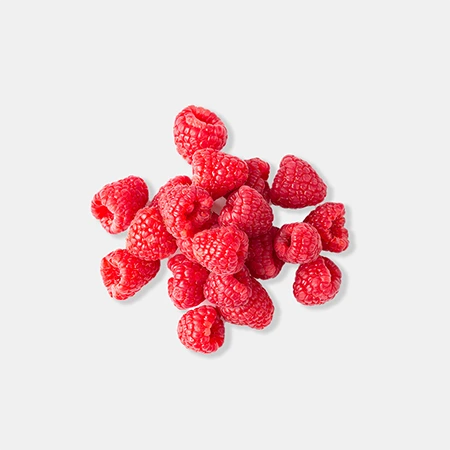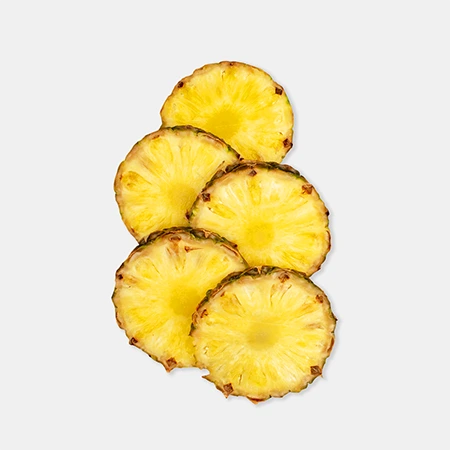 Blueberries are small yet mighty. These tasty superfoods are packed with anthocyanins, a type of antioxidant that adds to the fruit's gorgeous colour and health benefits. Anthocyanins will protect your body from oxidative stress, inflammation, and heart disease. Blueberries also contain a good amount of fibre and manganese. Manganese is an essential mineral that is needed for normal metabolism and energy production.
Source: Canada
A major source of fiber, vitamin C, and manganese, raspberries keep you feeling full longer, help with iron absorption, and support your overall bone health.
Source: Mexico
Pineapple is a tropical fruit that's loaded with antioxidants and enzymes that protect the body against disease. Specifically, pineapple is rich in vitamin C, flavonoids, and phenolic compounds, antioxidants that have heart healthy effects.
Source: Costa Rica
BENEFITS, EXPLAINED
26g protein
How this helps me:
Contains 26 g of whey protein, making it a great option for those wanting to increase their protein intake. Whey protein is rich in branched-chain amino acids (BCAAs), particularly leucine, which is crucial for stimulating muscle protein synthesis. Consuming whey protein after exercise can help support muscle growth and repair.
Backed by:
Whey Protein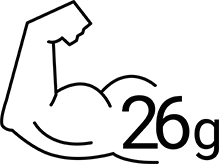 Clean digestion
How this helps me:
High in fiber makes it great for digestion. Fiber promotes nutrient absorption and the growth of healthy gut bacteria. It also helps to keep the digestive system moving, preventing constipation and reducing symptoms of IBS.
Backed by:
Apple, Banana, Berries, Dragon Fruit, Flax Seeds, Spinach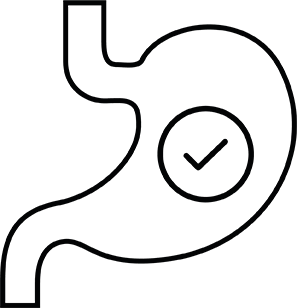 Vitamin C booster
How this helps me:
Vitamin C is a dietary antioxidant that boosts the immune system, prevents free radical damage, and protects the skin.
Backed by:
Acerola, Berries, Cauliflower, Cherry, Dates, Mango, Papaya, Pineapple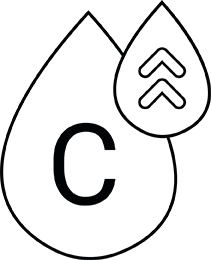 HOW TO PREPARE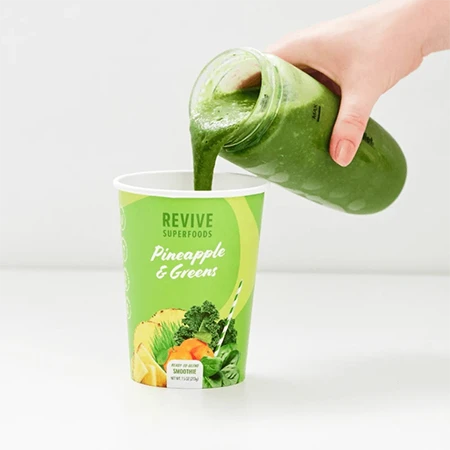 01 Fill your cup all the way to the top with your preferred liquid (or follow or liquid guide) *We recommend adding Coconut Water
02

Pour everything into a blender, blend until smooth, pour back into your on the go cup and enjoy.
5

OVERALL RATING
6

REVIEWS
Sybil m.
Verified Buyer
1 day ago
aaaaa
one of my favorites
this is one of my favorites smoothies, sometimes i want smoothies that are fruit based instead of vegetable and this is perfect
Paloma V.
Verified Buyer
5 days ago
aaaaa
A staple
My favorite of the protein smoothies. I will reorder this one again.
Tips: I like to add strawberries to this as well.
Van V.
Verified Buyer
5 days ago
aaaaa
Delicious
Great blended with almond milk
Patricia M.
Verified Buyer
November 22, 2023
aaaaa
yum
Wow this is such an amazing flavor I loved it. Love this company and the rewards.
Simply amazing!! Thanks Revive
Brandon R.
Verified Buyer
September 26, 2023
aaaaa
YOU HAVE TO TRY THIS!
If you're a gym person like me, you'll love this one. It has so much protein, but it's also so yummy.
Laura M.
Verified Buyer
September 26, 2023
aaaaa
DELICIOUS
This is such a well balanced smoothie, I love the creaminess and the berries really balance it out. I add coconut water and it's so good!!