High Protein Mocha
from
$6.99
$3.49
-50% OFF
In need of a morning boost? We've got you covered with our 34g High Protein Mocha Smoothie. This is our highest protein smoothie ever created. A unique blend of cacao, chocolate whey powder, coffee, banana, and almonds provides you with everything you need to fuel your day. No need for protein snacks or cups of coffee here! Get both at the same time with even more superfoods. This smoothie delivers loads of nutrients like vitamin C, potassium, antioxidants, and more. On top of its nutritional value, it tastes just like a mocha frappe with hints of almonds. It's truly the perfect protein smoothie to start your day.
More smoothies
INGREDIENTS
Bananai

Banana, Ascorbic Acid, Citric Acid, Malic Acid

Almonds
Chocolate Whey Proteini

Whey protein concentrate (whey protein concentrate, nos taurus - milk), cocoa, natural and artificial flavours, xanthan gum, sucralose, non-GMO sunflower lecithin

Cocoa
Coffee
SUPERFOOD HIGHLIGHT
Honest and simple ingredients that nourish you from the inside out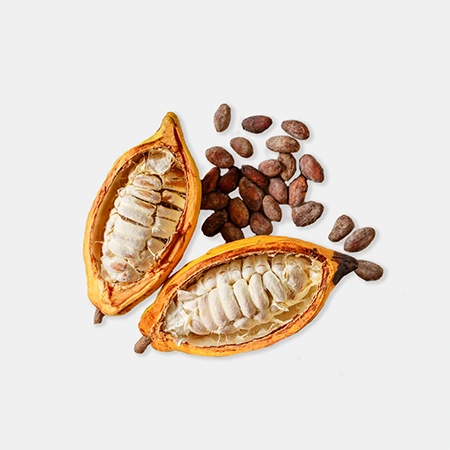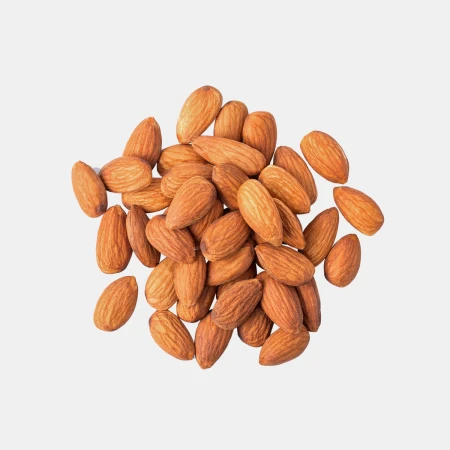 Sourced from the finest cacao beans, cocoa not only infuses this smoothie with rich, chocolatey flavor, but also delivers a dose of natural antioxidants and mood-enhancing compounds.
Source: Peru
Bananas are packed with several nutrients like vitamin C and potassium. They are rich in soluble fibre, making them great for digestion and gut health. Bananas can also help to improve satiety, keeping you fuller for longer.
Source: Ecuador
Adding a delightful nutty flavor and a satisfying texture to the smoothie, almonds are packed with nutrients like healthy fats, fibre, and vitamins, offering a nourishing addition to your day.
Source: USA
BENEFITS, EXPLAINED
34g protein
How this helps me:
Contains 34 g of whey protein, making it a great option for those wanting to increase their protein intake. Whey protein is rich in branched-chain amino acids (BCAAs), particularly leucine, which is crucial for stimulating muscle protein synthesis. Consuming whey protein after exercise can help support muscle growth and repair.
Backed by:
Whey Protein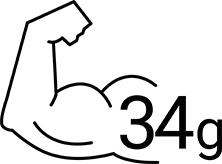 Clean digestion
How this helps me:
High in fiber makes it great for digestion. Fiber promotes nutrient absorption and the growth of healthy gut bacteria. It also helps to keep the digestive system moving, preventing constipation and reducing symptoms of IBS.
Backed by:
Apple, Banana, Berries, Dragon Fruit, Flax Seeds, Spinach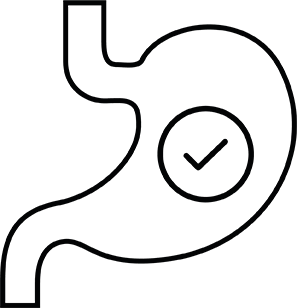 Heart healthy
How this helps me:
It is rich in potassium and contains zero cholesterol, added sugars, and sodium. Potassium helps to regulate a heartbeat and maintain muscle and nerve function. Eating heart healthy fruits, vegetables, nuts, and seeds can also help to lower high blood pressure and prevent heart disease.
Backed by:
Cocoa, Cranberry, Goji Berry, Peach, Strawberry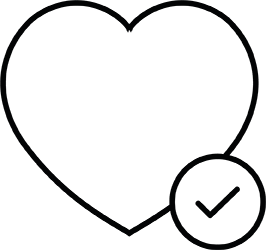 HOW TO PREPARE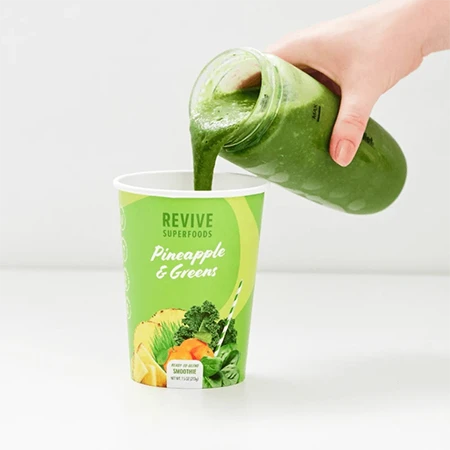 01 Fill your cup all the way to the top with your preferred liquid (or follow or liquid guide) *We recommend adding Almond Milk
02

Pour everything into a blender, blend until smooth, pour back into your on the go cup and enjoy.
5

OVERALL RATING
10

REVIEWS
Ebunoluwa A.
Verified Buyer
3 days ago
aaaaa
Worth it
This was my favourite
Tips: It is very filling so have it during the day or morning
Jena W.
Verified Buyer
4 days ago
aaaaa
My fave
My favorite tasting of them all, because it's both chocolate and coffee!
Almonds are a little hard to blend with my magic bullet, but it does give it some chunky bits which I like
Paloma V.
Verified Buyer
5 days ago
aaaaa
Very tasty
I love this smoothie! The only downside is that the almonds have a hard time getting blended all the way.
Amy F.
Verified Buyer
November 24, 2023
aaaaa
Delicious and filling
This protein option definitely keeps me fuller longer and fuels my morning rush.
Eman K.
Verified Buyer
November 23, 2023
aaaaa
AMAZING
this was ABSOLUTELY DELICIOUS omg. The crunch of the almonds are like a little snack
Patricia M.
Verified Buyer
November 22, 2023
aaaaa
yum
Wow this is such an amazing flavor I loved it. Love this company and the rewards.
Simply amazing!! Thanks Revive
Tips: I use almond milk
Thea W.
Verified Buyer
November 17, 2023
aaaaa
Pretty good!
I did like this one. It definitely tasted the mocha.
Tips: I added in more banana.
sandra c.
Verified Buyer
October 11, 2023
aaaaa
Delicious!
This is beyond delicious! Had it for lunch today and it was filling and so creamy! The new high protein options are now 2/3 of my next order as they are all really good but this!! Yum for anyone who likes mocha, give it a try!
Tips: I mix it with exactly 8oz of fat free Fairlife, super creamy results. If I want a bowl I mix it with 5oz of milk and then I can add some almond butter or hemp seeds and fruit on top to enjoy as a meal rather than a smoothie
Jake F.
Verified Buyer
September 26, 2023
aaaaa
FANTASTIC!
I love this smoothie. It's so high protein and is the best way to start the day. Highly recommend!
Jessica V.
Verified Buyer
September 26, 2023
aaaaa
MY FAV SMOOTHIE!
The fact that this smoothie has so much protein is insane. It's so delicious, it literally tastes like a frappe but it's good for you!