Blueberry & Spirulina
from
$6.99
$3.49
-50% OFF
Ready for a burst of Vitamin C and kick of manganese for all your antioxidant needs? If so, our Blueberry & Spirulina smoothie is your new bestie. This smoothie is made with nutrient dense superfoods like blueberries, cauliflower and pineapple. This magical blue blend creates a smoothie that is rich in Vitamin C and manganese. While most of us know Vitamin C as a powerful antioxidant we must inform you that manganese also has exceptional antioxidant abilities.
More smoothies
INGREDIENTS
Bananai

Banana, Ascorbic Acid, Citric Acid, Malic Acid

Pineapple
Zucchini
Cauliflower
Blueberries
Raspberries
Lime Extract
Spirulina
Pea Protein
Non-Alcoholic Vanilla
Chia Seeds
Hemp Protein
SUPERFOOD HIGHLIGHT
Honest and simple ingredients that nourish you from the inside out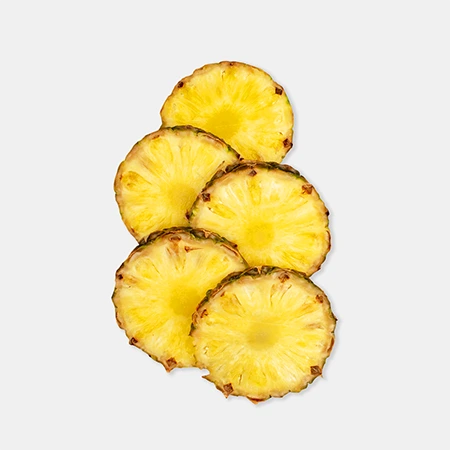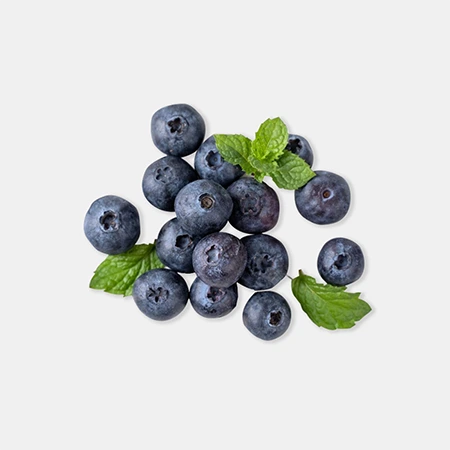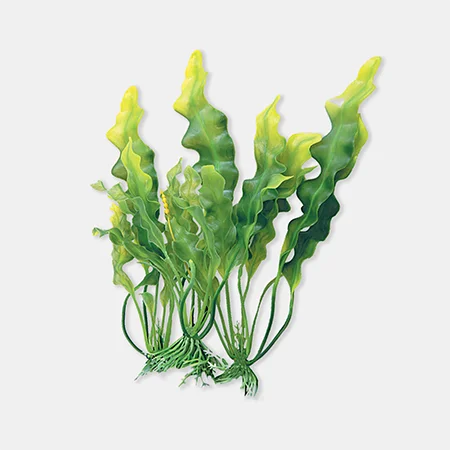 Pineapple is a tropical fruit that's loaded with antioxidants and enzymes that protect the body against disease. Specifically, pineapple is rich in vitamin C, flavonoids, and phenolic compounds, antioxidants that have heart healthy effects.
Source: Costa Rica
Blueberries are small yet mighty. These tasty superfoods are packed with anthocyanins, a type of antioxidant that adds to the fruit's gorgeous colour and health benefits. Anthocyanins will protect your body from oxidative stress, inflammation, and heart disease. Blueberries also contain a good amount of fibre and manganese. Manganese is an essential mineral that is needed for normal metabolism and energy production.
Source: Canada
Spirulina is a type of cyanobacteria. This superfood is loaded with phycocyanin, an antioxidant that has powderful anti-inflammatory properties. Spirulina is also high in protein, copper, and some B vitamins.
Source: China
BENEFITS, EXPLAINED
Rich in Manganese
How this helps me:
Manganese is an essential nutrient that protects cells against oxidative stress, helps with the maintenance of strong bones, and helps to upkeep energy levels.
Backed by:
Blueberry, Cacao, Cranberry, Raspberry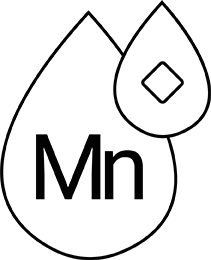 Rich in Vitamin B6
How this helps me:
Vitamin B6 is important for normal brain development. It also helps to keep the immune system and nervous system healthy.
Backed by:
Avocado, Banana, Mango, Pineapple, Spirulina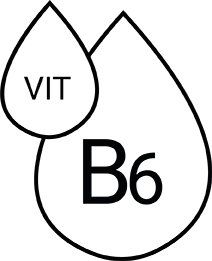 Vitamin C booster
How this helps me:
Vitamin C is a dietary antioxidant that boosts the immune system, prevents free radical damage, and protects the skin.
Backed by:
Acerola, Berries, Cauliflower, Cherry, Dates, Mango, Papaya, Pineapple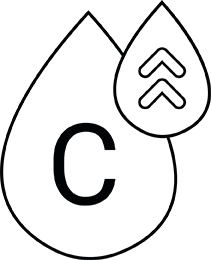 HOW TO PREPARE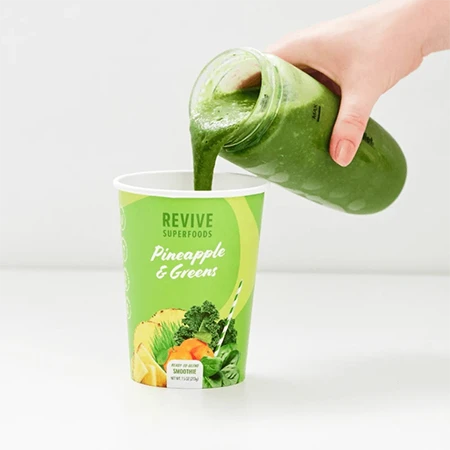 01 Fill your cup all the way to the top with your preferred liquid (or follow or liquid guide) *We recommend adding Coconut Water
02

Pour everything into a blender, blend until smooth, pour back into your on the go cup and enjoy.
4.8

OVERALL RATING
4,414

REVIEWS
Allison A.
Verified Buyer
5 days ago
aaaaa
Yummy
Love the combination of blueberries pineapple and apples. Very refreshing. Would taste good melted into a drink.
Amanda M.
Verified Buyer
November 15, 2023
aaaaa
My go-to for breakfast when I have early morning lectures!
I add a scoop or so of protein powder, to bump it up to 30g of protein per smoothie, which makes it the perfect breakfast when I wake up late and have to be at an early morning lecture. It's a good balance of sweet and tart.
Joy M.
Verified Buyer
November 15, 2023
aaaaa
Yummy!
I always feel so fancy eating spirulina. Didn't disappoint!
Victoria D.
Verified Buyer
October 16, 2023
aaaaa
Delicious
One of my favorite.
Bethann B.
Verified Buyer
October 11, 2023
aaaaa
Hubbys favorite
Bluberry hevan ! He loves this one so yummy and tasty
Cindy C.
Verified Buyer
October 3, 2023
aaaaa
Scrumptious
Packed with superfood power, and tastes like desert!
Alexandra U.
Verified Buyer
October 1, 2023
aaaaa
Delicious
Was delicious
Synise P.
Verified Buyer
October 1, 2023
aaaaa
GREAT
Now this one is great. I definitely could see this being a slushie. Great amount of flavour. I love the sourness. It's something different. Keep this one on the lineup.
Kelsey D.
Verified Buyer
September 26, 2023
aaaaa
Yes!
Not quite like a slushy, but still a fave. I love that it gives me all the right portions of things like spirulina that I might not otherwise be willing to try
Teressa C.
Verified Buyer
September 24, 2023
aaaaa
Tart
This one isn't bad! The first sip really surprised me, rather tart. A stronger flavor than any of the other smoothies so far. It has lime extract, so I wonder if that's the tartness? And pineapple. Though it's purple, not getting much blueberry.