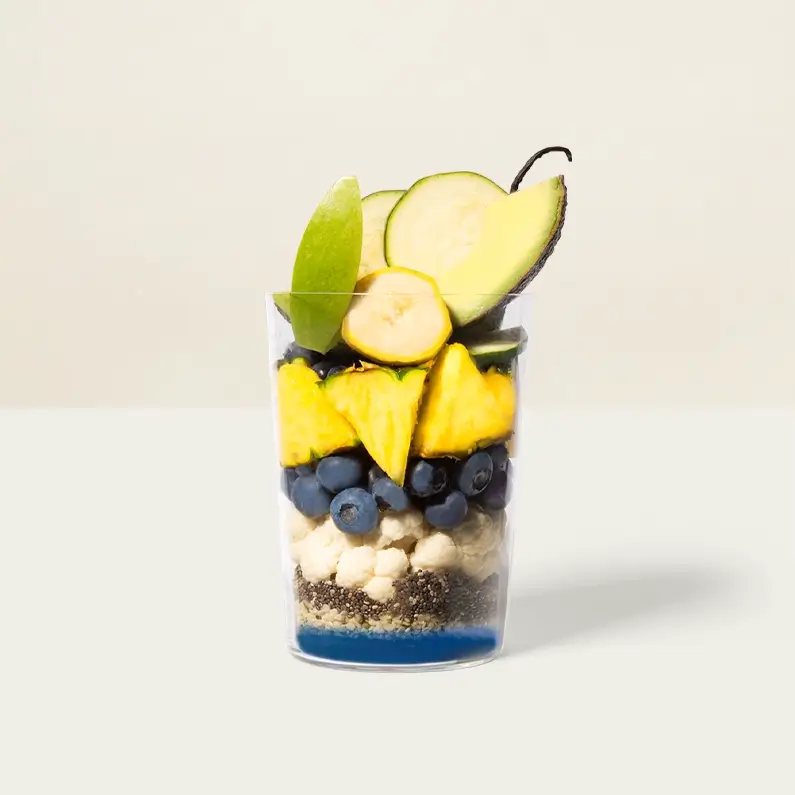 Blueberry & Spirulina
Also known as Berry Blü
4.8
4341

reviews
Ready for a burst of Vitamin C and kick of manganese for all your antioxidant needs? If so, our Blueberry & Spirulina smoothie is your new bestie. This smoothie is made with nutrient dense superfoods like blueberries, cauliflower and pineapple. This magical blue blend creates a smoothie that is rich in Vitamin C and manganese. While most of us know Vitamin C as a powerful antioxidant we must inform you that manganese also has exceptional antioxidant abilities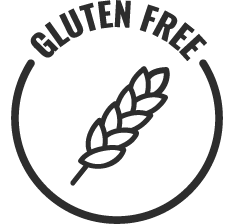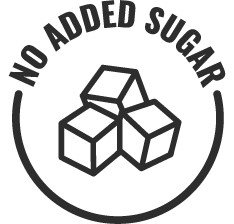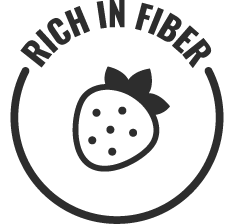 More smoothies
MAIN INGREDIENTS
Banana i

Banana, Ascorbic Acid, Citric Acid

Pineapple
Zucchini
Cauliflower
Blueberries
Raspberries
Lime Extract
Spirulina
Pea Protein
Non-Alcoholic Vanilla
Chia Seeds
Hemp Protein
SUPERFOOD HIGHLIGHTS
Honest and simple ingredients that nourish you from the inside out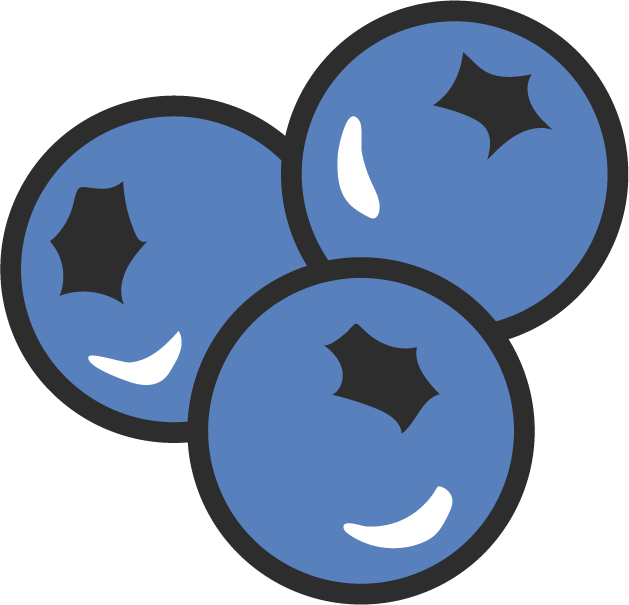 Blueberries
Bluebs for the win! One of the most nutrient-dense berries around. Blueberries are rich in antioxidants and plant compounds that support heart health and brain function.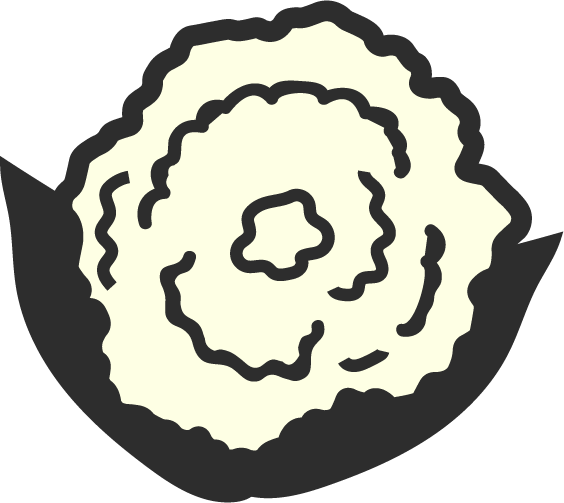 Cauliflower
Perks of being a cauliflower? The list is extensive. Cauliflower is rich in fibre which promotes digestive health and inflammatory reducing antioxidants.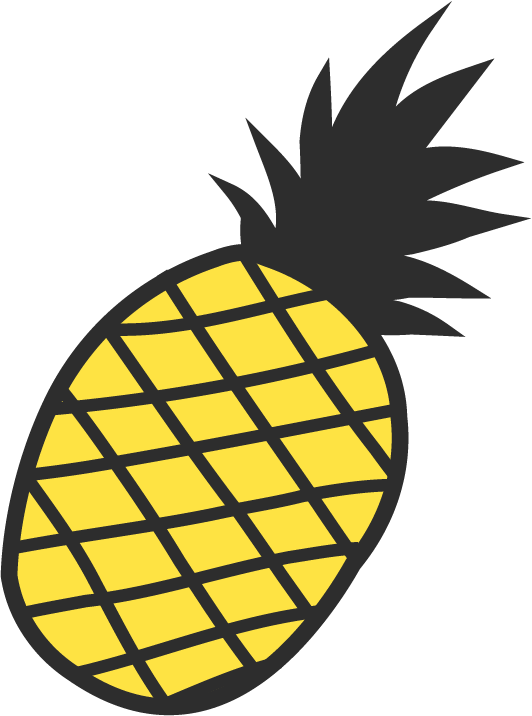 Pineapple
Loaded with vitamin C and manganese, pineapple is an antioxidant-rich fruit that protects your immune system and helps maintain a healthy metabolism.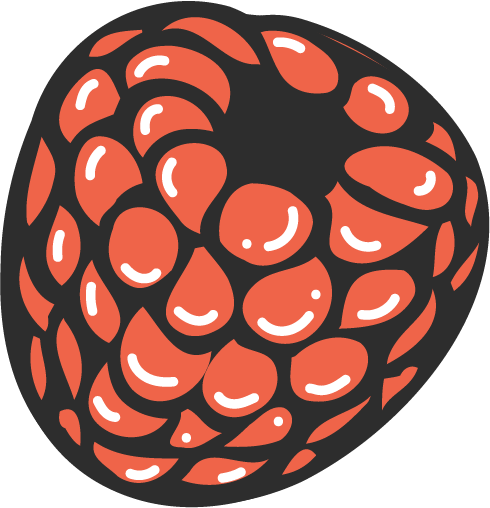 Raspberries
A major source of fiber, vitamin C, and manganese, raspberries keep you feeling full longer, help with iron absorption, and support your overall bone health.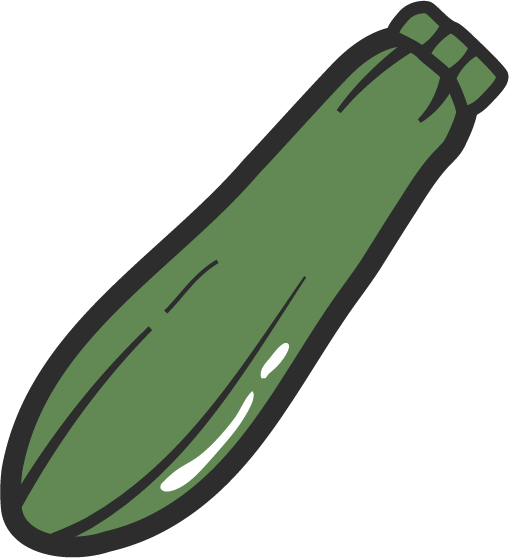 Zucchini
High in vitamin A to support your vision and full of antioxidants that benefit your skin and overall health. Gimme that glow!
HOW TO PREPARE
1. Fill Add your favourite liquid into the pre-proportioned cup.
2. Blend & enjoy Pour everything into a blender and serve!
PEOPLE ALSO BOUGHT
Looking for something new? Superfoodies who love Berry Blü also liked these cups…
4341 reviews
4.8 overall rating
Reviews
Verified Buyer
aaaaa
Surprised I liked it
I was skeptical of the spirulina, but I actually enjoyed this one
Tips:
Use almond milk
Verified Buyer
aaaaa
Super yummy!
It's super good. I really liked this one. Mmm blueberries.
Tips:
I used almond milk!
Verified Buyer
aaaaa
The most fire smoothie ever
sour and ugh just crack , my fav , I get 24 of these
Tips:
just put one cup water and put it in the blender BEST CONSISTENCY
Verified Buyer
aaaaa
So beautiful and yummy
I love the blueberry flavor--super natural and not fake blueberry tasting. I love to make smoothie bowls with this one with granola. Its so instagrammable LOL. Love the affordability with the added spirulina benefits.
Tips:
Use this for a smoothie bowl with less milk to make it thicker!
Verified Buyer
aaaaa
Very good!
I love the fruity flavour of this dark berry smoothie.
Verified Buyer
aaaaa
Refreshing
This smoothie is a perfect breakfast
Tips:
I like to add a handful of frozen spinach and unsweetened vanilla almond milk to my smoothies.
Verified Buyer
aaaaa
THE BEST
10/10 best smoothie on the site
Verified Buyer
aaaaa
Good, but odd texture
Tasty smoothy, sweet but tart. The only odd thing was that some of the pieces didn't seem to blend well, so there were some harder bits in there.
Verified Buyer
aaaaa
Delicious
Very refreshing, and filling, i find I'm not snacking or craving anymore.
Verified Buyer
aaaaa
Good
Nicely balanced