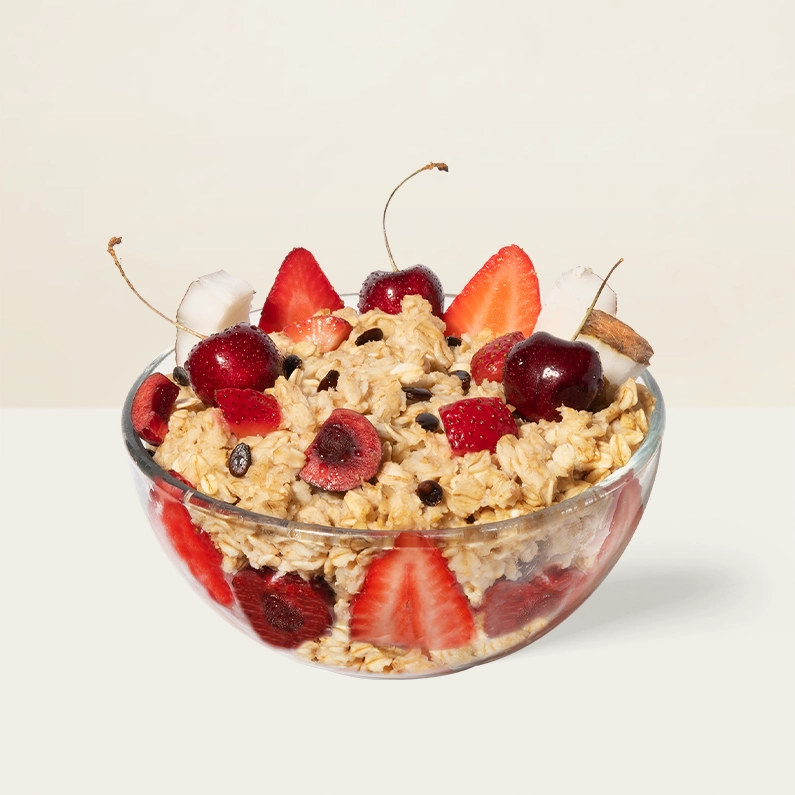 Cherry & Coconut
Also known as Cheery Cherry
4.6
1245

reviews
The world needs more cheer and what better way to bring that on than with a bowl of Cheery Cherry!
These overnight oats are infused with notes of vanilla, lemon, and delicately sweetened with maple syrup.
This delicious SuperOat is packed with antioxidants, immunity boosting agents, and heart healthy oats! Did we mention it's vegan friendly and gluten free?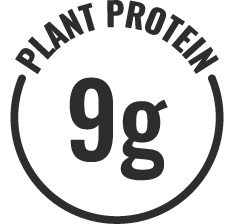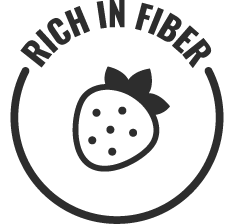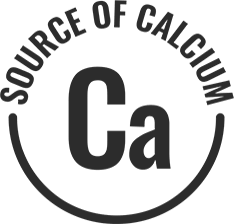 More oats
INGREDIENTS
Cherries
Gluten Free Oats *
Strawberries
Watermelon Seeds
Chia Seeds
Coconut Yogurt *
Water
Maple Syrup
Açai *
Non-Alcoholic Vanilla
Pea Protein *
Lemon Zest
Sea Salt
Organic
Allergens: Coconut
SUPERFOOD HIGHLIGHTS
Honest and simple ingredients that nourish you from the inside out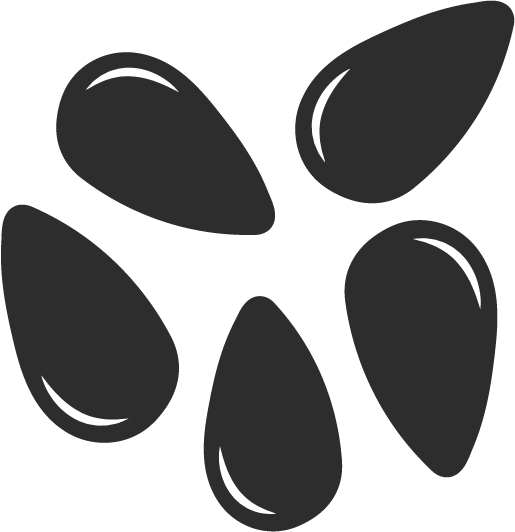 Watermelon Seeds
An unconventional superfood, but watermelon seeds are low in calories and incredibly nutrient dense. They are high in magnesium needed for many of our bodies daily functions and iron which is used to build red blood cells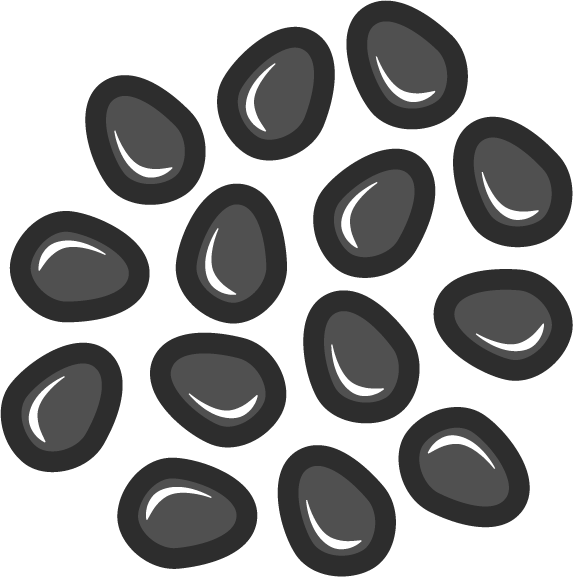 Chia Seeds
Despite their small size, chia seeds are one of the most nutritious dense foods. They're loaded with fiber, protein, omega-3 fatty acids and various micronutrients. Great news for those who don't consume dairy - gram for gram, the calcium content in chia seeds is higher than most dairy products.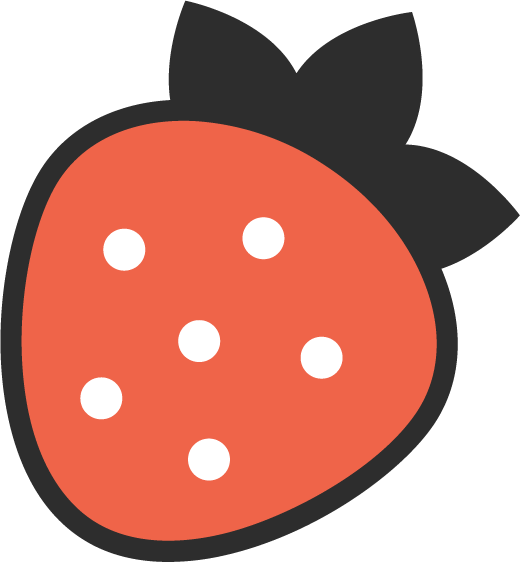 Strawberries
A low-calorie treat, these berries are a great source of vitamin C which promotes skin and immune health and are abundant in healthy antioxidants.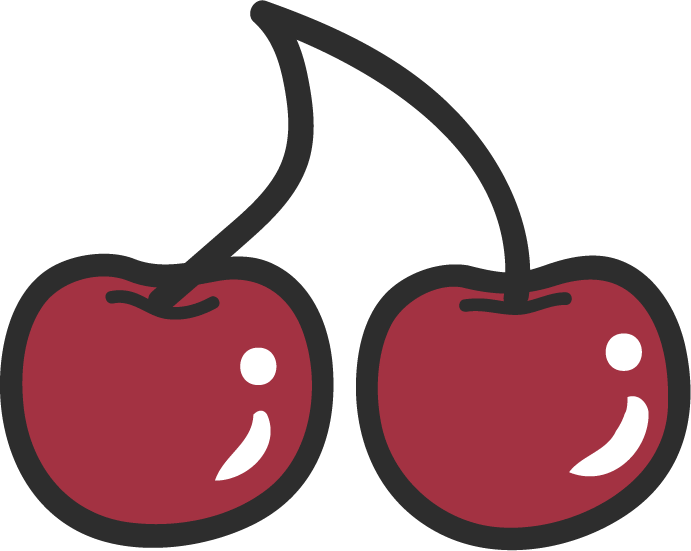 Cherries
Juicy, nutritious and oh so delicious. Cherries are packed with antioxidants that support heart health and anti-inflammatory compounds that promote overall health.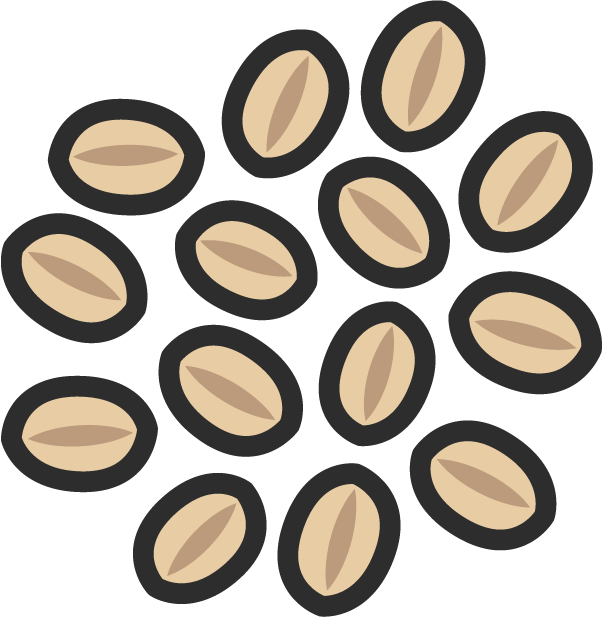 Gluten Free Oats *
Oats are among the healthiest grains on earth. They're a gluten-free whole grain and a great source of important vitamins, minerals, fibre, and antioxidants. Oats are high in the soluble fibre, which offer numerous health benefits.
HOW TO PREPARE
HOW TO SOAK
1. Fill & soak Fill your oats cup ¾ of the way to the top with your liquid of choice. Give your delicious oats a stir and pop the lid back on before placing in the fridge to soak overnight.
2. Stir & enjoy Take your overnight oats out of the fridge, give everything a stir and enjoy cold!
HOW TO HEAT
1. Fill Pick your preferred liquid and add 250 mL (1 cup) of this liquid to your cup.
2. Heat Pour contents in a microwave-safe bowl, microwave for 3-6 minutes & stir halfway or heat for 3-6 minutes over a stovetop & stir halfway throughout.
PERFECT PAIRING
Looking for something new? Superfoodies who love Cherry & Coconut also liked these cups…
1245 reviews
4.6 overall rating
Reviews
Verified Buyer
aaaaa
Yum
I made this one as cold overnight oats. Lots of cherry taste. It was yummy.
Verified Buyer
aaaaa
Favorite Oatmeal
This is my favorite oatmeal. I love cherries and this one has plenty of cherry flavor. I don't like bland oatmeal, so this I really liked.
Tips:
I use coconut or almond milk because I like it better than water.
Verified Buyer
aaaaa
Enjoyed
I did these as overnight oats and they were really good
Verified Buyer
aaaaa
User error! Haha
I used too much milk, so the oats did not form into oatmeal. I'll have to try again, but it was still good. I enjoyed the textures and the added cherry bits. It was great to explore this flavor option for oatmeal that I'd never tried before.
Verified Buyer
aaaaa
Needed to add sweetness
This was pretty good but not as flavorful as expected. I did like the texture.
Tips:
Added some brown sugar to bring out the flavor more.
Verified Buyer
aaaaa
Flavor in a bowl
This will not only fill you up, but it is good for you and tastes great.
Verified Buyer
aaaaa
So Good!
I am not a fan of oatmeal…like ever! But, I do love cherries and coconut, so I gave it a try. And, I loved it!
Tips:
I mixed this one with dark chocolate almond milk and vanilla coconut yogurt. It was so good!
Verified Buyer
aaaaa
So good!
I loved it! Such nice balance of creaminess and sweetness. Would definitely order again.
Tips:
Use less liquid than the recommended amount. I filled up 3/4 of the container for the overnight oats and it was too liquidy.
Verified Buyer
aaaaa
It was ok
Not one of my favorites. But I'm willing to give another try!
Verified Buyer
aaaaa
breakfast
An exceptionally good breakfast. I did not try the overnight oats method - will do that next time. Make sure to measure liquid. I poured in the full cup and it was too much. Ooppps.