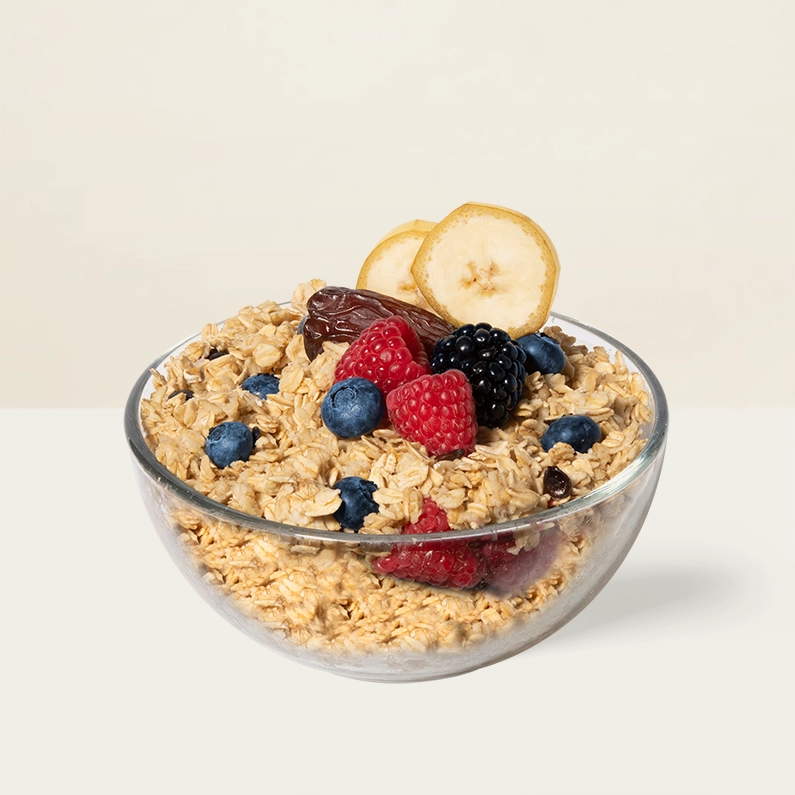 Raspberry & Blackberry
Also known as Berry Patch
4.5
1196

reviews
An oatmeal breakfast that tastes good, packed with superfoods and makes you feel amazing! Indulge in this delicious berry oat bowl of antioxidants that is sure to fill you up and give you the energy you need early in the morning thanks to the whopping 13 grams of protein. Yep! 13.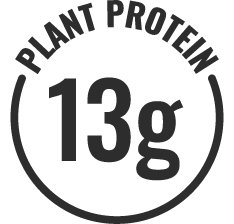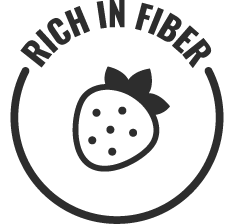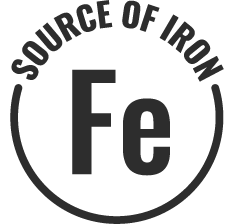 More oats
INGREDIENTS
Gluten Free Oats *
Blackberries
Raspberries
Banana i

Banana, Ascorbic Acid, Citric Acid, Malic Acid

Dates
Blueberries
Watermelon Seeds
Maple Syrup
Pea Protein *
Non-Alcoholic Vanilla
Hemp Protein
Chia Seeds
Organic
Allergens: Coconut
SUPERFOOD HIGHLIGHTS
Honest and simple ingredients that nourish you from the inside out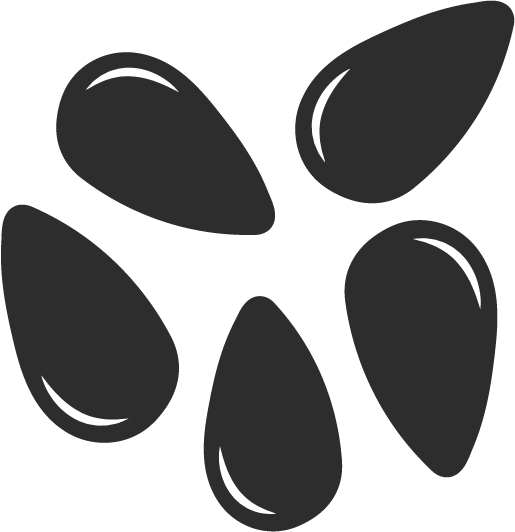 Watermelon Seeds
An unconventional superfood, but watermelon seeds are low in calories and incredibly nutrient dense. They are high in magnesium needed for many of our bodies daily functions and iron which is used to build red blood cells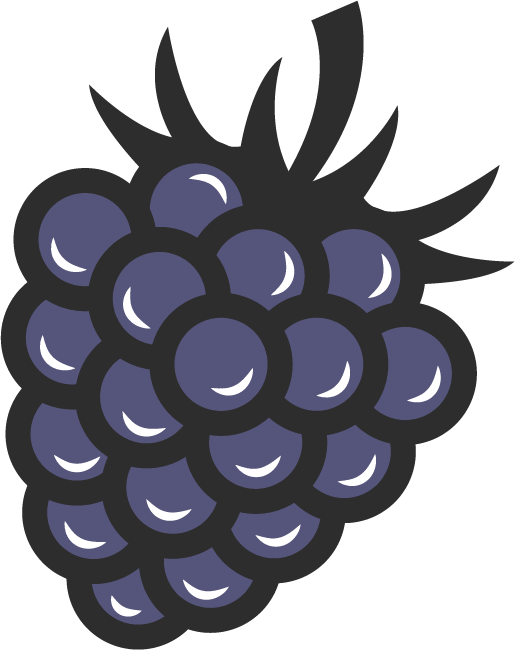 Blackberries
Wearing white is not recommended when consuming these tiny yet mighty gems that pack a punch of flavour and nutrients. Blackberries are high in Vitamin C, and manganese which both play a role in the production of collagen, a vital protein that supports healthy skin. Bring on that glow!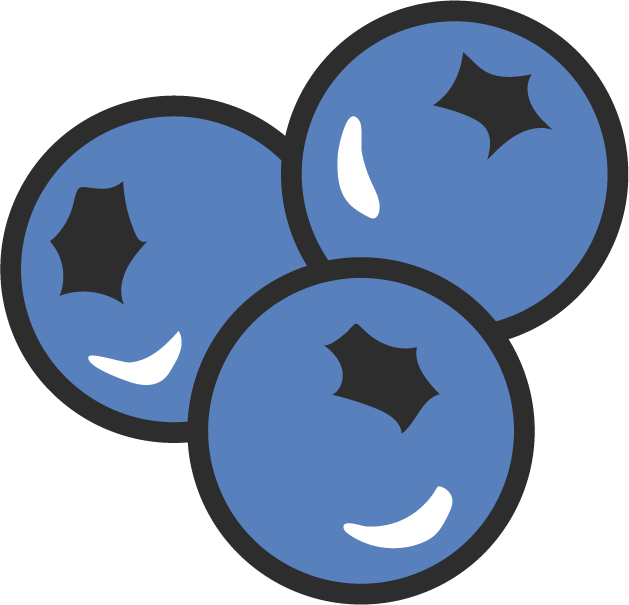 Blueberries
Bluebs for the win! One of the most nutrient-dense berries around. Blueberries are rich in antioxidants and plant compounds that support heart health and brain function.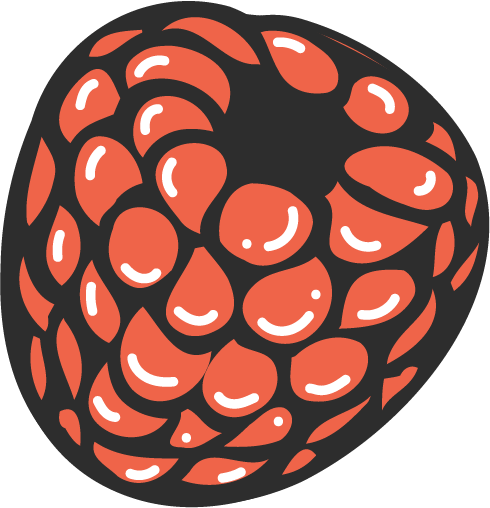 Raspberries
A major source of fiber, vitamin C, and manganese, raspberries keep you feeling full longer, help with iron absorption, and support your overall bone health.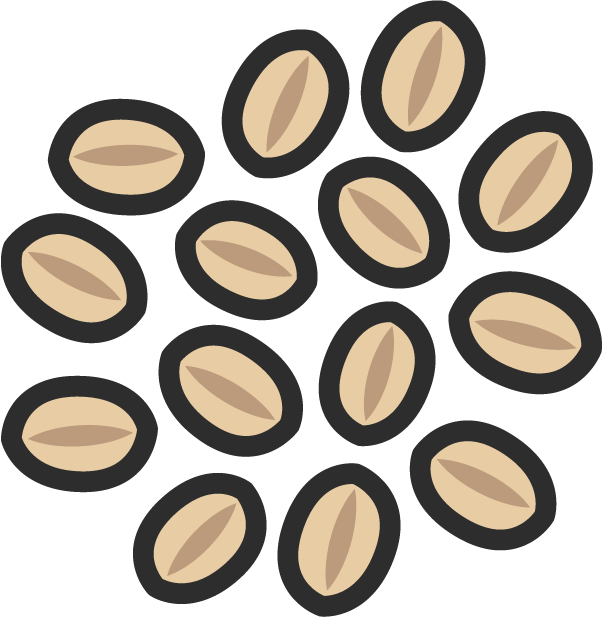 Gluten Free Oats *
Oats are among the healthiest grains on earth. They're a gluten-free whole grain and a great source of important vitamins, minerals, fibre, and antioxidants. Oats are high in the soluble fibre, which offer numerous health benefits.
HOW TO PREPARE
HOW TO SOAK
1. Fill & soak Fill your oats cup ¾ of the way to the top with your liquid of choice. Give your delicious oats a stir and pop the lid back on before placing in the fridge to soak overnight.
2. Stir & enjoy Take your overnight oats out of the fridge, give everything a stir and enjoy cold!
HOW TO HEAT
1. Fill Pick your preferred liquid and add 250 mL (1 cup) of this liquid to your cup.
2. Heat Pour contents in a microwave-safe bowl, microwave for 3-6 minutes & stir halfway or heat for 3-6 minutes over a stovetop & stir halfway throughout.
PERFECT PAIRING
Looking for something new? Superfoodies who love Raspberry & Blackberry also liked these cups…
1196 reviews
4.5 overall rating
Reviews
Verified Buyer
aaaaa
Very Good
This is a great combo of oats and fruits. The combo of the oats and berry really compliments each other.
Verified Buyer
aaaaa
Second Favorite Oats
This was a delicious breakfast!
Tips:
I mixed this one with dark chocolate almond milk and vanilla coconut yogurt. It was so good!
Verified Buyer
aaaaa
Very good
Lots of berries
Verified Buyer
aaaaa
Just the right Sweetness
very tasty. I just add some chia seeds
Verified Buyer
aaaaa
Nice
Nice and quite tasty oats; not too sweet, but a little on a sour side.
Verified Buyer
aaaaa
SOOOO GOOOD
Love these oats so much. Great and easy for postpartum period when i'm too lazy to make food but need all the cals and vitamins.
Verified Buyer
aaaaa
Even my 2 year old loved it!
I thought it was delectable and my 2 year old said, "Like it," which means it has her stamp of approval! This will become a regular in my orders. It had a decent amount of berries and a good balance of everything else.
Tips:
Well, I went against the grain and used organic whole vitamin D milk as my liquid, added just a touch of brown sugar, and ate it hot. It was delicious!
Verified Buyer
aaaaa
flavorful
I liked the flavor of this as it is very flavorful.
Tips:
used 3/4 cups of oat milk
Verified Buyer
aaaaa
Fruits Are Nice and Sweet
I liked how this did not have a heavy hint of bananas and the fruits were nice to eat with every spoonful.
Tips:
Almond Milk
Verified Buyer
aaaaa
Delicious
A perfect combination