5 Superfoods to Try This Fall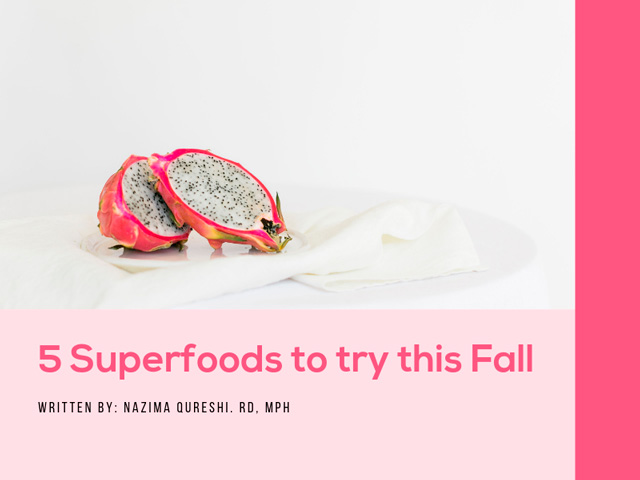 Let's talk SUPERFOODS!
Autumn is the perfect time to "re"-kickstart your healthy eating – we know what you've been snacking on all summer long. Even if fall is all about PSL, pie, and that insane Turkey Dinner that's coming up on Thanksgiving – you can still get your healthy fix with these superfoods. I love looking for easy ways to eat healthy and stocking my kitchen with the right foods is my secret to making it easier. If you're confused as to where to start, try starting with these 5 superfoods this fall to give your nutrition a kickstart. 
Goji Berries
Goji berries come from a plant and can often be purchased in its dried form. They are one of my fave dried berries especially because of its vibrant red color. Goji berries are high in antioxidants, fiber, and vitamin A. Goji berries also offer a source of protein. This nutrition profile maintains blood sugar, boosts your immune system, and helps increase energy levels. 
The next time you try goji berries, add them to a parfait, homemade trail mix or in the Strawberry Zen smoothie.
Hemp Seeds
Hemp seeds are an excellent source of plant-based protein and healthy fats. Hemp seeds are also a source of iron, magnesium, fiber, and zinc. And if you're wondering, hemp seeds are not the same as marijuana and are safe to consume for both children and pregnant women!
Try hemp seeds sprinkled oatmeal or get your fix with the Acai Twist smoothie.
Dragon Fruit
Dragon fruit has a wide variety of nutrients including magnesium, fiber, and antioxidants. The antioxidant profile of dragon fruits protects from damage of fatty acids in the body. Although dragon fruit is a tropical fruit, due it is popularity, it is found in most supermarkets. If you haven't tried dragon fruit yet, it has a really cool flame-like shape with a vibrant pink.
If you haven't had dragon fruit yet, slice it in half and eat it straight out of the skin with a spoon and you're sure to get everyone's attention!
You can also try the vibrant Pink Dragon smoothie.
Flaxseed
Flaxseed is another nutritious seed offering a source of plant-based protein, fiber, and healthy fats. If you don't eat fish regularly, flaxseed is an excellent source of omega-3, a nutrient that people are often lacking. This high amount of omega-3 provides protective effects for heart health. 
Try flaxseed in baked goods, sprinkle it over oatmeal (my fave), or in the Hint of Mint Smoothie
Chlorella 
Chlorella is a form of algae often found in powder or liquid form. Chlorella is a source of protein, omega-3 fat, and antioxidants. This nutrient profile has immune-boosting properties, can help lower cholesterol, and maintain good blood pressure levels.
Try chlorella in the form of a supplement or in the Hint of Mint smoothie. I love getting my fix of greens with a hint of mint!