Hint of Mint
4.9
11 reviews
Something magical happens when you combine the flavours of chocolate and mint. This smoothie is packed with detoxifying ingredients like chlorella, spinach, mint, and raw cacao that will help battle free-radicals and detoxify your body. This smoothie has just the right amount of sweetness from bananas and a delicious nutty creaminess thanks to macadamia nuts.
Benefits
Stress-Relief

Workout Recovery

Immunity Boosting

Beautifying
The Goods
Banana
Spinach
Zucchini
Cacao Nibs
Chlorella
Flax Seeds
Peppermint
Nutrition Facts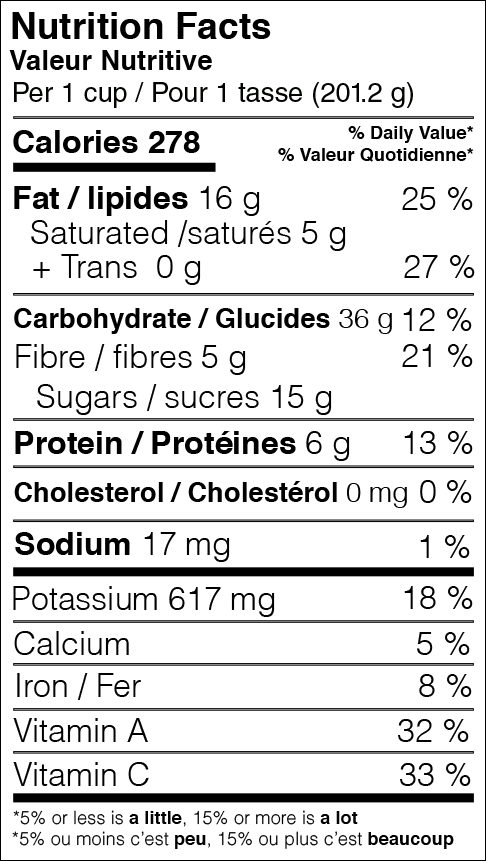 How To Blend
Step 1 Fill your smoothie cup all the way to the top with your favourite liquid
Step 2 Toss all the good stuff into your blender and blend until smooth
Step 3 Pour your delicious smoothie back into your ready-to-go cup, pop the lid back on and enjoy!
Reviews
Overall Rating: 4.9/5
based on 11 reviews
aaaaa
Patricia A
September 14, 2019
The best!
Easily my favourite smoothie I've tried so far.
Tips:
Unsweetened almond milk
aaaaa
Jacqui B
September 14, 2019
Combo sounded gross but SO GOOD
I hate the taste of hemp but know it's soy soy healthy ... couldn't taste it at all in this ... I can't tell you how tasty this was all blended
Tips:
Unsweetened Almond milk
aaaaa
Tammy L
September 12, 2019
This was a pleasant surprise
I am not a huge fan of mint and got this for the chocolate. When I opened the cup it was very green and the mint smell was intense. Blended it is green. I was panicked. But like its name the flavor is just a hint. Its actually refreshing. Note the chocolate flavor is non-existent, but that doesn't matter, this is a wonderful smoothie.. I think it will stay as part of my regular rotation.
aaaaa
Alison B
Verified
September 11, 2019
light and fresh
loved the mint it was fresh and delicious
aaaaa
Christy X
Verified
September 11, 2019
SO DELICIOUS
Feels like drinking a dessert for breakfast
aaaaa
Lisa P
September 5, 2019
I liked this one
This was good. Needs to be blended a while because it was a little crunchy, but it's tasty
aaaaa
Katelynn W
Verified
August 13, 2019
Refreshing Smoothie
I really liked the flavour of this smoothie, and it could easily be subbed out for a dessert. However I didn't mind a bit of crunch from the nibs, but it lost a star because flax seeds stuck to everything and had to be chewed. If the seeds were replaced but ground ones it would get 5 stars.
Tips:
I'd probably turn it into smoothie bowl next time if wasn't very straw friendly.
aaaaa
Natalie C
Verified
August 13, 2019
Yummy surprise
I wasn't sure I would like this one, but it's become one of my favourites. Very refreshing on a hot summer day.
aaaaa
Monika W
Verified
July 21, 2019
Delicious!
The cocoa nibs is a nice touch - reminds me of a java chip Frappuccino. Though, that gritty texture might not be for everyone. I think this one has been my favourite so far.
aaaaa
Roy A
Verified
June 24, 2019
Favourite!!!
I'm so glad I got to taste this smoothie. I was unsure at first but it definitely is one of the best smoothies I have tasted. Perfection in a cup.
Tips:
Almond milk!
More Reviews