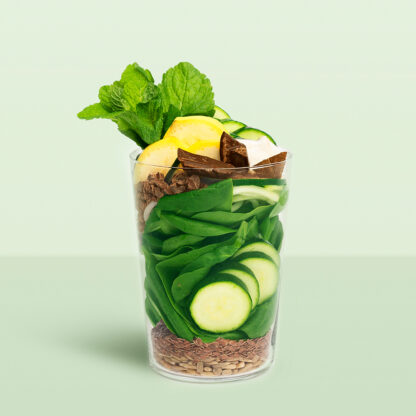 Hint of Mint
4.7
1457 reviews
Something magical happens when you combine the flavours of chocolate and mint. This smoothie is packed with detoxifying ingredients like chlorella, spinach, mint, and raw cacao that will help battle free-radicals and detoxify your body. This smoothie has just the right amount of sweetness from bananas and a that crunch from the cacao nibs.
Benefits
Cleansing Detox

Immunity Boosting

Digestive Support
The Goods
Banana
Spinach
Zucchini
Cacao Nibs
Sunflower Seeds*
Pea Protein
Chlorella*
Flax Seeds
Peppermint
Baobab*
Superfood Highlights
Zucchini
This green veggie is very mild in taste and is packed with so much great nutrition plus it is very low in calories and low in carbohydrates. Zucchinis contain several antioxidants that may provide various health benefits. The highest levels are found in the fruit's skin.
Sunflower Seeds*
These seeds are a great alternative to nuts and are filled with protein and fibre. These seeds are especially high in vitamin E and selenium. These nutrients function as antioxidants to protect your body's cells against free radical damage, which plays a role in fighting several chronic diseases.
Chlorella*
This nutrient-dense algae has an impressive nutritional profile. This superfood is known as a detox, since studies show that chlorella is effective at helping remove heavy metals and other harmful compounds from the body.
Flax Seeds
If you are a vegetarian or don't eat fish, flax seeds can be your best source of omega-3 fats! Omega-3s help fight inflammation and are heart-healthy. Flax seeds also contain a group of nutrients called lignans, which have powerful antioxidant properties - flax seeds have the most lignans than any other plant food. Flax also contains a good dose of fibre that can improve your digestive health.
Baobab*
Baobab is a tree native to certain regions of Africa, Arabia, Australia and Madagascar. In many parts of the work this fruit is not available and is consumed in powder form. Powdered baobab contains many important nutrients but is especially high in vitamin C, vitamin B6, niacin, iron and potassium. Additional baobab is rich in fibre,in 1 tbsp. of baobab powder there is 10 grams of fibre which is great for adding your digestion and in keeping you full.
Nutrition Facts

How To Blend
Step 1 Fill your smoothie cup all the way to the top with your favorite liquid
Step 2 Toss all the good stuff into your blender and blend until smooth
Step 3 Pour your delicious smoothie back into your ready-to-go cup, pop the lid back on and enjoy!
Reviews
Overall Rating: 4.7/5
based on 1457 reviews
aaaaa
Marije W
July 4, 2020
Nice surprise
Wasn't sure about this one but I love it!
aaaaa
Alison B
July 4, 2020
My fave. Fresh and chocolat!
This was refreshing. Love the mint and chocolate. My body and my taste buds loved this clean and revitalizing smoothie
Tips:
add almond milk
aaaaa
Kerry D
July 4, 2020
Love it!
This is another favourite of mine!! Ordering a few more in my second order. Love the hint of mint! Again, I could never come up with this myself so I'm grateful to revive for putting these flavours together!
aaaaa
Devin T
July 4, 2020
Hated it
It tasted like lawn clippings
aaaaa
Susan B
Verified
July 4, 2020
aaaaa
isabel c
Verified
July 4, 2020
Refreshing
very refreshing and keeps me full
aaaaa
Qiahna W
Verified
July 4, 2020
Ice Cream Alternative
I love mint chocolate chip ice cream so this was a welcome healthy alternative.
aaaaa
Christa C
Verified
July 4, 2020
Haven't tried
We haven't tried this one.
aaaaa
Margaret M
Verified
July 4, 2020
Minty goodness
This is one of my favorite regular smoothies. It's so simple and filling. Love to know I'm eating healthy while still being able to enjoy yummy flavors!
Tips:
I add real peppermint extract, cacao nibs, just because. It doesn't "need it" but I like to add it. I use cashew milk since it has 5 fewer calories than almond milk.
aaaaa
Ashley F
Verified
July 4, 2020
Surprisingly Yummy!
I actually really enjoyed this one. It was definitely refreshing with the slight mint flavor. There was kind of a bit of an aftertaste. That was the rest for 4 stars instead of 5. I don't think it was the "mint" that caused the aftertaste. I would still order this one again.
Tips:
I mixed with almond milk.
More Reviews