Açai Twist
4.6
27 reviews
Turn back time with this antioxidant-rich smoothie! Fresh and fruity Açai, blueberries, cherries, and raspberries are antioxidant-rich superfoods that can slow the effect of aging and protect the body from harmful pathogens. We also snuck some beets in for detoxification, but you wouldn't know if we didn't tell! To add to this smoothie's beautifying properties, we added omega-3 rich hemp hearts, which can help boost skin hydration and fight inflammation from sun damage.
Benefits
Cleansing Detox

Immunity Boosting

Anti Inflammatory
The Goods
Blueberries
Acai
Hemp Seeds
Raspberries
Banana
Beets
Cherries
Superfood Highlights
Blueberries
This popular berry has great health benefits – not only are the super low in calories they are packed with vitamin C and fibre. The concentrated amount of antioxidants in blueberries benefits brain function and plays a role in delaying mental decline.
Acai
Acai berries grow on acai palm trees in the Amazon rainforest. These berries are incredibly rich in antioxidants and contain 3x the amount found in blueberries.
Hemp Seeds
Hemp hearts are rich in protein and have all 9 essential amino acids. They also contain omega-3, omega-6, stearidonic acid (SDA), and the rare omega-6 Gamma Linolenic Acid (GLA). What's so great about GLA? Well, GLA has been shown to help with cholesterol, inflammation, skin and hair health, balancing hormones, and general heart health.
Beets
Beets are rich in dietary nitrates, which your body converts to nitric oxide. Nitric oxide helps blood vessels dilate to promote proper blood flow and can improve exercise performance, lower blood pressure and aid in brain function.
Nutrition Facts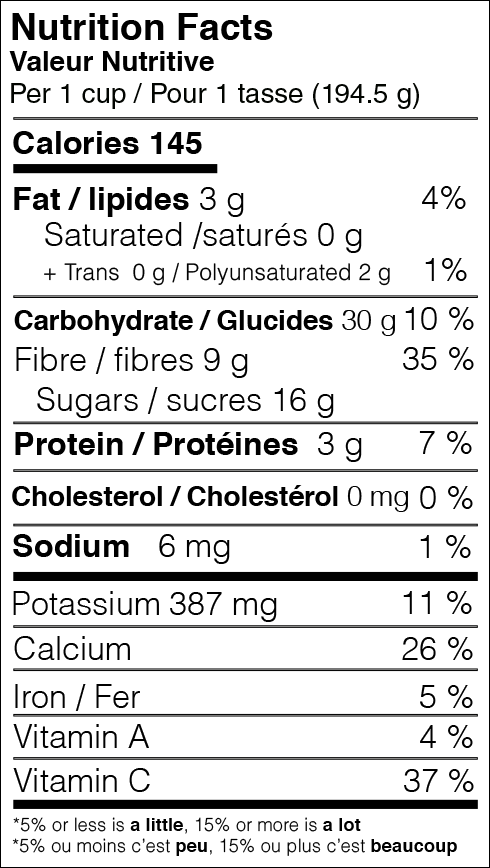 How To Blend
Step 1 Fill your smoothie cup all the way to the top with your favourite liquid
Step 2 Toss all the good stuff into your blender and blend until smooth
Step 3 Pour your delicious smoothie back into your ready-to-go cup, pop the lid back on and enjoy!
Reviews
Overall Rating: 4.6/5
based on 27 reviews
aaaaa
Jennifer R
Verified
November 18, 2019
This is my Favorite!
By far (so far) this is my favorite of your smoothies. I may just change my next order to be all of these!
aaaaa
Melissa V
Verified
November 18, 2019
Heaven in a cup.
This smoothie is so delicious. The blueberry and banana together is a match made in heaven.
aaaaa
Mary W
Verified
November 18, 2019
Good but heavy on the raspberry
I'm not a huge fan of raspberries but overall this wasn't bad.
aaaaa
April G
Verified
November 8, 2019
Another favourite
Full of flavour!
Tips:
Almond milk and sometimes even a scoop of vanilla protein powder
aaaaa
Ksea E
Verified
November 8, 2019
YUMMERS!
I'm typically not an Acai fan but gave this one a whirl and boy was I NOT disappointed!
The depth of flavor is fantastic and there is no overwhelming after taste that you get with other Acai smoothies.
Tips:
I love using a NO-SUGAR added Organic Apple Juice to give it more of a tart flavor.
aaaaa
Rachel L
Verified
October 29, 2019
not as tart as I expected
I like my berry smoothies tart, this one really wasn't? I don't know why though, because you would think with minimal banana it would be...
Tips:
made with whole milk
aaaaa
Elisabeth M
Verified
October 29, 2019
refreshing
Just a little sweetness and very tasty. I like the taste of the beets!
aaaaa
Esme T
Verified
October 19, 2019
Delicious
My boyfriend and I love this one! Taste like berries
aaaaa
Jennifer S
Verified
September 30, 2019
Kid fave!
My daughter absolutely loves this smoothie for breakfast! You don't need to add anything to it! Great taste!!
aaaaa
Emily K
Verified
September 30, 2019
Bitter
Good.
A little bitter.
So, if you like raspberries this will be perfect
More Reviews