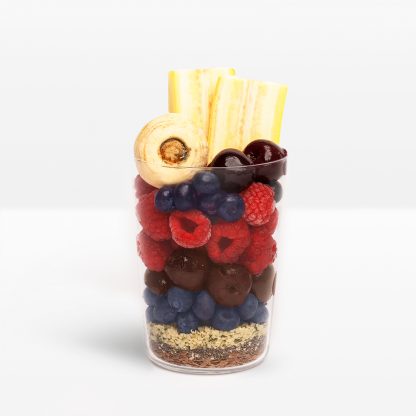 Açai Twist
4.7
1567 reviews
Turn back time with this antioxidant-rich smoothie! Fresh and fruity Açai, blueberries, cherries, and raspberries are antioxidant-rich superfoods that can slow the effect of aging and protect the body from harmful pathogens. We also snuck some Maca in for that boost of energy but you wouldn't know if we didn't tell! To add to this smoothie's beautifying properties, we added omega-3 rich hemp protein, which can help boost skin hydration and fight inflammation from sun damage as well!
Benefits
Cleansing Detox

Immunity Boosting

Anti Inflammatory
The Goods
Banana
Blueberries
Cherries
Raspberries
Acai*
Pea Protein
Maca
Hemp Protein
Chia Seeds*
Flax Seeds
Superfood Highlights
Blueberries
This popular berry has great health benefits – not only are the super low in calories they are packed with vitamin C and fibre. The concentrated amount of antioxidants in blueberries benefits brain function and plays a role in delaying mental decline.
Acai*
Açai berries grow on açai palm trees in the Amazon rainforest. These berries are incredibly rich in antioxidants and contain 3x the amount found in blueberries.
Maca
Maca is a root from Peru that is nutrient packed! Maca is a complete protein and also contains an abundance of calcium, iron, magnesium, sodium, sulfur, potassium and phosphorous. This superfood is an adaptogen meaning it normalizes the body and keeps things in control. Adaptogens allow the body to better respond to internal and external environmental factors such as anxiety and injuries. Maca is well known for its ability to regulate hormones it encourages the body to produce or decrease its own hormones by nourishing the master glands of the body (hypothalamus and pituitary).
Chia Seeds*
Despite their small size, chia seeds are one of the most nutritious dense foods. They're loaded with fiber, protein, omega-3 fatty acids and various micronutrients. Great news for those who don't consume dairy - gram for gram, the calcium content in chia seeds is higher than most dairy products. As a result, chia seeds may be considered an excellent source of calcium for people who don't eat dairy.
Flax Seeds
If you are a vegetarian or don't eat fish, flax seeds can be your best source of omega-3 fats! Omega-3s help fight inflammation and are heart-healthy. Flax seeds also contain a group of nutrients called lignans, which have powerful antioxidant properties - flax seeds have the most lignans than any other plant food. Flax also contains a good dose of fibre that can improve your digestive health.
Nutrition Facts
How To Blend
Step 1 Fill your smoothie cup all the way to the top with your favourite liquid
Step 2 Toss all the good stuff into your blender and blend until smooth
Step 3 Pour your delicious smoothie back into your ready-to-go cup, pop the lid back on and enjoy!
Reviews
Overall Rating: 4.7/5
based on 1567 reviews
aaaaa
Amanda H
May 28, 2020
Good, but not my favorite
Not my favorite but still really good!
aaaaa
Ashleigh V
May 28, 2020
I WISH I ORDERED MORE!
This one has to be a summer Favourite!
Tips:
Blend cup with milk, then add water as needed!
aaaaa
Tania B
May 28, 2020
Great blend
Super great with coconut water
aaaaa
Kimberly B
May 28, 2020
Pretty Good
Too seedy for my texture preferences but it tasted good!
aaaaa
Cathy C
May 28, 2020
Raspberries A Little Overpowering
But if you like raspberries, this smoothie is for you!
aaaaa
Taylor R
May 28, 2020
Good
Good flavour.
Tips:
I liked them better when left out to a thaw for a little. More flavour came through that way.
aaaaa
Maria B
May 28, 2020
Yum!
This has just the right amount of sweetness without feeling like your cheating.
aaaaa
Sarah A
May 28, 2020
Berry Berry Good!
I love berries so this has me there already. I love that there is a balance here with the veggie and the fruit though. Not too sweet, not too tart, not too earthy.
aaaaa
Paige C
May 28, 2020
Amazing!
Loved the flavor. Tropical tasting. Added milk, vanilla yogurt and water.
aaaaa
Jade B
Verified
May 28, 2020
Great smoothie!
Healthy and sweet
Tips:
pear juice is wonderful with this
More Reviews