Morning Mocha
Are you a frap lover? Why not supercharge your frap with healthy fats? Healthy fat from almonds, cacao, and MTC oil give you a sustainable energy boost. They make this cold brew coffee based smoothie the perfect morning pick-me-up. This smoothie designed for coffee lovers also contains cauliflower for creaminess (we promise you can't taste it) and banana for a sweet touch.
Benefits
Cleansing

Stress-Relief

Immunity Boosting

Anti Inflammatory

Beautifying

Digestive Support
The Goods
Cold Brew Coffee
Cauliflower
Banana
Cacao
MCT Oil
Ceylon Cinnamon
Himalayan Salt
Nutrition Facts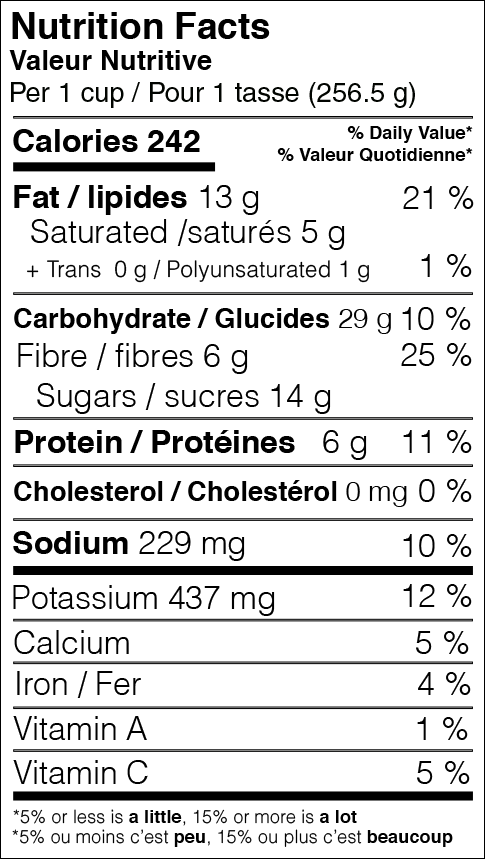 How To Blend
Step 1 Fill your smoothie cup all the way to the top with your favourite liquid
Step 2 Toss all the good stuff into your blender and blend until smooth
Step 3 Pour your delicious smoothie back into your ready-to-go cup, pop the lid back on and enjoy!
Reviews
Overall Rating: 4.7/5
based on 9 reviews
aaaaa
Monika W
July 18, 2019
Mild Flavour
The taste grows on you after a few sips. My first impression is that it is missing something... more coffee taste? More banana? More "mocha"? Towards the end, the mild flavour was appreciated - after all, my intention is to move away from sweet junk food by drinking these smoothies.
Tips:
Used Almond Milk (Costco)
aaaaa
Shanay V
July 18, 2019
My Favourite
I want this one everyday which is why It consumes over half my order
aaaaa
Karoline K
July 4, 2019
Love it
The taste and the combination of ingredients are perfect! I just love it
aaaaa
Seka E
June 24, 2019
love mocha
Really enjoyed having this smoothie in the morning super tasty!
Tips:
regular milk
aaaaa
Lawrence S
June 24, 2019
Tasty!!!!
Having this in the morning, the banana and mocha really do complement each other. I highly recommend trying this smoothie.
Tips:
Almond milk
aaaaa
Sadie C
June 14, 2019
good but would not call it 'mocha'
It's yummy, but you can't really taste the 'mocha' as the banana and almonds overpower.
Tips:
Instead of my usual almond milk, I substitute cold brew coffee as my liquid.
aaaaa
Lisa C
June 11, 2019
Great flavor
I'm always a bit hesitant on smoothies containing banana as I feel it tends to overpower the other flavours, but it complimented the nut and coffee flavours nicely here. Glad I decided to get more than one cup of this one.
aaaaa
Heather H
June 11, 2019
Amazing morning pick me up!
Creamy, smooth and really delicious! Tastes like a Frappuccino with added health benefits! It does have a very slight aftertaste? I can only attribute to the MCT oil? Doesn't bother me but my friend really didn't like it.
Tips:
Works well with silk cashew/almond milk but creamier with dairy milk.
aaaaa
Emilie L
Verified
June 10, 2019
Just "ok"
This smoothie was just ok. I didnt find it filling enough to last until lunch as my usual smoothies do. A bit to much cinamon and couldnt taste the banana.

aaaaa
Melissa D
Verified
May 27, 2019
Frosty texture
Very Rich! I found the flavour just ok. Something was a bit off but maybe it was the coffee I didn't like...