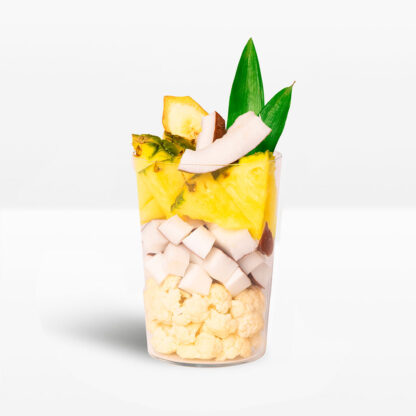 Piñalada
4.8
173 reviews
Giving you ALL the summer vibes with this DELICIOUS and nutritious Piña Colada smoothie! At only 110 calories, this delicious smoothie is the PERFECT refresher during hot summer days. It's got Pineapple which is amazing for digestion and coconut which has all the healthy fats your body needs for energy. Kick back and get your sip on!
Benefits
Beauty Potion

Fiber Up

Tummy Love
The Goods
Cauliflower
Pineapple
Banana
Coconut Yogurt
Juiced Pineapple
Psyllium Husk
Superfood Highlights
Cauliflower
This vegetable can be made into pizza, rice, and mashed potatoes. This miracle veggie is incredibly versatile, mild in taste and is packed with tons of nutrients. Cauliflower is part of the cruciferous family and this group of veggies contains unique plant compounds that may reduce the risk of several diseases, including heart disease and cancer. Plus cauliflower is weight loss friendly (low calories, low carb and high fibre) and super easy to add to your diet.
Psyllium Husk
This husk is a form of fibre from a plant seed. Psyllium is a prebiotic which helps your gut bacteria produce nutrients which leads to a healthier digestive system. A healthy colony of good bacteria in the digestive system is essential for healthy immune function. Your body is better able to fight infection, reduce inflammation, and maintain healthy tissue and cells. Pysllium is great for keeping your digestive system regular.
Nutrition Facts

How To Blend
Step 1 Fill your smoothie cup all the way to the top with your favorite liquid
Step 2 Toss all the good stuff into your blender and blend until smooth
Step 3 Pour your delicious smoothie back into your ready-to-go cup, pop the lid back on and enjoy!
Reviews
Overall Rating: 4.8/5
based on 173 reviews
aaaaa
Lana M
August 11, 2020
Refreshing
So smooth and fresh. Very delish!!!!
Tips:
I add about a 1/4 cup of extra almond milk
aaaaa
Deanna H
August 11, 2020
Refreshing!
One word.. DELICIOUS! I was pleasantly surprised with the tropical taste on this one, it was more like a dessert sorbet than a smoothie. My new favorite.
Tips:
Use pineapple juice as the liquid for a tropical treat.
aaaaa
Adelina M
Verified
August 11, 2020
aaaaa
Oloruntosin A
Verified
August 11, 2020
Tastes like it
I didn't have coconut 🥥 milk so I made do with almond but this still tasted like a pretty good piña colada mimic.
Tips:
Added fiber and protein powders. Would probably be a good base for a less healthy more boozy version if you were so inclined
aaaaa
Anna S
Verified
August 11, 2020
Yum
Good flavor, just needs extra sweetness to taste the pineapple.
Tips:
I add honey to sweeten.
aaaaa
Adora W
Verified
August 11, 2020
Light and refreshing!
It doesn't even feel like you're drinking something healthy, it's the perfect drink for a hot day.
Tips:
Added coconut milk
aaaaa
Gayle W
Verified
August 11, 2020
Momma's Fav
I have yet to be disappointed. Keep up the good stuff. Yumm
aaaaa
Brian H
Verified
August 11, 2020
Summery
The pineapple taste came through so well. The drink was refreshing. Didn't let my grand daughter even get a smell of this one because I knew that I would not get it back.
aaaaa
Sheryl C
Verified
August 11, 2020
Filling
Tastes like the tropics!
aaaaa
Jaki S
Verified
August 11, 2020
Yum
Delicious with coconut milk!
More Reviews