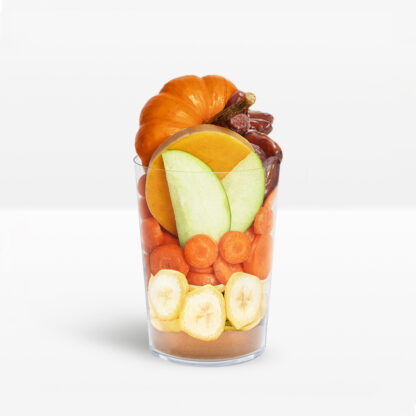 Pumpkin & Chill
4.7
1479 reviews
This sweet and spicy smoothie is creamy and packed with so many great nutrients. You have hints of apple, banana, carrots and squash, which are perfectly paired with dates and earthy spices such as cardamom and nutmeg. Upgrade your sugar infused pumpkin spiced latte for this antioxidant and nutrient dense pumpkin spice smoothie to boost your intake of vitamin A and C this season.
Benefits
Energizing

Immunity Boosting

Anti Inflammatory
The Goods
Apple
Banana
Carrots
Butternut Squash
Dates
Pumpkin Spice
Pea Protein
Lucuma*
Cinnamon
Ginger
Nutmeg
Allspice
Superfood Highlights
Lucuma*
Lucuma is the fruit of a tree native to South America. Interestingly, even though lucuma has a sweet taste it contains a rich source of both insoluble and soluble fibre. Fibre is essential to help feed our good gut bacteria, which can help improve digestive issues, helps reduce blood sugar spikes and keeps our energy levels steady. Lucuma is rich in antioxidants, such as carotenoids (which gives lucuma its yellow colour) and polyphenols that help support the health of your eyes.
Cinnamon
This delicious spice helps your body fight infections and repair tissue damage. One unique quality of cinnamon is that it decreases the amount of sugar that enters your bloodstream after a meal, bye-bye blood sugar spikes!
Ginger
Ginger is a popular spice. It is high in gingerol, a substance with powerful anti-inflammatory and antioxidant properties. Ginger is also effective at reducing the day-to-day progression of muscle pain, and may reduce exercise-induced muscle soreness and a great addition to post-workout recovery!
Nutrition Facts

How To Blend
Step 1 Fill your smoothie cup all the way to the top with your favorite liquid
Step 2 Toss all the good stuff into your blender and blend until smooth
Step 3 Pour your delicious smoothie back into your ready-to-go cup, pop the lid back on and enjoy!
Reviews
Overall Rating: 4.7/5
based on 1479 reviews
aaaaa
Erica M
July 14, 2020
Best pumpkin smoothie
Best pumpkin smoothie
aaaaa
Amanda R
July 14, 2020
Amazing!
Tastes amazing with almond milk! These are so wonderful and convenient! My husband made fun of me, but he is hooked too! So glad I took the risk and tried Revive!
aaaaa
Kathy R
July 14, 2020
Loved it
It was the last one that I tired and I was sure I wouldn't like it. BUT to my surprise it is my favorite one of all that I got. Will be getting more of this one.
aaaaa
Ashley G
July 14, 2020
Nice spices
I enjoyed the flavours of this one, like a healthy desert! Will order again
Tips:
Almond milk
aaaaa
Dilek B
July 14, 2020
aaaaa
Sara R
July 14, 2020
Love
This is probably my favourite smoothie! So refreshing and love the added dates for sweetness
aaaaa
Tsering L
July 14, 2020
Unique blend
I really enjoyed this and it was sweeter than I expected (pleasantly surprised)
aaaaa
Kiki L
Verified
July 14, 2020
Chill indeed!
Absolutely love this flavor. It has just the right amount of spice. It is definitely fall in a cup!
Tips:
Use a bit less liquid in this one. 10 ounces should do it!
aaaaa
Yeridania L
Verified
July 14, 2020
Wow
This one taste like a chai lattes wow deff my fav so far
Tips:
Put a bit of nutmeg when you blend soo good
aaaaa
Michelle T
Verified
July 14, 2020
Exactly what I hoped for!
Had this for dessert when I was craving something sweet (and healthy!) Really satisfied my craving and tastes like Pumpkin Pie!
Tips:
I added a teaspoon of pure maple syrup!
More Reviews