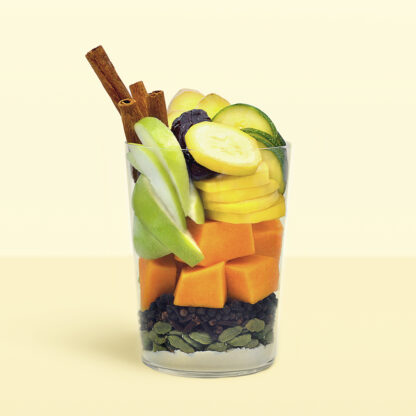 Rise & Chai
4.7
1499 reviews
Rise and SHINE! Our new caffeinated protein smoothie is the fix you need in the AM to get you through your hectic mornings. The perfect combination of exotic eastern spices and premium farm frozen ingredients takes this smoothie's taste to another level. The chai is brewed overnight to maximize its benefits and give that boost of energy and flavor. Designed for on-the-go lifestyles, this smoothie contains butternut squash and zucchini to help with muscle recovery and bone strengthening! This one's a must have – thank us later!
Benefits
Energizing

Workout Recovery

Digestive Support
The Goods
Black Tea
Granny Smith Apples
Banana
Butternut Squash
Pea Protein
Zucchini
Non-Alcoholic Vanilla
Medjool Dates
Ginger
Cinnamon
Superfood Highlights
Zucchini
This green veggie is very mild in taste and is packed with so much great nutrition plus it is very low in calories and low in carbohydrates. Zucchinis contain several antioxidants that may provide various health benefits. The highest levels are found in the fruit's skin.
Ginger
Ginger is a popular spice. It is high in gingerol, a substance with powerful anti-inflammatory and antioxidant properties. Ginger is also effective at reducing the day-to-day progression of muscle pain, and may reduce exercise-induced muscle soreness and a great addition to post-workout recovery!
Cinnamon
This delicious spice helps your body fight infections and repair tissue damage. One unique quality of cinnamon is that it decreases the amount of sugar that enters your bloodstream after a meal, bye-bye blood sugar spikes!
Nutrition Facts

How To Blend
Step 1 Fill your smoothie cup all the way to the top with your favorite liquid
Step 2 Toss all the good stuff into your blender and blend until smooth
Step 3 Pour your delicious smoothie back into your ready-to-go cup, pop the lid back on and enjoy!
Reviews
Overall Rating: 4.7/5
based on 1499 reviews
aaaaa
Marije W
July 4, 2020
Yum
Love this one, not too sweet!
aaaaa
Heather D
July 4, 2020
So Good!!
This one surprised me with how tasty it was. Probably my favorite so far. Creamy, really great spice level - very, very good!
aaaaa
Devin T
July 4, 2020
So rich and creamy and yummy
I swear this tastes like a chai milkshake. Like I kept checking the calories because I couldn't believe it was diet friendly. So yummy!!!!
Tips:
I did half oat milk and half water
aaaaa
Karlie B
July 4, 2020
Delicious
This tastes like a healthy blended chai tea!!
aaaaa
Heather F
July 4, 2020
Great start to my day!
Quick and easy start to my work day! I feel so much better on the days I start with a smoothie then the days I don't
aaaaa
Audrianna P
July 4, 2020
Great for mornings
Great for early mornings. Just grab and go. It could use a little more coffee flavor, but it's pretty good.
Tips:
I always add collagen to my smoothies because it's flavorless and has soo many benefits.
aaaaa
Natalie H
Verified
July 4, 2020
Yum
This is a very good morning smoothie! A good balance of flavor.
aaaaa
Brooke D
Verified
July 4, 2020
Good morning sunshine
This is a perfect early morning smoothie. Deliciously crafted and pleasantly enjoyable.
aaaaa
Paige D
Verified
July 4, 2020
Yummy
Yummy but the seeds didnt break well. Was a drink and a snack
aaaaa
Jennifer B
Verified
July 4, 2020
Perfect if you love Chai!
This is one of my absolute favorites. The subtle Chai flavor masks the veggies perfectly, it blends easily, and always comes out creamy and smooth. It also has more protein than many other flavors, so I love drinking it as a meal replacement for breakfast.
More Reviews