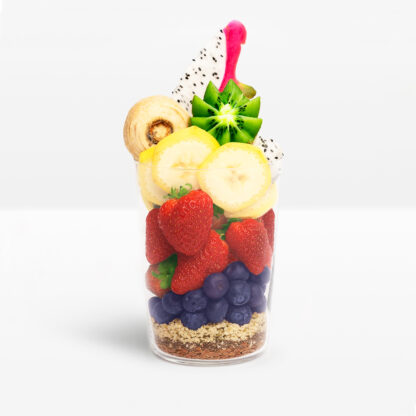 Pink Dragon
4.8
3308 reviews
Excite your taste buds with this exotic smoothie! If you have never tasted lychee or dragon fruit, this is your chance to delight in this fruity and floral combo. Together with nutritious maca and acai, this antioxidant-rich smoothie is great for supporting a strong immune system and helps in promoting vibrant skin health.
Benefits
Brain Boosting

Daily Defense

Heart Happy
The Goods
Banana
Dragon Fruit
Kiwi
Strawberries
Lychee
Acai*
Pea Protein
Maca
Hemp Protein
Chia Seeds*
Flax Seeds
Superfood Highlights
Dragon Fruit
This delicious fruit has a high fibre content making it a great source of prebiotic fibre that may promote the growth of healthy bacteria in the gut. Dragon fruit is also one of the few fruits that contain iron and magnesium –essential minerals that our bodies need for optimal health.
Lychee
This floral fruit contains a great source of vitamin C (yay for skin health!) and several beneficial antioxidants. Making them an excellent addition to a healthy diet.
Acai*
Açai berries grow on açai palm trees in the Amazon rainforest. These berries are incredibly rich in antioxidants and contain 3x the amount found in blueberries.
Maca
Maca is a root from Peru that is nutrient packed! Maca is a complete protein and also contains an abundance of calcium, iron, magnesium, sodium, sulfur, potassium and phosphorous. This superfood is an adaptogen meaning it normalizes the body and keeps things in control. Adaptogens allow the body to better respond to internal and external environmental factors such as anxiety and injuries. Maca is well known for its ability to regulate hormones it encourages the body to produce or decrease its own hormones by nourishing the master glands of the body (hypothalamus and pituitary).
Chia Seeds*
Despite their small size, chia seeds are one of the most nutritious dense foods. They're loaded with fiber, protein, omega-3 fatty acids and various micronutrients. Great news for those who don't consume dairy - gram for gram, the calcium content in chia seeds is higher than most dairy products. As a result, chia seeds may be considered an excellent source of calcium for people who don't eat dairy.
Flax Seeds
If you are a vegetarian or don't eat fish, flax seeds can be your best source of omega-3 fats! Omega-3s help fight inflammation and are heart-healthy. Flax seeds also contain a group of nutrients called lignans, which have powerful antioxidant properties - flax seeds have the most lignans than any other plant food. Flax also contains a good dose of fibre that can improve your digestive health.
Nutrition Facts

How To Blend
Step 1 Fill your smoothie cup all the way to the top with your favorite liquid
Step 2 Toss all the good stuff into your blender and blend until smooth
Step 3 Pour your delicious smoothie back into your ready-to-go cup, pop the lid back on and enjoy!
Reviews
Overall Rating: 4.8/5
based on 3308 reviews
aaaaa
Lindsey C
August 11, 2020
Pink-y Promise
I Pinky promise you will LOVE this one. I found this to be the perfect after workout or errands smoothie. Not too heavy as some of the more dense ingredient ones. The tartness from the berries was the perfect energizer
aaaaa
Lana M
August 11, 2020
Delicious
This is my very favourite. I'll order extra of this flavour next time
Tips:
Add a little extra liquid to blender
aaaaa
Lindsey T
August 11, 2020
Kind of bland
I was really excited to try this flavor based on the name but found it pretty underwhelming.

Tips:
I used oat milk in the blender with this
aaaaa
Adelina M
Verified
August 11, 2020
aaaaa
Laura D
Verified
August 11, 2020
Favourite
This is so good.
aaaaa
Lisa S
Verified
August 11, 2020
Party in my mouth
Just a delightful treat with the added healthy bonus!! The flavor was amazing. My kids loved it too.
aaaaa
Gayle W
Verified
August 11, 2020
aaaaa
Brian H
Verified
August 11, 2020
WOW
Nothing else can be said. This is extremely delicious. It is certainly a favourite.
aaaaa
Jamie B
Verified
August 11, 2020
Yummy but sweet
A tad too sweet for my liking, but the kids went wild!
aaaaa
Amanda H
Verified
August 11, 2020
Love Dragonfruit!
Such a great fresh taste and dragon fruit has so many benefits. I really liked this smoothie more than I thought.
More Reviews