Morning Mocha
4.7
47 reviews
Are you a frap lover? Why not supercharge your frap with healthy fats? Healthy fat from almonds, cacao, and MCT oil give you a sustainable energy boost. They make this cold brew coffee based smoothie the perfect morning pick-me-up. This smoothie designed for coffee lovers also contains cauliflower for creaminess (we promise you can't taste it) and banana for a sweet touch.
Benefits
Cleansing Detox

Stress-Relief

Immunity Boosting

Anti Inflammatory

Beautifying

Digestive Support
The Goods
Cold Brew Coffee
Cauliflower
Banana
Cacao
MCT Oil
Ceylon Cinnamon
Himalayan Salt
Superfood Highlights
Cacao
This unprocessed chocolate superfood is loaded with amazing nutrition and contains an impressive amount of antioxidants. Reason being that raw cacao is made by cold-pressing unroasted cocoa beans so the nutritional benefits aren't lost during processing. Cacao is a great source of anandamide, which is a neurotransmitter that stimulates a sense of happiness and mental well-being – AKA mood booster!
MCT Oil
Medium chain triglycerides (MCT) oil contains medium-length chains of fats called triglycerides. Because of their shorter length, MCTs are easily digested and easily absorbed and transported throughout the body. It can be used as an instant source of energy or can be converted into ketones to fuel your brain.
Ceylon Cinnamon
This delicious spice helps your body fight infections and repair tissue damage. One unique quality of cinnamon is that it decreases the amount of sugar that enters your bloodstream after a meal, bye-bye blood sugar spikes!
Himalayan Salt
Himalayan salt is made from rock crystals of salt that have been mined from areas close to the Himalayas, often in Pakistan. It gets its rosy hue from trace minerals in the salt, like magnesium, potassium, and calcium.
Nutrition Facts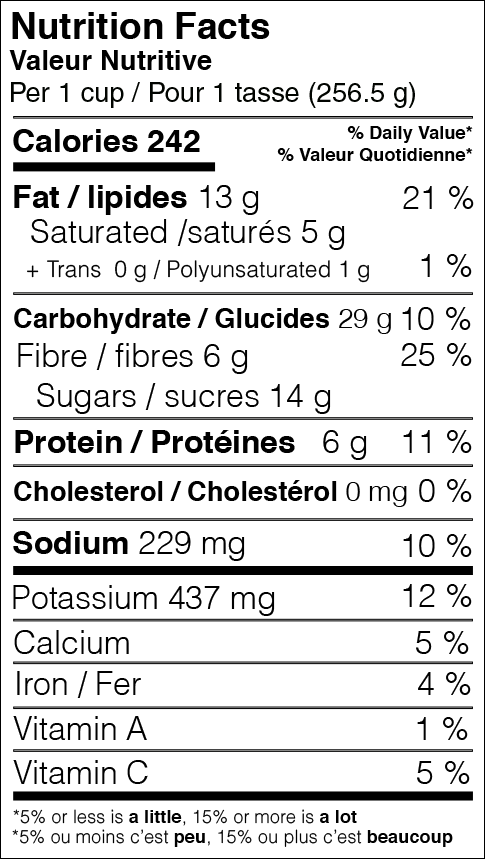 How To Blend
Step 1 Fill your smoothie cup all the way to the top with your favourite liquid
Step 2 Toss all the good stuff into your blender and blend until smooth
Step 3 Pour your delicious smoothie back into your ready-to-go cup, pop the lid back on and enjoy!
Reviews
Overall Rating: 4.7/5
based on 47 reviews
aaaaa
Shannon K
January 20, 2020
Great Morning Pick Me Up
The mocha flavor is just right and with a little kick of to start the day! Filling and tasty!
Tips:
I added a little chocolate protein powder to keep me going even longer.
aaaaa
Carmen C
Verified
January 19, 2020
Coffee and Oatmeal make a baby
I tried this in the morning to see if it could replace my morning coffee routine. Easy to say that it was definitely much more filling. It had an oat-like texture which I loved and a hint of coffee. The icyness definitely helped with waking me up, but my threshold for caffeine might've required more since I didn't get a morning kick out of it. However, this is by far one of my favorites!
aaaaa
Gillian C
Verified
January 18, 2020
tasty but wouldn't fit back in the cup
had to through some out because the contents wouldn't fit in the to-go cup after putting in the liquid
aaaaa
Fanny M
Verified
January 16, 2020
Great to Wake Up
I loved it! The taste was great, I love how much vitamin C was in there too! It was filling as well, and I wish I would've ordered more haha
aaaaa
Linda T
Verified
November 24, 2019
Like Banana Bread
I was thinking coffee/hot chocolate mocha, but I was pleasantly surprised to have it taste like Banana bread made with almond milk. It was delicious, one of my favorites to date.
Tips:
Used Silk Original - Almond milk to the top of the cup and then another 1/3 cup of water blended.
aaaaa
Kristy C
Verified
November 18, 2019
Best Smoothie for the Morning
Yummy! This smoothie has it all. Taste like mocha, and has a chocolate aftertaste. I love this one and wished I had order more. Nice and thick consistency.
Tips:
I added vanilla almond milk.
aaaaa
Anadia R
Verified
November 18, 2019
Non-green smoothie
A favorite in my house for the people who don't like the "green smoothies"
Tips:
Add in frozen cauliflower for a thicker, creamier drink. Walnuts round out the flavor
aaaaa
Mary W
Verified
November 8, 2019
Pretty good
Almond was the predominant flavor in this one. For my taste, it's a bit too much. I expected something named Morning Mocha to be more coffee/chocolate in flavor. It still has a rich texture though.
aaaaa
Ksea E
Verified
November 8, 2019
DELICIOUS!
So so so so so good! The perfect morning pick me up that provides lasting energy + satiation thru the AM grind!
Tips:
Almond Milk is typically my go to but adding half cold brew coffee is a game changer!
aaaaa
Renee L
Verified
November 6, 2019
Our favourite!!
We ordered around 8 flavours and this was our favourite
More Reviews