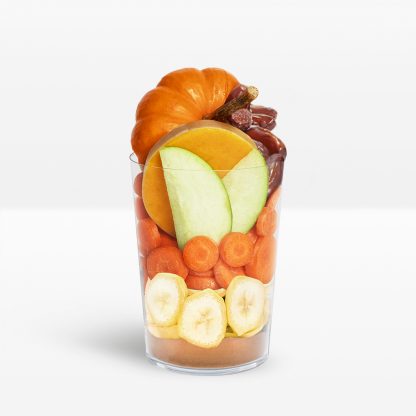 Pumpkin & Chill
4.9
26 reviews
This sweet and spicy smoothie is creamy and packed with so many great nutrients. You have hints of apple, banana, carrots and squash, which are perfectly paired with dates and earthy spices such as cardamom and nutmeg. Upgrade your sugar infused pumpkin spiced latte for this antioxidant and nutrient dense pumpkin spice smoothie to boost your intake of vitamin A and C this season.
Benefits
Energizing

Immunity Boosting

Anti Inflammatory
The Goods
Apple
Banana
Carrots
Butternut Squash
Dates
Pumpkin Spice
Pea Protein
Lucuma*
Cinnamon
Ginger
Nutmeg
Allspice
Superfood Highlights
Lucuma*
Lucuma is the fruit of a tree native to South America. Interestingly, even though lucuma has a sweet taste it contains a rich source of both insoluble and soluble fibre. Fibre is essential to help feed our good gut bacteria, which can help improve digestive issues, helps reduce blood sugar spikes and keeps our energy levels steady. Lucuma is rich in antioxidants, such as carotenoids (which gives lucuma its yellow colour) and polyphenols that help support the health of your eyes.
Cinnamon
This delicious spice helps your body fight infections and repair tissue damage. One unique quality of cinnamon is that it decreases the amount of sugar that enters your bloodstream after a meal, bye-bye blood sugar spikes!
Ginger
Ginger is a popular spice. It is high in gingerol, a substance with powerful anti-inflammatory and antioxidant properties. Ginger is also effective at reducing the day-to-day progression of muscle pain, and may reduce exercise-induced muscle soreness and a great addition to post-workout recovery!
Nutrition Facts

How To Blend
Step 1 Fill your smoothie cup all the way to the top with your favourite liquid
Step 2 Toss all the good stuff into your blender and blend until smooth
Step 3 Pour your delicious smoothie back into your ready-to-go cup, pop the lid back on and enjoy!
Reviews
Overall Rating: 4.9/5
based on 26 reviews
aaaaa
June P
March 26, 2020
Very tasty
One of my favorite. Tried just one but wish I'd ordered more.
aaaaa
Deby N
March 21, 2020
****ALERT**** DO NOT BUY ANYTHING!!!!!
It's not worth the money. The labels show carcinogens. Nobody answers the telephone. Only communication is via email. I have been trying to cancel subscription since they lured me in; to no avail. Received a email to "Pause" plan and there is no pause feature on the website. Reporting to BBB and State of Business and Fraud Investigations Unit.
Tips:
TIP: Heed the warning above. Revive is corrupt!
aaaaa
Pamela B
March 20, 2020
having one now
pumplin pie get in my belly ! I used almond milk which I do for most of my smoothies ... will be ordering this again
Tips:
almond milk
aaaaa
Estelle F
Verified
March 17, 2020
Delicious and healthy~
I absolutely love this one. It tastes like a mix of pumpkin pie, and apple pie. It's very thick and creamy, and reminds me of icecream. Definitely recommend.
Tips:
Used Vanilla Almond Milk
aaaaa
Kara M
Verified
March 17, 2020
SO GOOD, SO great!
Go for this smoothie. This was my fav in the bunch and tastes like a autumn day.
FOR 65% OFF AND FREE METAL STRAWS USE CODE
MCC611660
You're welcome ;)
Tips:
Add Silk Almond or Cashew milk
aaaaa
Palina B
Verified
March 16, 2020
SO YUMMY
the dates and pumpkin pie spice make it a sweet, cozy smoothie. so yummy and healthy with the apples and carrots, as well
Tips:
i use regular dairy milk; perfects
aaaaa
Peter A
Verified
March 15, 2020
***Free Bonus gift +60% off code ***
Healthy Pumpkin pie flavor
A little spice + everything nice.



Tips:
Free Bonus gift +60% off
Use Code ANT605200
aaaaa
Jordan P
Verified
March 14, 2020
PUMPKIN PIE IN A CUP!
I KNOW PEOPLE ARE STOCKING UP ON TOILET PAPER BUT I'M STOCKING UP ON REVIVE CUPS. THEY LAST FOREVER IN THE FREEZER, SUPER HEALTHY, AND TASTE GREAT!
Tips:
PRO TIP
USE PROMO CODE PER578590 FOR 60% OFF AND 3 FREE METAL STRAWS!
aaaaa
Natalie T
Verified
March 10, 2020
LOVE PUMPKIN
https://revivesuperfoods.com/ref/59172/
aaaaa
Sherri S
March 9, 2020
Pumpkin Pie in a cup!
This may be the best smoothie I have EVER had! Tastes just like pumpkin pie! Was a little afraid of this one.....but it is sooo good. Has just the right amount of spice kick to it!
Tips:
Very thick! Add extra milk! I used vanilla coconut milk and it was great!
More Reviews