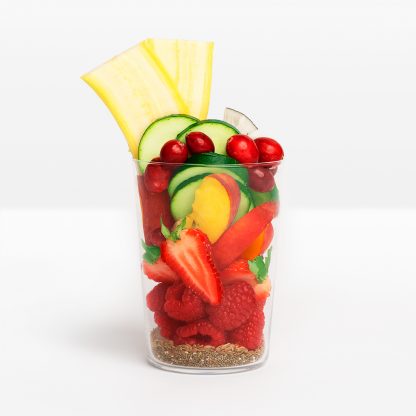 Strawberry Zen
4.7
1811 reviews
This fruity breakfast classic is everything you need to jump-start your day. It is full of antioxidant-rich strawberries and raspberries and cranberries to keep you going all day.
Benefits
Immunity Boosting

Anti Inflammatory

Digestive Support
The Goods
Banana
Peaches
Raspberries
Strawberries
Zucchini
Pea Protein
Cranberries
Coconut Oil*
Flax Seeds
Chia Seeds*
Superfood Highlights
Zucchini
This green veggie is very mild in taste and is packed with so much great nutrition plus it is very low in calories and low in carbohydrates. Zucchinis contain several antioxidants that may provide various health benefits. The highest levels are found in the fruit's skin.
Coconut Oil*
Coconuts contain significant amounts of fat, but unlike other nuts, they provide fat that is mostly in the form of medium chain saturated fatty acids (MCFAs) in particular, one called lauric acid. Lauric acid in the body is a powerful antiviral, antifungal and antibacterial. Adding a moderate amount of coconut-derived foods in your diet may help protect the body from infections and viruses.
Flax Seeds
If you are a vegetarian or don't eat fish, flax seeds can be your best source of omega-3 fats! Omega-3s help fight inflammation and are heart-healthy. Flax seeds also contain a group of nutrients called lignans, which have powerful antioxidant properties - flax seeds have the most lignans than any other plant food. Flax also contains a good dose of fibre that can improve your digestive health.
Chia Seeds*
Despite their small size, chia seeds are one of the most nutritious dense foods. They're loaded with fiber, protein, omega-3 fatty acids and various micronutrients. Great news for those who don't consume dairy - gram for gram, the calcium content in chia seeds is higher than most dairy products. As a result, chia seeds may be considered an excellent source of calcium for people who don't eat dairy.
Nutrition Facts
How To Blend
Step 1 Fill your smoothie cup all the way to the top with your favourite liquid
Step 2 Toss all the good stuff into your blender and blend until smooth
Step 3 Pour your delicious smoothie back into your ready-to-go cup, pop the lid back on and enjoy!
Reviews
Overall Rating: 4.7/5
based on 1811 reviews
aaaaa
CAROLINE S
May 28, 2020
Mid Day Zen
I absolutely love have fresh and healthy this smoothie tastes! Love the great ingredients like Zucchini.
Tips:
I always add spinach into this drink as it never throws off the delicious flavours!
aaaaa
Amanda H
May 28, 2020
Love this one!
Love the strawberry flavor!
aaaaa
Ashleigh V
May 28, 2020
10/10 😍 best best best!
This was the best smoothies I've had in a long time, sweet and sour, perfect with supper!
Tips:
Blend cup with milk, then add water as needed!
aaaaa
Tania B
May 28, 2020
aaaaa
Erin S
May 28, 2020
Refreshing
There's no wonder this is a popular flavour. It's so light and refreshing! Wish there were more peach.
Tips:
This one blends thick, so add extra milk alternative to create the consistency you want.
aaaaa
Kimberly B
May 28, 2020
Great taste
Yes I know its to be expected but I couldn't handle the combo of seeds from the raspberries and the strawberries. Just too much for me
aaaaa
Cathy C
May 28, 2020
Strawberry Blast
My niece's favourite. Perfect for kids.
aaaaa
Courtney T
May 28, 2020
peachy pink
In this one you mostly get the flavors of strawberries and peaches so it's a great summer-time treat. We loved it!
aaaaa
Taylor R
May 28, 2020
Delicious!
This was one of my favourites! Amazing flavour!
Tips:
I liked them better when left out to a thaw for a little. More flavour came through that way.
aaaaa
Maria B
May 28, 2020
Zen!
Did someone say Zen? this shake takes you to a place of fruitful bliss.
More Reviews