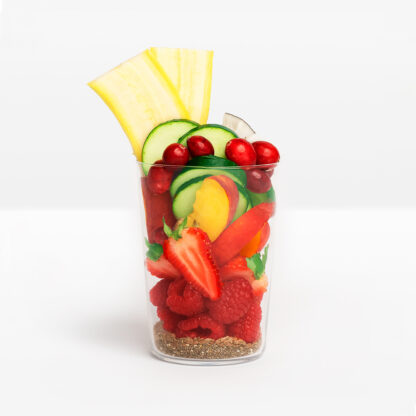 Strawberry Zen
4.7
3100 reviews
This fruity breakfast classic is everything you need to jump-start your day. It is full of antioxidant-rich strawberries and raspberries and cranberries to keep you going all day.
Benefits
Brain Boosting

Daily Defense

Tummy Love
The Goods
Banana
Peaches
Raspberries
Strawberries
Zucchini
Pea Protein
Cranberries
Flax Seeds
Chia Seeds*
Superfood Highlights
Zucchini
This green veggie is very mild in taste and is packed with so much great nutrition plus it is very low in calories and low in carbohydrates. Zucchinis contain several antioxidants that may provide various health benefits. The highest levels are found in the fruit's skin.
Flax Seeds
If you are a vegetarian or don't eat fish, flax seeds can be your best source of omega-3 fats! Omega-3s help fight inflammation and are heart-healthy. Flax seeds also contain a group of nutrients called lignans, which have powerful antioxidant properties - flax seeds have the most lignans than any other plant food. Flax also contains a good dose of fibre that can improve your digestive health.
Chia Seeds*
Despite their small size, chia seeds are one of the most nutritious dense foods. They're loaded with fiber, protein, omega-3 fatty acids and various micronutrients. Great news for those who don't consume dairy - gram for gram, the calcium content in chia seeds is higher than most dairy products. As a result, chia seeds may be considered an excellent source of calcium for people who don't eat dairy.
Nutrition Facts
How To Blend
Step 1 Fill your smoothie cup all the way to the top with your favorite liquid
Step 2 Toss all the good stuff into your blender and blend until smooth
Step 3 Pour your delicious smoothie back into your ready-to-go cup, pop the lid back on and enjoy!
Reviews
Overall Rating: 4.7/5
based on 3100 reviews
aaaaa
Lana M
August 11, 2020
Perfect
Not too sweet, not too tart, just perfect. A delicious beverage to sip on while sitting on the patio
Tips:
Let thaw a few minutes then poke holes through it with your reusable straw before adding your choice of liquid
aaaaa
Adelina M
Verified
August 11, 2020
aaaaa
Laura D
Verified
August 11, 2020
So good
Great summer treat
aaaaa
Deryn C
Verified
August 11, 2020
Crunchy
Really great flavour lots of flax/chia seeds though.
aaaaa
Gayle W
Verified
August 11, 2020
Summer fresh
What's not to like about a strawberry . I mean come on
aaaaa
Melissa K
Verified
August 11, 2020
A classic
This tastes like a classic strawberry banana smoothie to me, which is a must in every box! Love the subtle peach flavor, too.
aaaaa
andrea t
Verified
August 11, 2020
yummy
loved this one. i am not a huge fan of seeds.. so i do strain mine
Tips:
i like a little sweetness, so i added one pack of stevia.. i used mine with just water
aaaaa
Noel G
Verified
August 11, 2020
Mmmmm
We love strawberries in our house to this was was a hit!
aaaaa
Chamin H
Verified
August 10, 2020
Lots of fruit flavor
I loved the strawberry peach combo. It was great with a mix of coconut and almond milks.
aaaaa
Darian F
Verified
August 10, 2020
So good
Refreshing and tasty
Tips:
I add a bit of yogurt and vanilla protein powder!
More Reviews