Blue Cacao
4.8
17 reviews
Want to enjoy dessert without any of the guilt? This chocolate blueberry smoothie tastes like a sweet treat, but is really just a superfood blend in disguise. Antioxidant-rich blueberries team up with our star-ingredient, energy enhancing maca, to lift your mood, strengthen bones, and fight the bad guys. We've also added calcium-rich kale, heart-healthy avocado, and magnesium rich cacao to really pack a nutritional punch!
Benefits
Immunity Boosting

Anti Inflammatory

Digestive Support
The Goods
Blueberries
Banana
Kale
Avocado
Medjool Dates
Himalayan Salt
Maca Powder
Cacao
Vanilla Extract (non-alcoholic)
Superfood Highlights
Blueberries
This popular berry has great health benefits – not only are the super low in calories they are packed with vitamin C and fibre. The concentrated amount of antioxidants in blueberries benefits brain function and plays a role in delaying mental decline.
Himalayan Salt
Himalayan salt is made from rock crystals of salt that have been mined from areas close to the Himalayas, often in Pakistan. It gets its rosy hue from trace minerals in the salt, like magnesium, potassium, and calcium.
Maca Powder
Maca is a root from Peru that is nutrient packed! Maca is a complete protein and also contains an abundance of calcium, iron, magnesium, sodium, sulfur, potassium and phosphorous. This superfood is an adaptogen meaning it normalizes the body and keeps things in control. Adaptogens allow the body to better respond to internal and external environmental factors such as anxiety and injuries. Maca is well known for its ability to regulate hormones it encourages the body to produce or decrease its own hormones by nourishing the master glands of the body (hypothalamus and pituitary).
Cacao
This unprocessed chocolate superfood is loaded with amazing nutrition and contains an impressive amount of antioxidants. Reason being that raw cacao is made by cold-pressing unroasted cocoa beans so the nutritional benefits aren't lost during processing. Cacao is a great source of anandamide, which is a neurotransmitter that stimulates a sense of happiness and mental well-being – AKA mood booster!
Nutrition Facts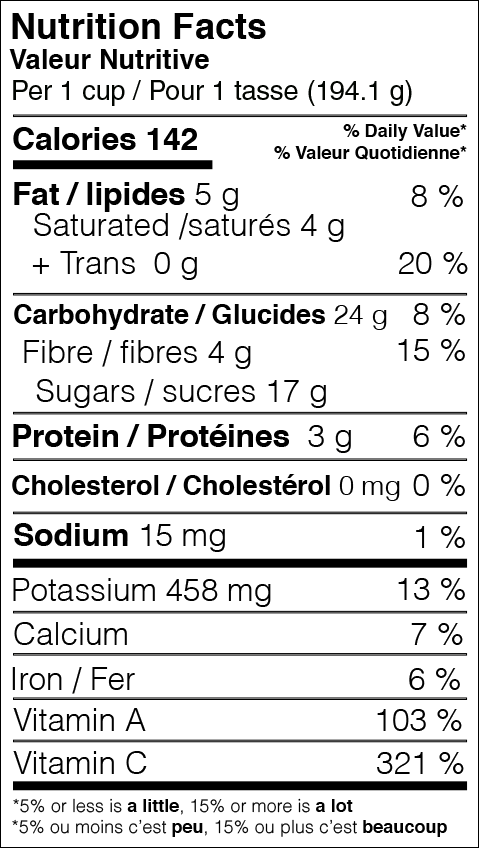 How To Blend
Step 1 Fill your smoothie cup all the way to the top with your favourite liquid
Step 2 Toss all the good stuff into your blender and blend until smooth
Step 3 Pour your delicious smoothie back into your ready-to-go cup, pop the lid back on and enjoy!
Reviews
Overall Rating: 4.8/5
based on 17 reviews
aaaaa
Melissa V
Verified
November 18, 2019
Chocolatey goodness
WOW. I was surprised at how AMAZING this one tastes, considering there is avocado and kale, in it. But, all of these blend together to create a smoothie that tastes like chocolate pudding. MUST try!
aaaaa
April G
Verified
November 8, 2019
Who doesn't love chocolate?
Full of superfoods and very tasty.
Tips:
Almond milk and a scoop of chocolate protein powder
aaaaa
Mary W
Verified
November 4, 2019
Lots of blueberries
Excellent flavor. Loved the color! Perfect blend of blueberries and cacao. Idea for another: substitute strawberries, add a little pineapple and call it banana split!
aaaaa
Kate F
Verified
October 19, 2019
Great Blend of Flavours!
Surprisingly refreshing and creamy!
aaaaa
Oi Hang Holly C
Verified
October 19, 2019
My fav!
Tastes so creamy and healthy. I also love the variety of ingredients in here, its my favourite smoothie so far.
Tips:
I made mine with water and it was still delicious.
aaaaa
Ella W
Verified
October 9, 2019
Super Satisfying!!!
The perfect way to satisfy while getting veggies in. Love this one!
Tips:
Unsweetened Almond Milk
aaaaa
Marianna M
Verified
September 30, 2019
Chocolate overpowering
Much more chocolately than I was expecting, it kind of overpowers the other flavors unfortunately.
aaaaa
DANA S
Verified
September 30, 2019
Delicious
This one tastes really good and has a nice subtle chocolate flavor
Tips:
Unsweetened almond mink
aaaaa
Stephanie C
Verified
September 11, 2019
My absolute favourite!
It tastes like a healthy blueberry/ chocolate shake! Love it!
aaaaa
wendy p
Verified
September 3, 2019
Deelish
Let me begin by saying I hate veggies. This was a tasty treat and a sexy little midnight snack. I'm juicing and doing a smoothie thing before vacation so I instead of feeling sorry for myself I thought I would enjoy, and enjoy I definitely did! and they snuck those veggies in!
More Reviews