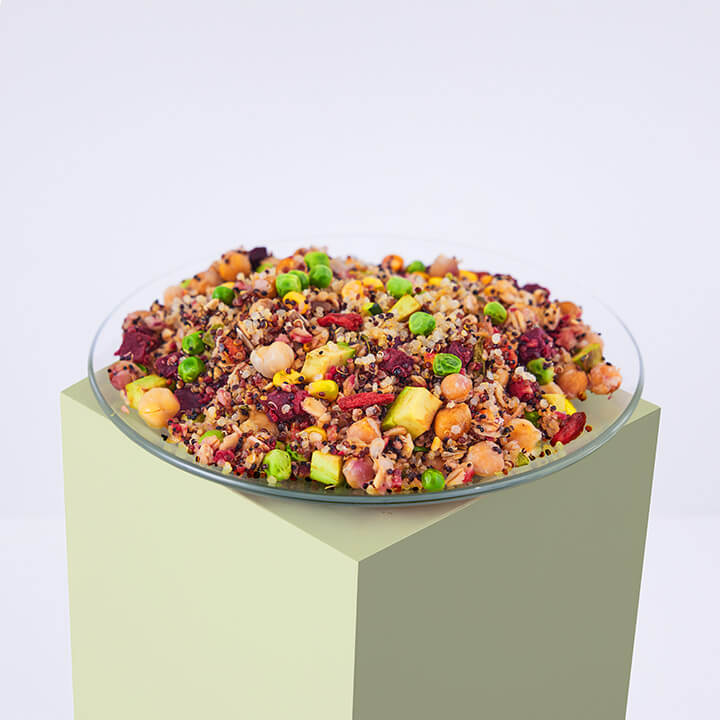 Avocado & Quinoa
4.4
44 reviews
Avocados gone wild! This warm and savory meal makes for the perfect lunch or dinner. Our chefs began with a wholesome bowl of quinoa and topped it with nutrient-rich ingredients like green peas, corn, beets, avocado and goji berries. Bringing this gorgeous bowl together is a tarty sauce made with coconut milk, lemon juice, and our favorite spices. With 13 grams of delicious plant protein, 19g of fat, and 11g of fiber, this bowl is sure to keep you feeling fuller longer.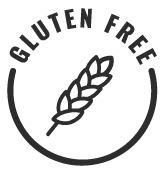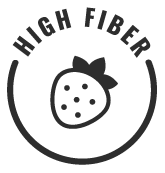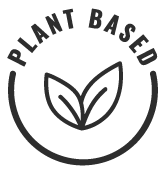 More super Meals
THE GOODS
Chickpeas
Green Peas
Corn
Beets
Avocado
Water
Coconut Milk i

Coconut, Water

Olive Oil
Sunflower Seeds
Goji Berries
Lemon Juice i

Water, Concentrated Lemon Juice, Sulphites, Lemon Oil

Salt
Garlic Powder
Ground White Pepper
Oats
HOW TO PREPARE
Microwave Remove film and heat for 3-5 minutes stirring halfway through.
Stovetop Empty all contents into a preheated pan. Add 1/3 cup of water (or broth) to the meal, cover with a lid, and allow to steam on high heat for 2-3 minutes. Remove lid, stir, and cook for another 2 minutes on low heat. Enjoy!
PEOPLE ALSO BOUGHT
Looking for something new? Superfoodies who love Avocado & Quinoa also liked these cups…
Reviews
Overall Rating: 4.4/5
based on 44 reviews
aaaaa
Lydia S
Verified
May 19, 2022
Deliciousness!!
Absolutely love this!!! Wasn't sure what to expect here, but turns out this has become a huge favourite.
aaaaa
Samantha C
Verified
May 15, 2022
Yummy
I love this one. Tasty and healthy, who knew that was possible? I still don't think there is enough avocado in it, though.
aaaaa
Courtney B
Verified
May 10, 2022
Easy meal
Love this meal, that I ordered the other two. This was very filling and taste great. Add some rotisserie chicken
aaaaa
Ashley G
Verified
May 4, 2022
aaaaa
Zabrina S
Verified
May 3, 2022
Easy and Healthy
Super easy, convenient, and healthy meal. Great if you are watching what you eat and super busy.
aaaaa
Sondra P
Verified
May 3, 2022
Filling and light taste
This is a really nice mix for flavours and textures. I usually add a little soy sauce for extra flavour, as there isn't really a sauce, but it's good without and filling.
aaaaa
Eric L
Verified
May 3, 2022
Amazing
Very delicious and the right amount of flavour in every bite!
aaaaa
Brock V
Verified
April 28, 2022
Delicious!
This one is the one to buy! It was very flavourful! I want more of these in my life!
aaaaa
Leifka V
Verified
April 19, 2022
small but delicious
nice mix of protien
aaaaa
Susan G
Verified
April 14, 2022
Delicious!
This supermeal was delicious and filling. I prepared it per the package recommendation, with no changes, since this was the first time I'd had it. I ate it as a meal, but it could also be eaten as a side dish.
Tips:
I've ordered this again, and may try eating this as a side dish with scrambled eggs. Or, I might try cooking then chilling it, and then serving over a spinach, kale, or lettuce salad.
More Reviews