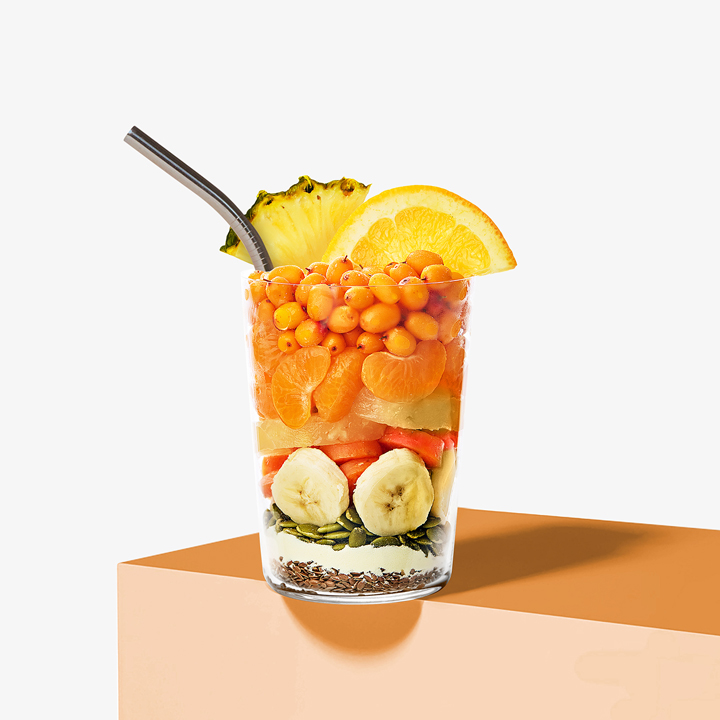 Orange & Sea Berry
4.7
474

reviews
It's refreshing, delicious, citrusy, and sooo good for you! Our orange & sea berry smoothie is the perfect sunshine delight. This smoothie features a unique and highly nutritious berry called 'sea berry'. Sea berries also known as sea buckthorns are one of the most vitamin-rich fruits and are a well known source of vitamin C, carotenoids, and vitamin E. Not only is this smoothie delicious and loaded with nutrients, it's also packed with 8 grams of protein making it the perfect post-workout snack or mid-day pick me up.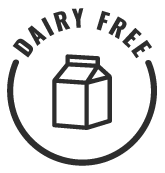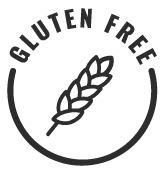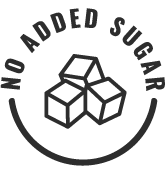 More smoothies
MAIN INGREDIENTS
Mandarin Oranges
Pineapple
Banana
Carrots
Sea Berries *
Pumpkin Seeds
Chia Seeds
Flax Seeds
Organic
GUILT-FREE INGREDIENTS
Honest and simple ingredients that nourish you from the inside out
Mandarin Oranges
Orange you glad to see these little fellas? Mandarins are of course rich in Vitamin C and other antioxidants that are known to promote healthy skin, immune health, and a healthy gut.
Banana
Packed with Potassium and Vitamin B6; two nutrients that are well known to promote heart health, this fruit is a fan fav. Bananas are also a good source of Vitamin C, a powerful antioxidant.
Carrots
We are always rooting for this crunchy, nutritious, and delicious veggie. We all know carrots are good for our eyes, but they are also packed with a special type of fibre called pectin that feeds our friendly gut bacteria.
Pineapple
Loaded with vitamin C and manganese, pineapple is an antioxidant-rich fruit that protects your immune system and helps maintain a healthy metabolism.
HOW TO PREPARE
1. Fill Add your favourite liquid into the pre-proportioned cup.
2. Blend & enjoy Pour everything into a blender and serve!
PEOPLE ALSO BOUGHT
Looking for something new? Superfoodies who love Orange & Sea Berry also liked these cups…
474 reviews
4.7 overall rating
Reviews
Verified Buyer
aaaaa
Nice flavor
Texture is not the smoothest but the flavor is great.
Tips:
use your high powered blender
Verified Buyer
aaaaa
Morning Sunshine
I like this one. It is perfect for in the morning as a good wake me up. Better than OJ and very tasty. Not too overpowering either.
Verified Buyer
aaaaa
Refreshing
Great for a warm day
Tips:
I used oj.
Verified Buyer
aaaaa
Perfect summer flavour!
One of my favourite flavours
Verified Buyer
aaaaa
Best Deal for Smoothies
Great ingredients, so easy, and absolutely delicious. The shipping price is my only complaint.
Verified Buyer
aaaaa
Healthy Orange Julius!
This was so creamy, smooth and FILLING!
Tips:
Start with less liquid and add slowly!
Verified Buyer
aaaaa
Delicious
This smoothie tastes like a DELICIOUS orange treat and the benefits from the sea berry are magical just look it up.
Tips:
orange juice
Verified Buyer
aaaaa
Where else can I get SeaBerry?
Love the depth of flavor the SeaBerry brings to this orange smoothie!
Tips:
I like to mix this with 1/2 almonth milk, 1/2 orange juice, a tsp of vanilla and 1/2 cup ice. I always blend really well. Reminiscent of an Orange Julius. 50% off with my code KIN3075670
Verified Buyer
aaaaa
Delicious
Good summer tasting drink
Verified Buyer
aaaaa
Very Good
One of my favorites