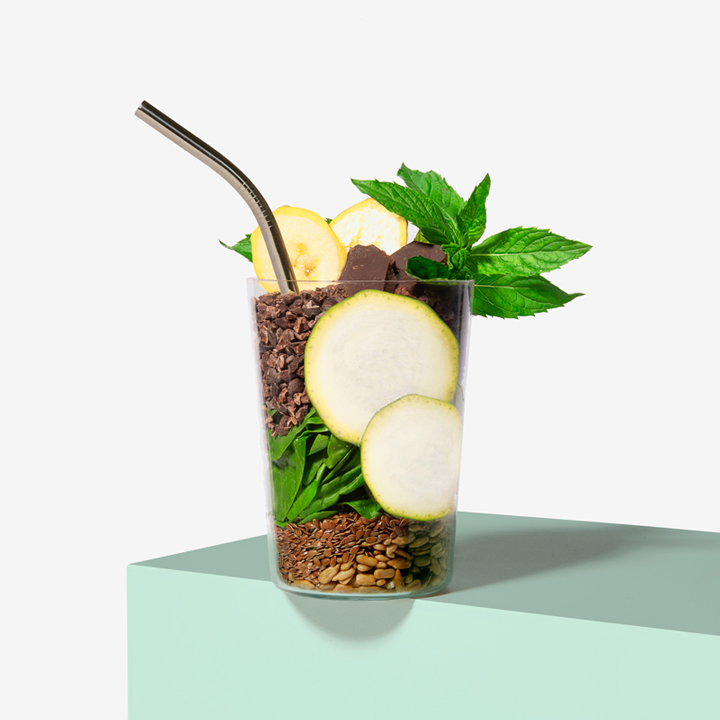 Hint of Mint
4.6
3419

reviews
We don't mean to brag, but when it comes to making veggies taste like ice cream, we dominate every time. If you like mint chocolate chip ice cream with an extra sprinkle of antioxidants and iron, then this smoothie is for you. Made with superfoods like cacao, spinach and zucchini this smoothie is the perfect way to get your veggies in without even realizing it.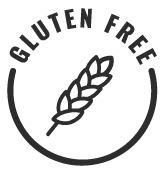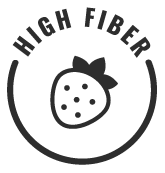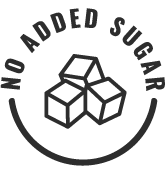 More smoothies
MAIN INGREDIENTS
Banana
Spinach
Zucchini
Cacao Nibs *
Sunflower Seeds
Peppermint
Flax Seeds
Baobab *
Chlorella
Organic
GUILT-FREE INGREDIENTS
Honest and simple ingredients that nourish you from the inside out
Peppermint
Keeping our breath minty and our stress levels down. Plant compounds in peppermint have shown to ease an upset stomach, and relieve pain caused by headaches and migraines.
Banana
Packed with Potassium and Vitamin B6; two nutrients that are well known to promote heart health, this fruit is a fan fav. Bananas are also a good source of Vitamin C, a powerful antioxidant.
HOW TO PREPARE
1. Fill Add your favourite liquid into the pre-proportioned cup.
2. Blend & enjoy Pour everything into a blender and serve!
PEOPLE ALSO BOUGHT
Looking for something new? Superfoodies who love Hint of Mint also liked these cups…
3419 reviews
4.6 overall rating
Reviews
Verified Buyer
aaaaa
Mint ice cream
Tastes like mint ice cream. I like keeping this one in the rotation when I have a craving for something refreshing.
Verified Buyer
aaaaa
Mint Rejoice!
If you love mint this is a must have in your box. Zippy and chocolatey!
Tips:
Try blending with dark chocolate nut milks
Verified Buyer
aaaaa
Favorite Go-To Smoothie!
One of my favorite/go-to smoothies! I eat this when I'm craving something sweet but want something healthy.
Tips:
I like to add an extra frozen banana - I find it helps with the chalky texture.
Verified Buyer
aaaaa
Better than I expected
I didn't think I would like this one as much as the fruity ones. It was better than I was expecting, so I will order again!
Verified Buyer
aaaaa
Mint and Chip.
Its like your favorite mint and chip ice cream. You'll feel like you're cheating on your diet but the ingredients couldn't be better
Tips:
Almond milk
Verified Buyer
aaaaa
My absolute FAVOURITE
This, I don't know why... but it's by far my absolute favourite. Think of the chocolate and mint chip ice cream but not as sweet and 10000 times healthier. I NEED more of these. Amazing.
Verified Buyer
aaaaa
Perfect!
Like mint chocolate chip ice cream, but healthier and without worrying about melting!
Tips:
I use the highest setting on my blender to try to get it extra smooth. Sometimes takes a little extra time to get the mint leaves fully blended in, but worth the extra time!
Verified Buyer
aaaaa
Refreshing
I personally loved this one. My kids liked it but one of them took issue with the sunflower seed pieces.
Tips:
For kids with texture apprehension it was worth the effort to strain it.
Verified Buyer
aaaaa
My favourite!!!
So tasty and fresh!!
Verified Buyer
aaaaa
favorite
This one is my fave
Tips:
Great with chocolate pea protein powder