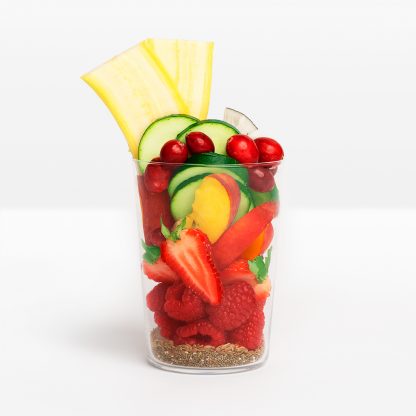 Strawberry Zen
4.8
53 reviews
This fruity breakfast classic is everything you need to jump-start your day. It is full of antioxidant-rich strawberries and raspberries and cranberries to keep you going all day.
Benefits
Immunity Boosting

Anti Inflammatory

Digestive Support
The Goods
Banana
Peaches
Raspberries
Strawberries
Zucchini
Pea Protein
Cranberries
Coconut Oil*
Flax Seeds
Chia Seeds*
Superfood Highlights
Coconut Oil*
Coconuts contain significant amounts of fat, but unlike other nuts, they provide fat that is mostly in the form of medium chain saturated fatty acids (MCFAs) in particular, one called lauric acid. Lauric acid in the body is a powerful antiviral, antifungal and antibacterial. Adding a moderate amount of coconut-derived foods in your diet may help protect the body from infections and viruses.
Flax Seeds
If you are a vegetarian or don't eat fish, flax seeds can be your best source of omega-3 fats! Omega-3s help fight inflammation and are heart-healthy. Flax seeds also contain a group of nutrients called lignans, which have powerful antioxidant properties - flax seeds have the most lignans than any other plant food. Flax also contains a good dose of fibre that can improve your digestive health.
Chia Seeds*
Despite their small size, chia seeds are one of the most nutritious dense foods. They're loaded with fiber, protein, omega-3 fatty acids and various micronutrients. Great news for those who don't consume dairy - gram for gram, the calcium content in chia seeds is higher than most dairy products. As a result, chia seeds may be considered an excellent source of calcium for people who don't eat dairy.
Nutrition Facts
How To Blend
Step 1 Fill your smoothie cup all the way to the top with your favourite liquid
Step 2 Toss all the good stuff into your blender and blend until smooth
Step 3 Pour your delicious smoothie back into your ready-to-go cup, pop the lid back on and enjoy!
Reviews
Overall Rating: 4.8/5
based on 53 reviews
aaaaa
Jennifer W
Verified
March 27, 2020
My 7 year-old enjoyed it!
This one was just ok for me but my son loved it! Said he could drink it all day. I used unsweetened almond milk.
aaaaa
Marissa L
March 24, 2020
Very bland
I was surprised by how much I didn't like this smoothie. Usually I like a smoothie with these types of fruits, but I got two in my last box and both were incredibly bland. I will not order again.
aaaaa
Kat C
March 23, 2020
So delicious, so healthy
Love the cranberry mixed in here- with the berries and peach, it's not tart at all but perfectly delicious.
Tips:
For 60% off your first box and 3 free metal straws, use CHA507070
aaaaa
Paulina B
March 20, 2020
Gave it a second chance!
Tried this smoothie again with almond milk and loved it!
Tips:
Almond milk
aaaaa
Aiesha C
March 19, 2020
Tasty
I liked strawberry zen but I personally don't prefer smoothies with raspberry seeds. Otherwise, the flavour was great.

For 60% off + 3 FREE straws, use the code CAM595550
Tips:
Vanilla almond milk
aaaaa
Estelle F
Verified
March 17, 2020
Tangy and Sweet, what a Treat!
I find this one especially delicious using orange juice! It gives a yummy citrus-berry flavor that energizes and wakes you up. If you want a good one for mornings that doesn't have caffine, try this one!
Tips:
Orange Juice
aaaaa
Peter A
Verified
March 17, 2020
*** Free Bonus gift +60% off ***
Grear flavor Strawberry Banana + Raspberry Peach.

*Use Code ANT605200

Tips:
Free Bonus gift +60% off
Use Code ANT605200
aaaaa
canessa h
Verified
March 17, 2020
Who doesn't love strawberries?
best seller for a reason. My kids think this one tastes like sunshine they say. The strawberries are a hit in it and you can't taste the veg. For adults blend with vodka and drink pool side. For post workout or breakfast I add a scoop of vanilla protein and blend with basic oatmilk. Simple,clean, nutritious!
Tips:
******100$ off code below******
HES578010 plus a bonus gift * spread the <3
aaaaa
CANDI F
Verified
March 9, 2020
Berry kicker
Tastes more tangy than sweet
Tips:
Vanilla Almond milk
aaaaa
Adam F
Verified
March 9, 2020
My #1
a must have in every order
Tips:
For 60% off PLUS FREE BONUS gift in your box, use code FRA576520 at checkout
More Reviews