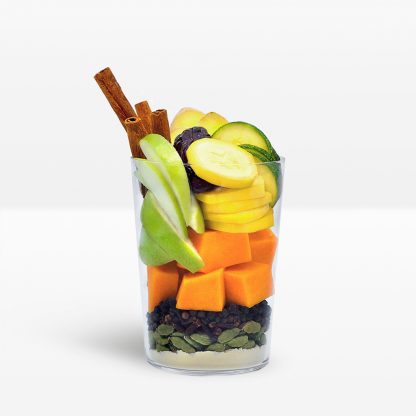 Rise & Chai
4.8
54 reviews
Rise and SHINE! Our new caffeinated protein smoothie is the fix you need in the AM to get you through your hectic mornings. The perfect combination of exotic eastern spices and premium farm frozen ingredients takes this smoothie's taste to another level. The chai is brewed overnight to maximize its benefits and give that boost of energy and flavor. Designed for on-the-go lifestyles, this smoothie contains butternut squash and zucchini to help with muscle recovery and bone strengthening! This one's a must have – thank us later!
Benefits
Energizing

Workout Recovery

Digestive Support
The Goods
Cold Brew Chai
Apple
Banana
Butternut Squash
Pea Protein
Zucchini
Vanilla
Medjool Dates
Ginger
Cinnamon
Superfood Highlights
Ginger
Ginger is a popular spice. It is high in gingerol, a substance with powerful anti-inflammatory and antioxidant properties. Ginger is also effective at reducing the day-to-day progression of muscle pain, and may reduce exercise-induced muscle soreness and a great addition to post-workout recovery!
Cinnamon
This delicious spice helps your body fight infections and repair tissue damage. One unique quality of cinnamon is that it decreases the amount of sugar that enters your bloodstream after a meal, bye-bye blood sugar spikes!
Nutrition Facts

How To Blend
Step 1 Fill your smoothie cup all the way to the top with your favourite liquid
Step 2 Toss all the good stuff into your blender and blend until smooth
Step 3 Pour your delicious smoothie back into your ready-to-go cup, pop the lid back on and enjoy!
Reviews
Overall Rating: 4.8/5
based on 54 reviews
aaaaa
haley g
March 29, 2020
so good
i was worried the zucchini would come through, but it was delicious
aaaaa
Melissa R
Verified
March 27, 2020
Great start to the morning
I really enjoyed this smoothie. Used almond milk to blend. I actually don't like chai tea, but I liked this, didn't find the chai too strong and flavours worked well together!
aaaaa
June P
Verified
March 27, 2020
fave
just right. my kid likes it too.
aaaaa
canessa h
March 19, 2020
Rise and taste the goodness
Perfect for iced coffee or latte drinkers. The cinnamon, chai and bananas go well together. I mix with regular milk. It tastes better than the Williams iced chai lattes that I was addicted too. I am such a sucker for drive thru. Convivence please.! I am a mom, a nurse and we have busy schedules. This is perfect for on the go mommas (guys too) but moms need this staple In every box.
Tips:
*********100$ off code below******
HES578010 plus a bonus gift
aaaaa
Kat C
Verified
March 17, 2020
Love this for breakfast!
I love chai, and this is a good smoothie. I add extra spices to get that strong chai taste. For a truly decadent morning, add 1 TBSP nut butter.
Tips:
For 60% off your first box and 3 free metal straws, use CHA507070
aaaaa
CANDI F
Verified
March 9, 2020
Chai please
I normally don't like chai, but I was pleasantly surprised with the taste of this smoothie. Very good flavour, a little sweet
Tips:
Vanilla Almond milk
aaaaa
Adam F
Verified
March 9, 2020
Yummy in your tummy
Unexpectedly awesome
Tips:
For 60% off PLUS 3 FREE reusable straws use code FRA576520
aaaaa
Shannon d
Verified
March 4, 2020
OMG
What a wonderfully delicious Surprise. Filling but not to rich. Made one and gave a taste to my son who than ran off with it! Luckily I had another.
Tips:
I like to use water to keep the calories down and I also put a little stevia in it as I have a sweet tooth!
aaaaa
LaShea L
Verified
March 4, 2020
Better Now
At first, this was not one of my favorites. It was a little bland. The second time I made it, I used chocolate unsweetened almond milk and some cinnamon, and it tasted great. Still not my favorite but very good.
Tips:
Use unsweetened chocolate almond milk and some cinnamon.
aaaaa
Camille B
Verified
February 21, 2020
Nice surprise
Interesting flavor, not to sweet
More Reviews