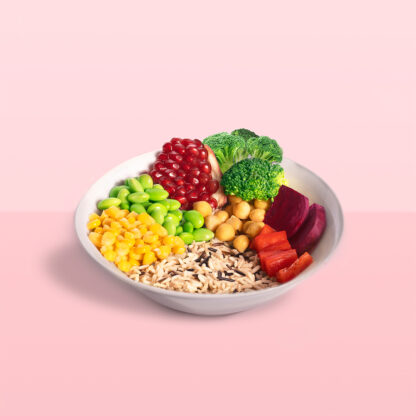 Power Pom
4.7
609 reviews
Say goodbye to meal-kits and meal-delivery because this protein packed SuperMeal is all you'll ever need. Our team of chefs created the perfect dish with YOU in mind. The perfect combination of wild rice, pomegranate, edamame, and chickpeas to power you through your day.
Benefits
High Protein

Source of Fiber

Cleansing Detox
The Goods
Brown Rice
Chickpeas
Wild Rice
Broccoli
Corn
Pomegranate
Edamame
Red Pepper
Pumpkin Seeds
Water
Canola Oil
Pomegranate Syrup
Lemon Juice
Salt
Agave Syrup
Superfood Highlights
Chickpeas
Chickpeas also known as garbanzo beans, they are part of the legume family. They are high in vitamins, minerals, fiber and protein. These characteristics are responsible for most of their health benefits, which range from weight management to blood sugar control.
Wild Rice
Despite its name, wild rice is not rice. Wild rice is a species of grass that produces edible seeds resembling rice. Wild rice contains more protein than other types of rice (2x that of brown rice). Wild rice also contains impressive amounts of several nutrients, including, manganese, phosphorus, magnesium, and zinc.
Edamame
Edamame are immature soybeans. Soybeans are a whole protein source. Unlike most plant proteins, they provide all the essential amino acids your body needs. In addition to being a great source of soy protein, edamame is rich in healthy fiber, antioxidants and vitamin K. A ½ cup of shelled edamame gives you 9 grams of fibre and 11 grams of protein. Most importantly they are delicious and makes for a great snack on its own with a little sea salt or they added to meals and stir-fries.
Red Pepper
Move over oranges!Red peppers contains 3x more vitamin C than an orange. Other vitamins and minerals in bell peppers include vitamin K, vitamin E, vitamin A, folate, and potassium.
Pumpkin Seeds
These seeds may be small, but they're packed full of valuable nutrients. A handful of pumpkin seeds can provide you with a substantial quantity of healthy fats, magnesium and zinc. Pumpkin seeds are one of the best natural sources of magnesium — a mineral that many of us fall short on. Magnesium is important in many reactions in our body such helping with blood sugar levels and blood pressure. Magnesium helps to keep you calm; this mineral is often referred to as nature's chill pill!
Nutrition Facts

How To Heat
Step 1 Pour your SuperMeal into a non-stick pan on medium high heat
Step 2
Stir for 2-4 minutes (no stock or water needed!)
Step 3 Once it's ready, pour your SuperMeal into a bowl and enjoy!
How To Microwave
Step 1 Pour your SuperMeal into a microwave friendly bowl
Step 2
Heat for 2-4 minutes stirring halfway through (no stock or water needed!)
Step 3 Once it's ready, take your SuperMeal out of the microwave and enjoy!
Reviews
Overall Rating: 4.7/5
based on 609 reviews
aaaaa
Kelly G
July 4, 2020
This worked
I don't know what I expected, but it has a rice-like consistency (due to the quiona) with various veggies. I liked it.
aaaaa
Jennifer B
Verified
July 3, 2020
Healthy and tasty
These little bowls of goodness are not only healthy but always taste amazing!!
aaaaa
Kortney K
Verified
July 3, 2020
If this one is the worst, then I'm a customer for life
Probably my least favorite of all the bowls. still tasted amazing
aaaaa
Chris B
Verified
July 2, 2020
Filling meal
We like this one more for dinner than lunch as it is quite filling.
Tips:
Add some water to the pan to cook faster.
aaaaa
Yueting L
Verified
July 2, 2020
good quick meal
although the portion is a bit small
Tips:
I added bacon
aaaaa
Jacquelyn A
Verified
July 2, 2020
Good
Was super good more on the sweet side so the lime beans help
Tips:
I put in micro for 40 seconds then let it sit for 1 min and turned micro on for another 30 seconds
aaaaa
Heather D
Verified
July 2, 2020
Tasty bowl
I really enjoyed this bowl. Good flavours, filling. Could definitely be a bit bigger though. I added hemp hearts to it.
aaaaa
Jillian P
Verified
July 2, 2020
aaaaa
Tony C
Verified
July 2, 2020
Healthy!
I really like this one due to it giving me tremendous energy afterwords.
aaaaa
Phyllis P
Verified
July 1, 2020
Power Pom
Delicious and convenient!
Tips:
Needed to heat longer than instructed.
More Reviews