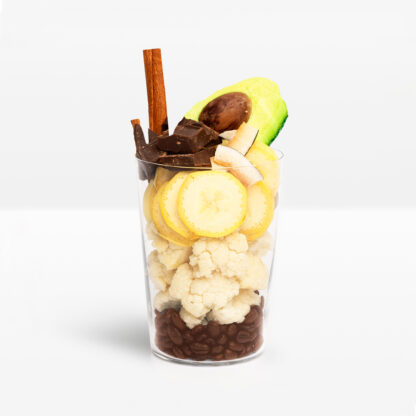 Morning Mocha
4.7
2436 reviews
Are you a frap lover? Why not supercharge your frap with healthy fats? Healthy fat from avocado, cacao, and coconut oil give you a sustainable energy boost. They make this cold brew coffee based smoothie the perfect morning pick-me-up. This smoothie designed for coffee lovers also contains cauliflower for creaminess (we promise you can't taste it) and banana for a sweet touch.
Benefits
Cleansing Detox

Stress-Relief

Immunity Boosting

Anti Inflammatory

Beautifying

Digestive Support
The Goods
Banana
Cauliflower
Avocado
Toasted Coconut
Pea Protein
Cocoa
Coffee
Chocolate Flavouring
Himalayan Sea Salt
Cinnamon
Superfood Highlights
Cauliflower
This vegetable can be made into pizza, rice, and mashed potatoes. This miracle veggie is incredibly versatile, mild in taste and is packed with tons of nutrients. Cauliflower is part of the cruciferous family and this group of veggies contains unique plant compounds that may reduce the risk of several diseases, including heart disease and cancer. Plus cauliflower is weight loss friendly (low calories, low carb and high fibre) and super easy to add to your diet.
Avocado
This delicious fruit is filled with healthy fat and fibre. The powerful combination of fat and fibre helps you feel full longer. Further, avocados are nutrient-packed with over 20 vitamins, minerals and phytonutrients. Giving you a powerful and delicious nutrient boost!
Himalayan Sea Salt
Himalayan salt is made from rock crystals of salt that have been mined from areas close to the Himalayas, often in Pakistan. It gets its rosy hue from trace minerals in the salt, like magnesium, potassium, and calcium.
Cinnamon
This delicious spice helps your body fight infections and repair tissue damage. One unique quality of cinnamon is that it decreases the amount of sugar that enters your bloodstream after a meal, bye-bye blood sugar spikes!
Nutrition Facts

How To Blend
Step 1 Fill your smoothie cup all the way to the top with your favorite liquid
Step 2 Toss all the good stuff into your blender and blend until smooth
Step 3 Pour your delicious smoothie back into your ready-to-go cup, pop the lid back on and enjoy!
Reviews
Overall Rating: 4.7/5
based on 2436 reviews
aaaaa
Lindsey A
July 14, 2020
A favourite!
Great chocolaty, coffee flavour! This is one of my absolute favourites!
Tips:
I add milk and chocolate protein.
aaaaa
Tarryn T
July 14, 2020
Weird Tasting Smoothie
The headline says it all, and others agree with me! Super creamy, but tastes like a really bad milkshake!
Tips:
Used with vanilla almond milk.
aaaaa
Mallory T
July 14, 2020
Can taste the coffee!!
I get mochas from starbucks all the time, this did not disappoint!
aaaaa
Samantha H
July 14, 2020
Hint of coffee
Delicious creamy hint of coffee with a subtle sweetness
Tips:
Added with almond milk
aaaaa
Jenny G
July 14, 2020
Good
Was decent, needed a little more kick to it to give it a "morning punch"
Tips:
maybe a little jalepeno?
aaaaa
Risako O
July 14, 2020
Okay
Nothing too exciting. I felt like it wasn't worth paying extra for and I wasn't a huge fan of the toasted coconut flavor.
aaaaa
Jessica K
July 14, 2020
Morning wake up!
Love the coffee flavour of this smoothie! It feels like a treat with the chocolate, but you know it's good for you!
Tips:
I add almond milk to this.
aaaaa
Anna K
July 14, 2020
Another fave
Another one of my faves. Quick and easy to prepare and take wherever I am heading!
aaaaa
Jillian S
July 14, 2020
good but eh...
this is very tasty but not enough coffee flavor. tastes like chocolate and bananas
aaaaa
Ashley F
July 14, 2020
My fav!
This is delicious in the morning or for a afternoon pick me up! Bonus - the kids can't have this one, so I get it all to myself.
Tips:
Mixed with oat milk!
More Reviews