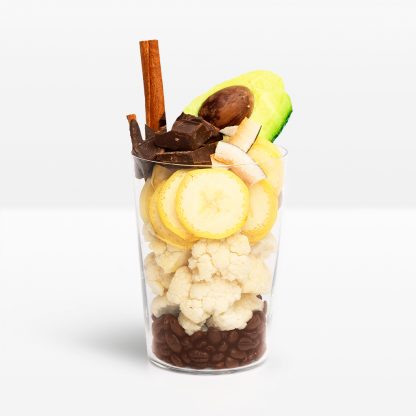 Morning Mocha
4.7
85 reviews
Are you a frap lover? Why not supercharge your frap with healthy fats? Healthy fat from avocado, cacao, and coconut oil give you a sustainable energy boost. They make this cold brew coffee based smoothie the perfect morning pick-me-up. This smoothie designed for coffee lovers also contains cauliflower for creaminess (we promise you can't taste it) and banana for a sweet touch.
Benefits
Cleansing Detox

Stress-Relief

Immunity Boosting

Anti Inflammatory

Beautifying

Digestive Support
The Goods
Banana
Cauliflower
Avocado
Toasted Coconut
Pea Protein
Cocoa
Coffee
Chocolate Flavouring
Coconut Oil*
Himalayan Sea Salt
Cinnamon
Superfood Highlights
Coconut Oil*
Coconuts contain significant amounts of fat, but unlike other nuts, they provide fat that is mostly in the form of medium chain saturated fatty acids (MCFAs) in particular, one called lauric acid. Lauric acid in the body is a powerful antiviral, antifungal and antibacterial. Adding a moderate amount of coconut-derived foods in your diet may help protect the body from infections and viruses.
Himalayan Sea Salt
Himalayan salt is made from rock crystals of salt that have been mined from areas close to the Himalayas, often in Pakistan. It gets its rosy hue from trace minerals in the salt, like magnesium, potassium, and calcium.
Cinnamon
This delicious spice helps your body fight infections and repair tissue damage. One unique quality of cinnamon is that it decreases the amount of sugar that enters your bloodstream after a meal, bye-bye blood sugar spikes!
Nutrition Facts

How To Blend
Step 1 Fill your smoothie cup all the way to the top with your favourite liquid
Step 2 Toss all the good stuff into your blender and blend until smooth
Step 3 Pour your delicious smoothie back into your ready-to-go cup, pop the lid back on and enjoy!
Reviews
Overall Rating: 4.7/5
based on 85 reviews
aaaaa
Jenny P
March 28, 2020
Good taste- odd texture
My blended didn't blend the cauliflower enough
60% off code here: PEN62502 + get 3 free straws!
Tips:
I fill cup w. almond milk then add 4oz water so it's not as thick
aaaaa
Katelyn M
Verified
March 27, 2020
My Favourite
This Smoothie is the perfect start for your day. Satisfies both a coffee craving and a chocolate craving! It is filling as a breakfast and has great ingredients. I blended with almond milk.
aaaaa
June P
Verified
March 27, 2020
nice
nice. avocado makes it super creamy.
aaaaa
Kelly D
March 25, 2020
~ 60% off and get a Free Gift ~ use code DOL652820
Use Code DOL652820

Absolutely love #revive #keto smoothies cups!!
You will too.
Use code DOL652820

Tips:
60% off + free gift Use Code DOL652820
aaaaa
Elise R
March 21, 2020
Good start
Probably my favourite, had a good mocha laste to it! I used Rice milk but Almond would be great too
aaaaa
Stephanie M
March 20, 2020
Just Delicious!
I loved it! great flavor it is perfect to start your day . there it is my promo code if you would like to use it .MON593560
Tips:
it is perfect! whatever milk you use. I use almond milk. you guys have to try it. although it has a lot of benefits.
aaaaa
Kara M
Verified
March 18, 2020
Great! not much coffee flavor
This was not as strong flavored that i had hoped for. With that being said it was still very delicious and filling. Not very coffee taste, which i liked.
USE CODE: MCC611660 FOR 65% OFF AND FREE METAL STRAWS!
Tips:
Use almond milk, or cashew milk
aaaaa
Estelle F
Verified
March 17, 2020
Definitely my Fav!
I love this one in the mornings. I've always loved Mocha's, and this gives me that delicious taste along with tons of nutrition and good things!
Tips:
Vanilla Almond Milk
aaaaa
canessa h
Verified
March 16, 2020
Get your morning going without starbucks or tim hortons
I am a sucker for iced frapp, iced capp, iced coffee. No veggies or goodness in them. As as busy nurse I needed a healthier option and one I can make at home. cant taste the cauliflower at all. Blend with chocolate almond milk. Fantastic.
Tips:
*********100$ off code below******
HES578010 plus a bonus gift * spread the <3
aaaaa
Peter A
Verified
March 15, 2020
**Free Bonus Gift + 60% off
Morning mocha Slurpee goodness!!
Tips:
Free Bonus gift +60% off
Use Code ANT605200
More Reviews