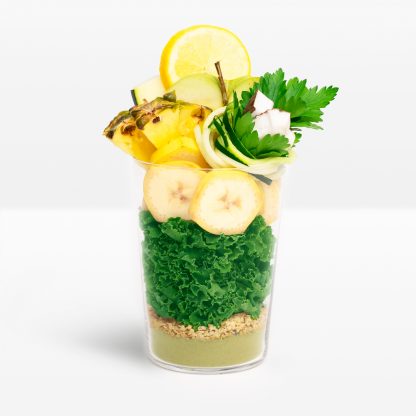 Matcha Maker
4.7
21 reviews
Start your day with a bounce in your step! Our combination of energy boosting matcha and protein-packed hemp seeds provide a sustainable energy source to keep you going all day long. This delicious blend is filled with dark leafy greens for detoxification and refreshing lemon. The greens are balanced with a touch of banana for a soft note of sweetness.
Benefits
Cleansing Detox

Energizing

Anti Inflammatory
The Goods
Apple
Banana
Kale
Pineapple
Zucchini
Parsley
Lemon
Hemp Protein
Matcha*
Baobab*
Coconut Oil*
Superfood Highlights
Parsley
Parsley is a nutritional powerhouse with vitamins A, B, C and K and the minerals iron and potassium. This emerald green herb is popular to consume before big events because it helps to reduce water retention and bloating. Parsley is a natural diuretic, which helps to eliminate excess fluid without depleting the body of potassium.
Matcha*
Matcha is filled with antioxidants that helps with anti-aging and prevents cell damage that can happen with too much inflammation. Matcha helps promote alertness, focus and concentration and prevents the crash in energy levels that can result from too much coffee. Who doesn't want a boost of sustained energy and focus to meet that deadline?!
Coconut Oil*
Coconuts contain significant amounts of fat, but unlike other nuts, they provide fat that is mostly in the form of medium chain saturated fatty acids (MCFAs) in particular, one called lauric acid. Lauric acid in the body is a powerful antiviral, antifungal and antibacterial. Adding a moderate amount of coconut-derived foods in your diet may help protect the body from infections and viruses.
Nutrition Facts

How To Blend
Step 1 Fill your smoothie cup all the way to the top with your favourite liquid
Step 2 Toss all the good stuff into your blender and blend until smooth
Step 3 Pour your delicious smoothie back into your ready-to-go cup, pop the lid back on and enjoy!
Reviews
Overall Rating: 4.7/5
based on 21 reviews
aaaaa
Kara M
Verified
March 27, 2020
Matcha - mate in heaven
This was a very good smoothie! although the matcha leaves a sandy after taste, i think all matcha drinks do that though. Definitely worth the try. If you like starbucks matcha you will like this
Tips:
add vanilla almond milk
aaaaa
Sherine D
Verified
March 27, 2020
Mmm tasty!
If you like the taste of matcha this one is for you. It's not too strong but just right. If you don't like matcha then skip this one for sure. I even added a bit more spinach for extra green!
Tips:
Copy and paste for discount DOU591460!
aaaaa
Huimin C
March 23, 2020
aaaaa
Aiesha C
March 21, 2020
One of my favs!!
I love green juices and even though some of the ingredients in Matcha Maker looks super healthy, it's so delicious you can't really tell. It's not too sweet and it has the right amount of everything ❤️.

For 60% off + 3 FREE straws, use the code CAM595550
Tips:
I used water and vanilla almond milk
aaaaa
Val R
March 18, 2020
my favourite!
My favourite Revive smoothie by far, the texture is smooth and the flavours are well balanced. Definitely doesn't taste like a green smoothie!
Tips:
I combine a splash of mango juice with half a cup of coconut milk and add water until my blender runs smoothly and it's worked out nicely!
aaaaa
Palina B
Verified
March 16, 2020
very green
I am a fan of sweet smoothies, so this one was a bit more bland and green for me. it was yummy, but i couldn't taste the matcha at all. i tasted more apple and kale
aaaaa
CANDI F
Verified
March 9, 2020
mmmmmm Matcha
Kind of a neutral tasting smoothie, not overpowering. Good morning matcha
Tips:
Vanilla Almond milk
aaaaa
Adam F
Verified
March 9, 2020
nothing matches a matcha like this
I love the benefits of matcha in an easy to make smoothie
Tips:
For 60% off PLUS FREE BONUS gift in your box, use code FRA576520 at checkout
aaaaa
karly w
Verified
February 25, 2020
Matcha Lover
SO YUMMY! This was my first smoothie out of the batch and was super surprised. It was light and refreshing and the Matacha was a little on the light side but I could still taste it and it was delicious
Tips:
I use Lactose-free milk (:
aaaaa
Lauren H
Verified
February 23, 2020
Just a little too bitter
Mostly good, a little too matcha-y for me.
More Reviews