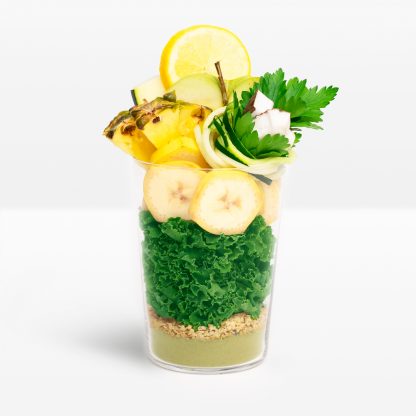 Matcha Maker
4.6
877 reviews
Start your day with a bounce in your step! Our combination of energy boosting matcha and protein-packed hemp seeds provide a sustainable energy source to keep you going all day long. This delicious blend is filled with dark leafy greens for detoxification and refreshing lemon. The greens are balanced with a touch of banana for a soft note of sweetness.
Benefits
Cleansing Detox

Energizing

Anti Inflammatory
The Goods
Apple
Banana
Kale
Pineapple
Zucchini
Parsley
Lemon
Hemp Protein
Matcha*
Baobab*
Coconut Oil*
Superfood Highlights
Zucchini
This green veggie is very mild in taste and is packed with so much great nutrition plus it is very low in calories and low in carbohydrates. Zucchinis contain several antioxidants that may provide various health benefits. The highest levels are found in the fruit's skin.
Parsley
Parsley is a nutritional powerhouse with vitamins A, B, C and K and the minerals iron and potassium. This emerald green herb is popular to consume before big events because it helps to reduce water retention and bloating. Parsley is a natural diuretic, which helps to eliminate excess fluid without depleting the body of potassium.
Matcha*
Matcha is filled with antioxidants that helps with anti-aging and prevents cell damage that can happen with too much inflammation. Matcha helps promote alertness, focus and concentration and prevents the crash in energy levels that can result from too much coffee. Who doesn't want a boost of sustained energy and focus to meet that deadline?!
Baobab*
Baobab is a tree native to certain regions of Africa, Arabia, Australia and Madagascar. In many parts of the work this fruit is not available and is consumed in powder form. Powdered baobab contains many important nutrients but is especially high in vitamin C, vitamin B6, niacin, iron and potassium. Additional baobab is rich in fibre,in 1 tbsp. of baobab powder there is 10 grams of fibre which is great for adding your digestion and in keeping you full.
Coconut Oil*
Coconuts contain significant amounts of fat, but unlike other nuts, they provide fat that is mostly in the form of medium chain saturated fatty acids (MCFAs) in particular, one called lauric acid. Lauric acid in the body is a powerful antiviral, antifungal and antibacterial. Adding a moderate amount of coconut-derived foods in your diet may help protect the body from infections and viruses.
Nutrition Facts

How To Blend
Step 1 Fill your smoothie cup all the way to the top with your favourite liquid
Step 2 Toss all the good stuff into your blender and blend until smooth
Step 3 Pour your delicious smoothie back into your ready-to-go cup, pop the lid back on and enjoy!
Reviews
Overall Rating: 4.6/5
based on 877 reviews
aaaaa
Anne L
May 28, 2020
Tasty
Very nice I thought the matcha flavor was not very strong but still very good
Tips:
I will add a scoop of my own matcha to boost the flavor next time
aaaaa
Tania B
May 28, 2020
Pineapple treat
Great with coconut water
Matcha is great
one of my top picks
aaaaa
April B
May 28, 2020
A bit tasteless
Not a fan. A friend recommended it because she said it was one of her favs. I thought it wasn't sweet enough and hardly any flavour.
Tips:
Next time I will use the recommended almond milk and see if that makes it better.
aaaaa
eduardo S
May 28, 2020
aaaaa
Sydney S
May 28, 2020
Tough kale
The tough kale ruined the smoothie
aaaaa
Sarah A
May 28, 2020
matcha matcha
i love matcha flavor but the thickness of match cut with the bananas, herbs and citrus is a perfection combination!
aaaaa
Steph B
May 28, 2020
Super delicious!
Very healthy and yummy
aaaaa
Jade B
Verified
May 28, 2020
So good!
Great amount of caffeine and veggies while tasting so so sweet
aaaaa
Melissa V
Verified
May 28, 2020
Delicious & Fresh
In general I have been really impressed with how jam packed Revive smoothies are.

I love matcha so decided to give this smoothie a try, even though I wasn't keen on some other ingredients (green apple and pineapple aren't my thing). I was pleasantly surprised, this smoothie was great! It had a fresh taste to it, I'll definitely be ordering it again.
More Reviews