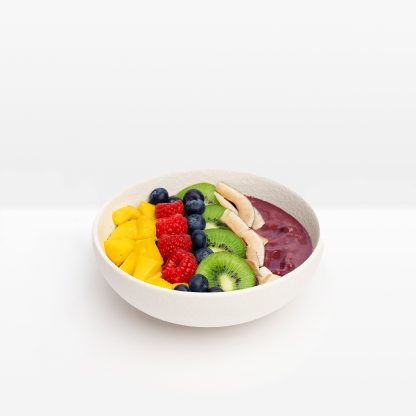 Mango & Kiwi – Açai Bowl
4.7
17 reviews
Creamy, decadent and SUPER nutritious. This Acai Bowl requires no blender, no prep, and ready in no time! Full of pureed acai berries, this breakfast favourite is packed with antioxidants, healthy fats, and fiber making it the perfect way to start your morning. Enjoy our first ever 'prep-free' acai bowl topped with delicious kiwi, mango, blueberries, raspberries, and coconut!
Benefits
Brain Health

Cleansing Detox

Digestive Support
The Goods
Acai*
Kiwi
Mango
Raspberries
Blueberries
Toasted Coconut
Chia Seeds*
Coconut Milk
Banana
Dates
Superfood Highlights
Acai*
Açai berries grow on açai palm trees in the Amazon rainforest. These berries are incredibly rich in antioxidants and contain 3x the amount found in blueberries.
Blueberries
This popular berry has great health benefits – not only are the super low in calories they are packed with vitamin C and fibre. The concentrated amount of antioxidants in blueberries benefits brain function and plays a role in delaying mental decline.
Chia Seeds*
Despite their small size, chia seeds are one of the most nutritious dense foods. They're loaded with fiber, protein, omega-3 fatty acids and various micronutrients. Great news for those who don't consume dairy - gram for gram, the calcium content in chia seeds is higher than most dairy products. As a result, chia seeds may be considered an excellent source of calcium for people who don't eat dairy.
Nutrition Facts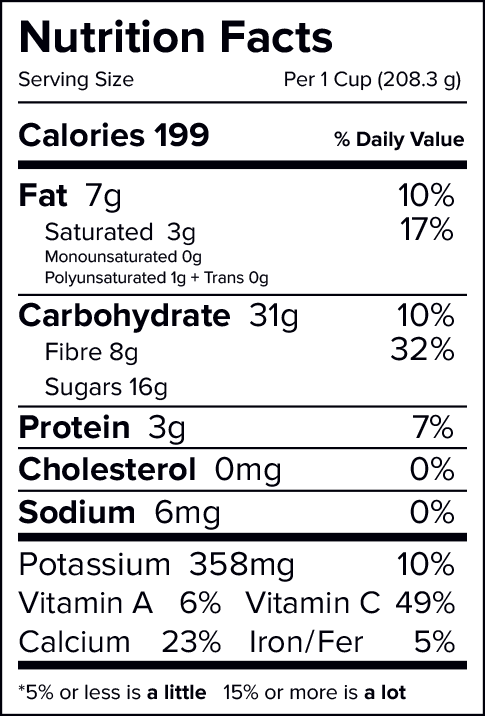 How it Works
Step 1 Place your Acai Bowl in the fridge to defrost overnight for 7+ hours.
Step 2 Remove the lid, stir well and enjoy!
Reviews
Overall Rating: 4.7/5
based on 17 reviews
aaaaa
Karen S
March 30, 2020
Wow!
I only ordered one bowl... I figured it would be icky and I be happy I didn't order more. Boy was I wrong!!! I'm annoyed I have to wait until my next delivery to have another one! They are AWESOME!!
aaaaa
Alexis D
Verified
March 27, 2020
Great Taste
Great tasting flavours and even works well as a smoothie. No need to make it in a bowl if you just want a very flavourful shake.
aaaaa
Kelly D
March 25, 2020
~60% off + free gift~ Use Code DOL652820
Use Code DOL652820

Take it out the night before and enjoy
This delicious #ACAIBOWL.
One of my favorite cups from #REVIVE

60% off + free gift Use Code DOL652820
Tips:
60% off + free gift Use Code DOL652820
aaaaa
Chia C
March 22, 2020
***CHA636240*** Get 60% off and 3 free straws using code CHA636240
***CHA636240*** Get 60% off and 3 free straws using code CHA636240

I love this acai bowl!
Tips:
***CHA636240*** Get 60% off and 3 free straws using code CHA636240
aaaaa
Val R
March 18, 2020
Delicious!!
I forgot to take it out the night before, so instead, I added about half a cup of water and blended everything together... DELICIOUS! If I had more time I could have added more fruit to resemble the picture more, but it was delightful on its own
Tips:
I add Manitoba Harvest fibre protein powder for added sustenance!
aaaaa
deshannon m
Verified
March 18, 2020
Delicious
This is my absolute favorite item that is available. I place it in the refrigerator the night before and eat it directly from the cup in the morning.
aaaaa
Peter A
Verified
March 15, 2020
**Free Bonus Gift code + 60% off**
LOVE IT! Could eat it everyday!!

Tips:
Free Bonus gift +60% off

Use Code ANT605200
aaaaa
Christina M
Verified
March 13, 2020
My favorite
I eat this as a shake or a bowl. Either way it's versatile and amazing!
aaaaa
mark c
Verified
March 9, 2020
ACAI FOR ME - AH
a great energy bowl certain to give you a boost in your day
Tips:
to receive 60% off your entire order use promo code CHA579400 and get FREE THREE METAL STRAWS
aaaaa
Jordan P
Verified
March 9, 2020
AMAZING START TO THE DAY!
This Acai Bowl is a perfect way to start the day. Just defrost overnight and you're good to go!
Tips:
TIPS:
Use Code PER578590 to get 60% off your first box + 3 FREE Straws!
More Reviews