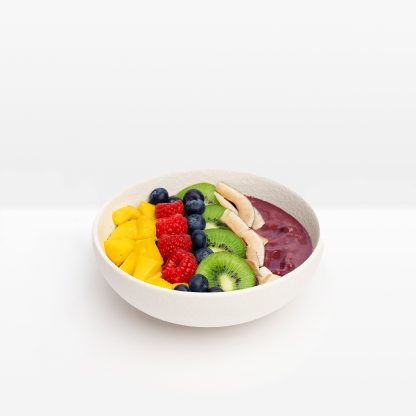 Mango & Kiwi – Açai Bowl
4.7
853 reviews
Creamy, decadent and SUPER nutritious. This Acai Bowl requires no blender, no prep, and ready in no time! Full of pureed acai berries, this breakfast favourite is packed with antioxidants, healthy fats, and fiber making it the perfect way to start your morning. Enjoy our first ever 'prep-free' acai bowl topped with delicious kiwi, mango, blueberries, raspberries, and coconut!
Benefits
Brain Health

Cleansing Detox

Digestive Support
The Goods
Acai*
Kiwi
Mango
Raspberries
Blueberries
Toasted Coconut
Chia Seeds*
Coconut Milk
Banana
Dates
Superfood Highlights
Acai*
Açai berries grow on açai palm trees in the Amazon rainforest. These berries are incredibly rich in antioxidants and contain 3x the amount found in blueberries.
Blueberries
This popular berry has great health benefits – not only are the super low in calories they are packed with vitamin C and fibre. The concentrated amount of antioxidants in blueberries benefits brain function and plays a role in delaying mental decline.
Chia Seeds*
Despite their small size, chia seeds are one of the most nutritious dense foods. They're loaded with fiber, protein, omega-3 fatty acids and various micronutrients. Great news for those who don't consume dairy - gram for gram, the calcium content in chia seeds is higher than most dairy products. As a result, chia seeds may be considered an excellent source of calcium for people who don't eat dairy.
Nutrition Facts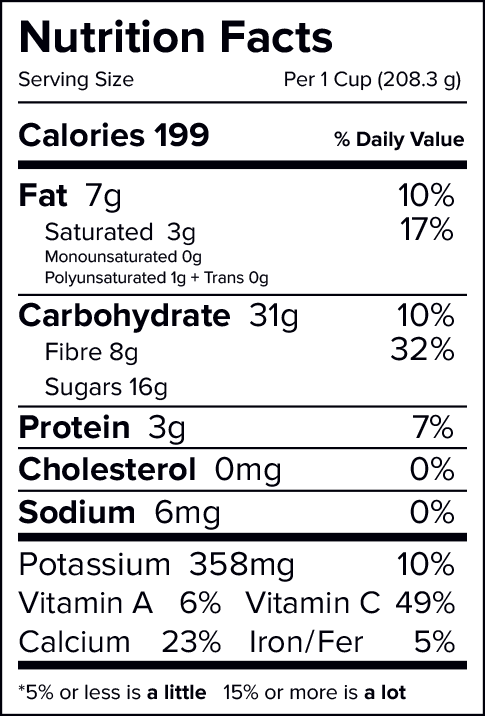 How it Works
Step 1 Place your Acai Bowl in the fridge to defrost overnight for 7+ hours.
Step 2 Remove the lid, stir well and enjoy!
Reviews
Overall Rating: 4.7/5
based on 853 reviews
aaaaa
Megan L
May 28, 2020
not for me
The blueberries are too sour for me to want to eat as much of this as there is. My partner loved it though, so I think it just wasn't my taste.
aaaaa
Joannie C
May 28, 2020
Love it
So delicious and easy to use.
Way too tart
All I could taste was sour and even after thawing for 12 hours in the fridge, parts were still frozen
aaaaa
Chantal L
May 28, 2020
Tasty!
I ended up blending this into a smoothie because I have a hard time with the consistency of fruit that has been frozen. It was delicious!
aaaaa
Kimberly B
May 28, 2020
Tasty but not what I Expected
Not a fan
Tips:
I made this into a smoothie after trying to eat it straight...
aaaaa
Lexie B
May 28, 2020
Great
Great!
Tips:
Great!
aaaaa
Sherry J
May 28, 2020
To die for!
It must be the banana in this one that makes it so delicious! The chunks of kiwi and mango are the best part. Add them to the blueberries and raspberries, perfect breakfast treat!
Tips:
Pull out frozen, leave in the fridge overnight, stir and enjoy! So simple!!
aaaaa
Maria B
May 28, 2020
My Fav!
Hubby and I enjoy getting an Acai bowl from several chains, but the price is enormous compared to this. We love it!
aaaaa
Ashley F
May 28, 2020
Tart and yummy
Every thing was fresh and the mango was perfectly ripe.
Tips:
Nothing!
aaaaa
Brittany C
May 28, 2020
Yum!
Really good! I wish the kiwis had been cut smaller though, they were huge chunks of frozen fruit that were a little difficult to eat
More Reviews