Mango & Kiwi – Açai Bowl
4.5
6 reviews
Creamy, decadent and SUPER nutritious. This Acai Bowl requires no blender, no prep, and ready in no time! Full of pureed acai berries, this breakfast favourite is packed with antioxidants, healthy fats, and fiber making it the perfect way to start your morning. Enjoy our first ever 'prep-free' acai bowl topped with delicious kiwi, mango, blueberries, raspberries, and coconut!
Benefits
Brain Health

Cleansing Detox

Digestive Support
The Goods
Acai*
Kiwi
Mango
Raspberries
Blueberries
Toasted Coconut
Chia Seeds*
Coconut Milk
Banana
Dates
Please note that we are in the process of SuperCharging our products. During this transitional period some of our products may still have allergens like certain nuts, nut butters, and coconut. All our products are dairy and gluten free. If you have any questions please reach out to us at

[email protected]

.
Superfood Highlights
Acai*
Açai berries grow on açai palm trees in the Amazon rainforest. These berries are incredibly rich in antioxidants and contain 3x the amount found in blueberries.
Blueberries
This popular berry has great health benefits – not only are the super low in calories they are packed with vitamin C and fibre. The concentrated amount of antioxidants in blueberries benefits brain function and plays a role in delaying mental decline.
Chia Seeds*
Despite their small size, chia seeds are one of the most nutritious dense foods. They're loaded with fiber, protein, omega-3 fatty acids and various micronutrients. Great news for those who don't consume dairy - gram for gram, the calcium content in chia seeds is higher than most dairy products. As a result, chia seeds may be considered an excellent source of calcium for people who don't eat dairy.
Nutrition Facts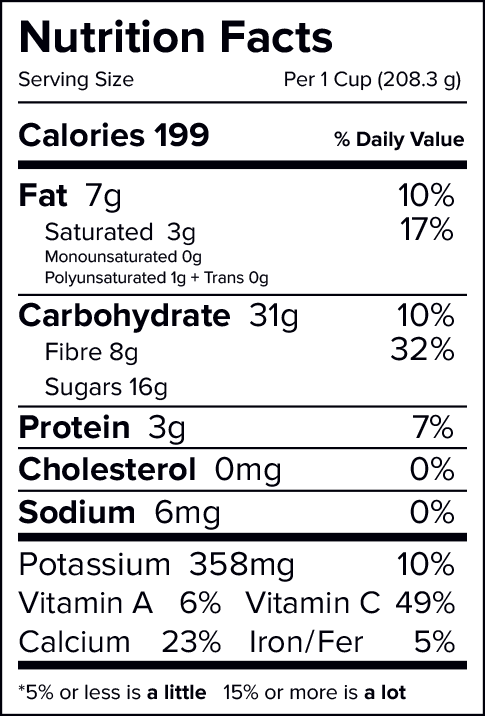 How it Works
Step 1 Place your Acai Bowl in the fridge to defrost overnight for 7+ hours.
Step 2 Remove the lid, stir well and enjoy!
Reviews
Overall Rating: 4.5/5
based on 6 reviews
aaaaa
Heather H
February 21, 2020
Very sweet
Nice addition to the mix. It's a bit sickly sweet vs the other offerings but that may appeal to some!
aaaaa
Charlotte E
Verified
February 13, 2020
Delicious
I love this! It's so easy - throw in your fridge the night before to defrost and then go! It tastes SO good, and I feel great knowing what I'm putting in my body. I'm so grateful I found Revive Superfoods!
Tips:
I crumbled a little bit of granola on top for an extra crunch, would definitely recommend!
aaaaa
Heather W
Verified
February 13, 2020
New customer!
I just placed my first order and can't wait to try this! Use this code WUE511660 and get 60% off + 3 free straws!
aaaaa
Sarah N
Verified
February 12, 2020
Taste great but small
too small to be a full breakfast...might just be a snack. The smoothies are much better value
aaaaa
Kelsey n
Verified
February 9, 2020
Delicious but small
This one was only half full and you dont add extra liquid to it....so it's a half full cup. But the taste was great, and still seemed filling.
aaaaa
danielle t
Verified
February 8, 2020
Delicious
I have never tried an acai bowl and thought why not give this a shot. i am so glad i did, this acai bowl is so delicious. i love the chucks of fruit inside. this was the second one i had tried so far and its so good! definitely try your first box for 60% off and use my code TUR453700 to get 60% off your future boxes and 3 free reusable straws!!
aaaaa
Katie K
Verified
February 8, 2020
Small but good
Really tasty but the cup is barely half filled- there should be more of it. Also, a nut butter of some kind would be great in this.