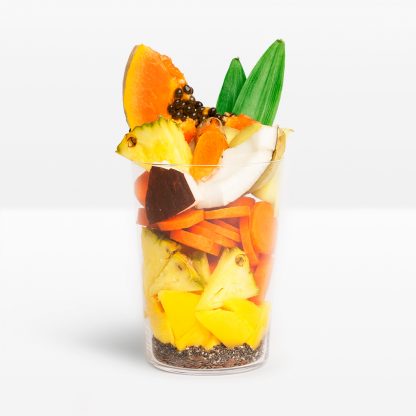 Liquid Gold
4.6
33 reviews
This sweet and spicy smoothie is an anti-inflammatory powerhouse that is sure to have you feeling your best. The ginger and turmeric in this concoction are powerful anti-inflammatory agents that naturally fight conditions such as joint pain and play a role in protecting our brain and heart health. Juicy mangoes add a tropical twist to this smoothie while carrots rich in vitamin-A work to keep your eyes and heart-healthy. Meanwhile, enzyme-rich pineapple and papaya help ease digestion.
Benefits
Energizing

Anti Inflammatory

Digestive Support
The Goods
Carrots
Mango
Papaya
Pineapple
Pea Protein
Ginger
Turmeric
Coconut Oil*
Flax Seeds
Chia Seeds*
Superfood Highlights
Ginger
Ginger is a popular spice. It is high in gingerol, a substance with powerful anti-inflammatory and antioxidant properties. Ginger is also effective at reducing the day-to-day progression of muscle pain, and may reduce exercise-induced muscle soreness and a great addition to post-workout recovery!
Turmeric
The active compound in turmeric is curcumin and this bioactive compound delivers a one-two punch against free radicals. It blocks them directly, then stimulates your body's own antioxidant defenses!
Coconut Oil*
Coconuts contain significant amounts of fat, but unlike other nuts, they provide fat that is mostly in the form of medium chain saturated fatty acids (MCFAs) in particular, one called lauric acid. Lauric acid in the body is a powerful antiviral, antifungal and antibacterial. Adding a moderate amount of coconut-derived foods in your diet may help protect the body from infections and viruses.
Flax Seeds
If you are a vegetarian or don't eat fish, flax seeds can be your best source of omega-3 fats! Omega-3s help fight inflammation and are heart-healthy. Flax seeds also contain a group of nutrients called lignans, which have powerful antioxidant properties - flax seeds have the most lignans than any other plant food. Flax also contains a good dose of fibre that can improve your digestive health.
Chia Seeds*
Despite their small size, chia seeds are one of the most nutritious dense foods. They're loaded with fiber, protein, omega-3 fatty acids and various micronutrients. Great news for those who don't consume dairy - gram for gram, the calcium content in chia seeds is higher than most dairy products. As a result, chia seeds may be considered an excellent source of calcium for people who don't eat dairy.
Nutrition Facts

How To Blend
Step 1 Fill your smoothie cup all the way to the top with your favourite liquid
Step 2 Toss all the good stuff into your blender and blend until smooth
Step 3 Pour your delicious smoothie back into your ready-to-go cup, pop the lid back on and enjoy!
Reviews
Overall Rating: 4.6/5
based on 33 reviews
aaaaa
Simon K
March 29, 2020
not as flavorful as expected
Had to add double the water/oatmillk to make it drinkable so it lost a lot of flavour. Still tastey though!!
aaaaa
haley g
March 29, 2020
yummy
i dont particularly like papaya but this is really good
aaaaa
Jenny P
March 28, 2020
One of my favorites!
Love the flavor of this one! Pairs perfectly w. almond milk.
60% off code + 3 free straws: PEN25020
Tips:
1 cup almond milk + 4oz water so it's not too thick
aaaaa
Leslie H
March 21, 2020
Its a NO
mildly filling but flavorless, bland, wouldn't get again
aaaaa
Stephenie S
Verified
March 17, 2020
My ALL TIME Fave!
This smoothie is delicious! It's sweet (but not too sweet) when using sugar-free almond milk. It tastes like you're in the tropics. This is a staple in my monthly box and I usually order multiples.
Tips:
To SAVE 60% on your first box and to get 3 free stainless steel straws, use code:

SAM374340
aaaaa
Janis B
Verified
March 11, 2020
Was very hesitant
I really didn't know how it would taste with the carrots but this smoothie surpassed all of my expectations. Will definitely order again
aaaaa
Sondra H
Verified
March 9, 2020
Tropics in a smoothie
This is all about how you mix it and letting it sit for a few minutes and it all comes together very nicely. Probably my favorite. It's bright and tangy. Already has a lot of natural sugar in it, so be careful adding juices.
Tips:
I used 8oz of coconut water. (I usually use Almond milk in other smoothies, but since this did not have banana I wanted to try something different) and 4oz of pure, real pineapple juice (I recommend even less, probably 2oz , you don't need that much pineapple and it's less sugar even though natural, but will be better as the day goes on and your sugar doesn't spike up and down) and it was like I was in the tropics. Let the liquids soak in for a few minutes and it helps loosen up everything to help it blend easier.
aaaaa
mark c
Verified
March 9, 2020
It's a GOLD RUSH
A top pick of mine for the flavour including the 14 karats
Tips:
to receive 60% off your entire order use promo code CHA579400 and get FREE THREE METAL STRAWS
aaaaa
Laurie B
Verified
March 9, 2020
fave fave
need to order plenty more
aaaaa
Adam F
Verified
March 9, 2020
something like heaven
I don't think I could make a better drink myself!
Tips:
For 60% off PLUS FREE BONUS gift in your box, use code FRA576520 at checkout
More Reviews