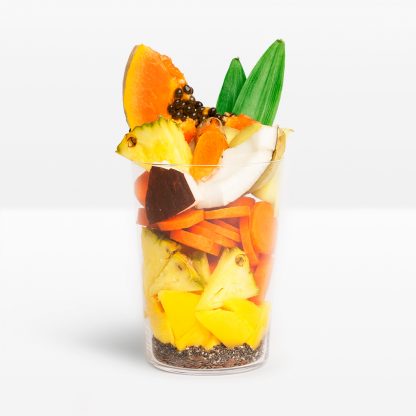 Liquid Gold
4.7
1176 reviews
This sweet and spicy smoothie is an anti-inflammatory powerhouse that is sure to have you feeling your best. The ginger and turmeric in this concoction are powerful anti-inflammatory agents that naturally fight conditions such as joint pain and play a role in protecting our brain and heart health. Juicy mangoes add a tropical twist to this smoothie while carrots rich in vitamin-A work to keep your eyes and heart-healthy. Meanwhile, enzyme-rich pineapple and papaya help ease digestion.
Benefits
Energizing

Anti Inflammatory

Digestive Support
The Goods
Carrots
Mango
Papaya
Pineapple
Pea Protein
Ginger
Turmeric
Coconut Oil*
Flax Seeds
Chia Seeds*
Superfood Highlights
Ginger
Ginger is a popular spice. It is high in gingerol, a substance with powerful anti-inflammatory and antioxidant properties. Ginger is also effective at reducing the day-to-day progression of muscle pain, and may reduce exercise-induced muscle soreness and a great addition to post-workout recovery!
Turmeric
The active compound in turmeric is curcumin and this bioactive compound delivers a one-two punch against free radicals. It blocks them directly, then stimulates your body's own antioxidant defenses!
Coconut Oil*
Coconuts contain significant amounts of fat, but unlike other nuts, they provide fat that is mostly in the form of medium chain saturated fatty acids (MCFAs) in particular, one called lauric acid. Lauric acid in the body is a powerful antiviral, antifungal and antibacterial. Adding a moderate amount of coconut-derived foods in your diet may help protect the body from infections and viruses.
Flax Seeds
If you are a vegetarian or don't eat fish, flax seeds can be your best source of omega-3 fats! Omega-3s help fight inflammation and are heart-healthy. Flax seeds also contain a group of nutrients called lignans, which have powerful antioxidant properties - flax seeds have the most lignans than any other plant food. Flax also contains a good dose of fibre that can improve your digestive health.
Chia Seeds*
Despite their small size, chia seeds are one of the most nutritious dense foods. They're loaded with fiber, protein, omega-3 fatty acids and various micronutrients. Great news for those who don't consume dairy - gram for gram, the calcium content in chia seeds is higher than most dairy products. As a result, chia seeds may be considered an excellent source of calcium for people who don't eat dairy.
Nutrition Facts

How To Blend
Step 1 Fill your smoothie cup all the way to the top with your favourite liquid
Step 2 Toss all the good stuff into your blender and blend until smooth
Step 3 Pour your delicious smoothie back into your ready-to-go cup, pop the lid back on and enjoy!
Reviews
Overall Rating: 4.7/5
based on 1176 reviews
aaaaa
Anne L
May 28, 2020
Delicious
One of my favorites Love the tropical taste
aaaaa
Laurie M
May 28, 2020
To die for
Love love love this one❤️
aaaaa
Ashleigh V
May 28, 2020
Bitter
Not my favourite but it's healthy
Tips:
Blend cup with milk, then add water as needed!
aaaaa
Tania B
May 28, 2020
Mmmm
Great flavourful smoothie
aaaaa
Kimberly B
May 28, 2020
Tasty
This one is fantastic!
Not my favorite
Not too much of a fan of this one but I think that has to do with my personal taste. A couple of the ingredients are not ones I would usually use so that may have an affect on my review.
aaaaa
Allison C
May 28, 2020
A Little Ginger-y
I'm not the biggest ginger fan and I know it's strong, but it was a little overpowering for me. I enjoyed otherwise.
aaaaa
Taylor R
May 28, 2020
Delicious!
This was another favourite of mine! A nice tropical flavour to start the morning!
Tips:
I liked them better when left out to a thaw for a little. More flavour came through that way. I found it best mixed with Orange Juice - sure, more sugar but it was good!
aaaaa
Maria B
May 28, 2020
Yummo!
I like drinking this one by the pool :)
More Reviews