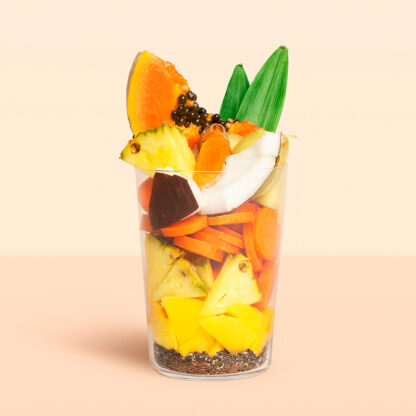 Liquid Gold
4.7
1704 reviews
This sweet and spicy smoothie is an anti-inflammatory powerhouse that is sure to have you feeling your best. The ginger and turmeric in this concoction are powerful anti-inflammatory agents that naturally fight conditions such as joint pain and play a role in protecting our brain and heart health. Juicy mangoes add a tropical twist to this smoothie while carrots rich in vitamin-A work to keep your eyes and heart-healthy. Meanwhile, enzyme-rich pineapple and papaya help ease digestion.
Benefits
Energizing

Anti Inflammatory

Digestive Support
The Goods
Carrots
Mango
Papaya
Pineapple
Pea Protein
Ginger
Turmeric
Flax Seeds
Chia Seeds*
Superfood Highlights
Ginger
Ginger is a popular spice. It is high in gingerol, a substance with powerful anti-inflammatory and antioxidant properties. Ginger is also effective at reducing the day-to-day progression of muscle pain, and may reduce exercise-induced muscle soreness and a great addition to post-workout recovery!
Turmeric
The active compound in turmeric is curcumin and this bioactive compound delivers a one-two punch against free radicals. It blocks them directly, then stimulates your body's own antioxidant defenses!
Flax Seeds
If you are a vegetarian or don't eat fish, flax seeds can be your best source of omega-3 fats! Omega-3s help fight inflammation and are heart-healthy. Flax seeds also contain a group of nutrients called lignans, which have powerful antioxidant properties - flax seeds have the most lignans than any other plant food. Flax also contains a good dose of fibre that can improve your digestive health.
Chia Seeds*
Despite their small size, chia seeds are one of the most nutritious dense foods. They're loaded with fiber, protein, omega-3 fatty acids and various micronutrients. Great news for those who don't consume dairy - gram for gram, the calcium content in chia seeds is higher than most dairy products. As a result, chia seeds may be considered an excellent source of calcium for people who don't eat dairy.
Nutrition Facts

How To Blend
Step 1 Fill your smoothie cup all the way to the top with your favorite liquid
Step 2 Toss all the good stuff into your blender and blend until smooth
Step 3 Pour your delicious smoothie back into your ready-to-go cup, pop the lid back on and enjoy!
Reviews
Overall Rating: 4.7/5
based on 1704 reviews
aaaaa
Marije W
July 4, 2020
Undecided
This one I flip back and forth to yummy and hmmmm not sure 😅
aaaaa
Alicia A
July 4, 2020
Really good
I feel like this one gave me more energy
aaaaa
Oloruntosin A
July 4, 2020
Unusual but tasty combination
My taste buds are always on board with pineapples and mangoes, but I admit the addition of ginger and turmeric takes some adjustment. It's tasty, just not exactly what my mouth expects. Would order again though
aaaaa
Devin T
July 4, 2020
So delicious!!!
This spicy and refreshing smoothie was such a pleasant surprise!! I love it and it's my boyfriend's favorite
aaaaa
Jacqueline K
July 4, 2020
aaaaa
Audrianna P
July 4, 2020
Great afternoon snack
Could use a bit more flavor, but for so many superfoods, it's still pretty yummy.
Tips:
I always add collagen to my smoothies because it's flavorless and has soo many benefits.
aaaaa
Susan B
Verified
July 4, 2020
aaaaa
Tiffany J
Verified
July 4, 2020
Love it
I love the fact that you can taste the papaya, is great
aaaaa
Anna-Marie B
Verified
July 4, 2020
Tropical flavor
The papaya was a little strong in this one but the taste was all there
Tips:
Used almond milk
aaaaa
Aimee M
Verified
July 4, 2020
My kids fav!
We love this one! It's so good and love the little kick the tumeric adds
More Reviews