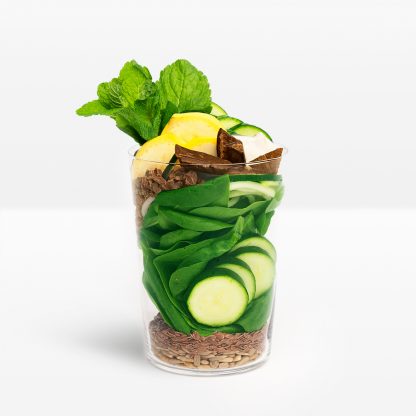 Hint of Mint
4.9
47 reviews
Something magical happens when you combine the flavours of chocolate and mint. This smoothie is packed with detoxifying ingredients like chlorella, spinach, mint, and raw cacao that will help battle free-radicals and detoxify your body. This smoothie has just the right amount of sweetness from bananas and a that crunch from the cacao nibs.
Benefits
Cleansing Detox

Immunity Boosting

Digestive Support
The Goods
Banana
Spinach
Zucchini
Cacao Nibs
Sunflower Seeds*
Pea Protein
Chlorella*
Flax Seeds
Peppermint
Baobab*
Coconut Oil*
Superfood Highlights
Chlorella*
This nutrient-dense algae has an impressive nutritional profile. This superfood is known as a detox, since studies show that chlorella is effective at helping remove heavy metals and other harmful compounds from the body.
Flax Seeds
If you are a vegetarian or don't eat fish, flax seeds can be your best source of omega-3 fats! Omega-3s help fight inflammation and are heart-healthy. Flax seeds also contain a group of nutrients called lignans, which have powerful antioxidant properties - flax seeds have the most lignans than any other plant food. Flax also contains a good dose of fibre that can improve your digestive health.
Coconut Oil*
Coconuts contain significant amounts of fat, but unlike other nuts, they provide fat that is mostly in the form of medium chain saturated fatty acids (MCFAs) in particular, one called lauric acid. Lauric acid in the body is a powerful antiviral, antifungal and antibacterial. Adding a moderate amount of coconut-derived foods in your diet may help protect the body from infections and viruses.
Nutrition Facts

How To Blend
Step 1 Fill your smoothie cup all the way to the top with your favourite liquid
Step 2 Toss all the good stuff into your blender and blend until smooth
Step 3 Pour your delicious smoothie back into your ready-to-go cup, pop the lid back on and enjoy!
Reviews
Overall Rating: 4.9/5
based on 47 reviews
aaaaa
haley g
March 29, 2020
delicious
it has a great, light and refreshing taste
aaaaa
Sherine D
Verified
March 27, 2020
Love!
I really enjoyed this smoothie. There really is just a hint of mint - which I really enjoyed. I will be ordering this one in a higher quantity. Def recommend!
aaaaa
June P
Verified
March 27, 2020
like a mint choc shake
its good, but a little odd. my son said its something grandpa (who loves mint choc ice cream) would like.
aaaaa
Marissa L
March 24, 2020
My favorite Revive smoothie by far!
This was amazing! I have tried a cocoa mint smoothie from a similar company in the past and this one was even better. You really get the mint and the cocoa flavors, which I wanted, but you also get this slight nuttiness from the sunflower seeds, which I really enjoyed. I will probably order a whole box of just these ones!
Tips:
I used coconut milk
aaaaa
Ashley S
March 23, 2020
Amazing
Love love love this one!
Tips:
Great with vanilla protein powder and blended so the cacao nibs are completely pulverized
aaaaa
Rosemary H
March 22, 2020
Delicious minty treat
My absolute fave of all the flavors I tried in my first order, will be using the number of these babies in subsequent boxes! Yum yum yum!
Tips:
I use unsweetened cashew milk
aaaaa
Leslie H
March 21, 2020
Decent
It's pretty good, I had another brand of this mint chocolate and it falls a little short. Not very strong mint or chocolate flavors. But overall taste is pleasant.
aaaaa
Elise R
March 21, 2020
Hint of Sunflower Seeds
It tasted like sunflower seeds.. Do not recommend.
aaaaa
Kat C
March 20, 2020
Dessert, anyone?
This tastes too good to be true. The mint and chocolate combination is just right!
Tips:
For 60% off your first box and 3 free metal straws, use CHA507070
aaaaa
Janis B
Verified
March 11, 2020
So Good!
I love mint and this was definitely a winner for me! Probably one of my favourites.
Tips:
Use chocolate almond milk
More Reviews