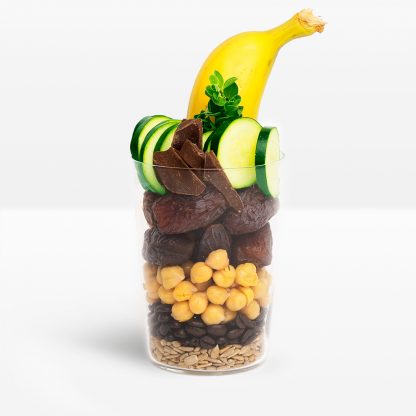 Hazy Coco
4.8
65 reviews
An incredible fusion of chocolate and hazelnut – better than any spread you've ever tried! PLUS it's healthy with NO added sugar. It's the perfect treat, with no guilt! Superfoods upon superfoods, upon SUPERFOODS! That's how we define this protein packed smoothie. It's crafted with premium ingredients like chickpeas, hazelnuts, cacao, and cold brew! We snuck in quite a few veggies there for the picky eaters in your life! This one is a team fav for its disease-fighting superpowers!
Benefits
Energizing

Workout Recovery

Anti Inflammatory
The Goods
Banana
Zucchini
Chickpeas
Dates
Cocoa
Sunflower Seeds*
Pea Protein
Coffee
Moringa*
Himalayan Sea Salt
Hazelnut Flavouring
Superfood Highlights
Himalayan Sea Salt
Himalayan salt is made from rock crystals of salt that have been mined from areas close to the Himalayas, often in Pakistan. It gets its rosy hue from trace minerals in the salt, like magnesium, potassium, and calcium.
Nutrition Facts

How To Blend
Step 1 Fill your smoothie cup all the way to the top with your favourite liquid
Step 2 Toss all the good stuff into your blender and blend until smooth
Step 3 Pour your delicious smoothie back into your ready-to-go cup, pop the lid back on and enjoy!
Reviews
Overall Rating: 4.8/5
based on 65 reviews
aaaaa
Melissa R
Verified
March 27, 2020
Morning kick!
I am not a fan of chick peas and also wasn't sure about the dates. But I really loved this smoothie!! It all blends together really nice and tastes great, love that it has cold brew in it! I usually add either almond milk or coconut milk to mine!
aaaaa
Kelly D
March 25, 2020
~60% off and a Free Gift~ Use Code DOL652820
Use code DOL65280

#Love the flavor of the #REVIVE Hazzy Coco
You will too, it's one of my favorites.

Use Code DOL652820
Tips:
60% off + free gift Use Code DOL652820
aaaaa
Marissa L
March 24, 2020
Just Okay
I thought this one was alright, though it was not my favorite. There is something in it that leaves an odd taste/after taste that felt kind of artificial. It's probably the "hazelnut flavoring."
Tips:
The second time I made this (because I ordered 2), I added cocoa nibs and that made it better.
aaaaa
jamie f
March 23, 2020
Great!
Added almond milk.. wonderful flavor!
aaaaa
Kat C
March 18, 2020
DELICIOUS
Basically a Nutella smoothie, but so much healthier. I use unsweetened almond milk.
Tips:
For 60% off your first box and 3 free metal straws, use CHA507070
aaaaa
Estelle F
Verified
March 17, 2020
So tasty!
I love the extra kick this one has for the morning. It's so creamy and delicious, and is like going to a coffee shop and getting a fancy iced coffee! Yum.
Tips:
Vanilla Almond Milk
aaaaa
Sarah V
Verified
March 14, 2020
Perfection
Like a mocha milkshake
aaaaa
Adam F
Verified
March 11, 2020
Better than coffee!
This is a better way to get that morning coffee kick! Super tasty cacao and banana with all the benefits of dates too. Great source of potassium keeps you at your best.
Tips:
To receive 60% OFF and a **FREE BONUS GIFT** in box, use code FRA576520
aaaaa
Kristin M
Verified
March 11, 2020
So Yummy!
I just received my smoothie box last week so have only tried a few flavours, but this one is my favourite so far! if you're craving a chocolate treat this will be sure to satisfy!
Tips:
I am a serious chocolate fiend so I also added half a scoop of chocolate protein powder but it was already good on its own too! I used almond milk to blend.

For 60% off + 3 free straws, use my code MIL538650 :)
aaaaa
Erin W
Verified
March 10, 2020
So good!
I was so surprised with this one - I don't enjoy the texture of chickpeas and was worried about the zucchini. Didn't even taste it and the chickpeas helped make this smoothie super smooth. Definitely would have again!
Tips:
I used plain almond milk, filled to the brim to make it smoother
More Reviews