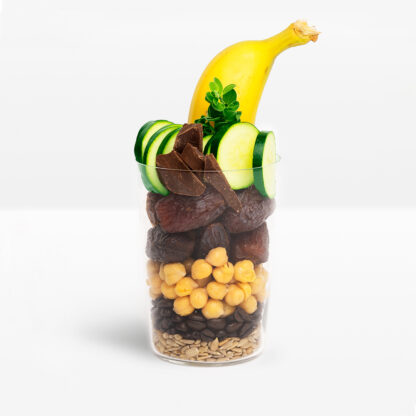 Hazy Coco
4.7
1792 reviews
An incredible fusion of chocolate and hazelnut – better than any spread you've ever tried! PLUS it's healthy with NO added sugar. It's the perfect treat, with no guilt! Superfoods upon superfoods, upon SUPERFOODS! That's how we define this protein packed smoothie. It's crafted with premium ingredients like chickpeas, hazelnuts, cacao, and cold brew! We snuck in quite a few veggies there for the picky eaters in your life! This one is a team fav for its disease-fighting superpowers!
Benefits
Energizing

Workout Recovery

Anti Inflammatory
The Goods
Banana
Zucchini
Chickpeas
Dates
Cocoa
Sunflower Seeds*
Pea Protein
Coffee
Moringa*
Himalayan Sea Salt
Hazelnut Flavouring
Superfood Highlights
Zucchini
This green veggie is very mild in taste and is packed with so much great nutrition plus it is very low in calories and low in carbohydrates. Zucchinis contain several antioxidants that may provide various health benefits. The highest levels are found in the fruit's skin.
Chickpeas
Chickpeas also known as garbanzo beans, they are part of the legume family. They are high in vitamins, minerals, fiber and protein. These characteristics are responsible for most of their health benefits, which range from weight management to blood sugar control.
Sunflower Seeds*
These seeds are a great alternative to nuts and are filled with protein and fibre. These seeds are especially high in vitamin E and selenium. These nutrients function as antioxidants to protect your body's cells against free radical damage, which plays a role in fighting several chronic diseases.
Moringa*
Moringa oleifera is a fairly large tree native to North India. The leaves are rich in many important nutrients, including protein, vitamin B6, vitamin C, riboflavin and iron. Moringa is rich in various antioxidants, including quercetin and chlorogenic acid, which help fight inflammation.
Himalayan Sea Salt
Himalayan salt is made from rock crystals of salt that have been mined from areas close to the Himalayas, often in Pakistan. It gets its rosy hue from trace minerals in the salt, like magnesium, potassium, and calcium.
Nutrition Facts

How To Blend
Step 1 Fill your smoothie cup all the way to the top with your favorite liquid
Step 2 Toss all the good stuff into your blender and blend until smooth
Step 3 Pour your delicious smoothie back into your ready-to-go cup, pop the lid back on and enjoy!
Reviews
Overall Rating: 4.7/5
based on 1792 reviews
aaaaa
Lindsey A
July 14, 2020
Nice Coffee Flavour
Nice variety of ingredients and still has a good flavour.
Tips:
I used chocolate protein and chocolate almond milk with it and it was a great combo.
aaaaa
Shaniqua B
July 14, 2020
Soooo goooood!!!
I just received my first order and this is the very first thing I have tried. Oh my gosh this is soooo good!!!! I expected to have to add sugar but I absolutely did not. I will order this one again for sure.
aaaaa
Stefani P
July 14, 2020
A nice blend of chocolate and banana
Reallyl yummy
Tips:
Used coconut milk.
aaaaa
Jenny G
July 14, 2020
Great
By far one of my favorites; the flavor was great. Needed a little more liquid to blend it all up, but not a bad thing
aaaaa
Anna K
July 14, 2020
My favourite
Love this one!
aaaaa
Sara R
July 14, 2020
Love
One of my favourites. Love it
aaaaa
Ashley F
July 14, 2020
Loved it!
Apparently I need to add dates to more things, I never knew they would be so yummy in smoothies! Definitely add a nice sweet flavor. Very filling and delicious!
Tips:
Mixed with oat milk!
aaaaa
Joanna B
July 14, 2020
Love Love!
Healthy & Chocolately. This is a great afternoon "shake" substitute.
aaaaa
Tsering L
July 14, 2020
The dates!
Love the dates in this it adds the right amount of sweetness.
aaaaa
Ashley G
Verified
July 14, 2020
Nutella who?
I made this for my hubby post workout and he really enjoyed it. Typically he does a protein shake but he felt great after drinking this.
Tips:
He added a touch more protein powder since it was post workout and then blended with some almond milk
More Reviews