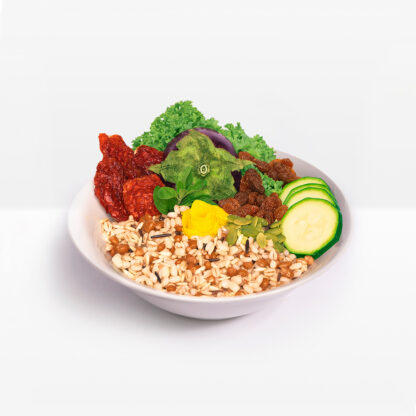 Golden Sultana
4.7
441 reviews
A one pan, no mess type of meal is the best kind of meal there is! This Arabic inspired meal is packed with sorghum, lentils, and wild rice, making it one of our most nutrient dense meals on the menu.
Benefits
High Protein

Source of Iron

Digestive Support
The Goods
White Sorghum
Wild Rice
Lentils
Sultana Raisins
Sundried Tomato
Kale
Zucchini
Eggplant
Pumpkin Seeds
Tomato
Spinach
Collard Greens
Onion
Red Pepper
Green Pepper
Water
Tomato Puree
Olive Oil
Salt
Lemon Juice
Garlic Powder
Cumin
Turmeric
Black Pepper
Basil
Oregano
Superfood Highlights
White Sorghum
Sorghum is an ancient cereal grain belonging to the grass family. Sorghum boasts an impressive nutrient profile. It's a significant source of many vitamins and minerals, fiber, and protein, all of which contribute to good health. This gluten-free grain has a similar protein content as quinoa.
Wild Rice
Despite its name, wild rice is not rice. Wild rice is a species of grass that produces edible seeds resembling rice. Wild rice contains more protein than other types of rice (2x that of brown rice). Wild rice also contains impressive amounts of several nutrients, including, manganese, phosphorus, magnesium, and zinc.
Lentils
Lentils are edible seeds from the legume family. Lentils are fantastic source of B vitamins, iron, magnesium, potassium and zinc. They're also a great source of plant-based protein and fiber, which is great for gut health. Lentils are a great source of health-promoting polyphenols, which have strong antioxidant and anti-inflammatory properties. Another fun fact is that the polyphenols in lentils don't lose their health-promoting properties after cooking.
Zucchini
This green veggie is very mild in taste and is packed with so much great nutrition plus it is very low in calories and low in carbohydrates. Zucchinis contain several antioxidants that may provide various health benefits. The highest levels are found in the fruit's skin.
Pumpkin Seeds
These seeds may be small, but they're packed full of valuable nutrients. A handful of pumpkin seeds can provide you with a substantial quantity of healthy fats, magnesium and zinc. Pumpkin seeds are one of the best natural sources of magnesium — a mineral that many of us fall short on. Magnesium is important in many reactions in our body such helping with blood sugar levels and blood pressure. Magnesium helps to keep you calm; this mineral is often referred to as nature's chill pill!
Red Pepper
Move over oranges!Red peppers contains 3x more vitamin C than an orange. Other vitamins and minerals in bell peppers include vitamin K, vitamin E, vitamin A, folate, and potassium.
Turmeric
The active compound in turmeric is curcumin and this bioactive compound delivers a one-two punch against free radicals. It blocks them directly, then stimulates your body's own antioxidant defenses!
Nutrition Facts

How To Heat
Step 1 Pour your SuperMeal into a non-stick pan on medium high heat
Step 2
Stir for 2-4 minutes (no stock or water needed!)
Step 3 Once it's ready, pour your SuperMeal into a bowl and enjoy!
How To Microwave
Step 1 Pour your SuperMeal into a microwave friendly bowl
Step 2
Heat for 2-4 minutes stirring halfway through (no stock or water needed!)
Step 3 Once it's ready, take your SuperMeal out of the microwave and enjoy!
Reviews
Overall Rating: 4.7/5
based on 441 reviews
aaaaa
Jessi D
July 14, 2020
Simple meal
Could use more flavor, but a good base
aaaaa
Sarah C
July 14, 2020
100 stars
Honestly my favorite overall. Added extra to my next cart
aaaaa
Tsering L
July 14, 2020
Nutritional
It was tasty and healthy! Not the standOut for me but worth the price
aaaaa
Amanda W
Verified
July 14, 2020
Wonderful Flavour
This is my favourite bowl! Wonderful mix of middle-easter flavours!
aaaaa
Nikole D
Verified
July 13, 2020
Great
Makes for a quick, easy, yet healthy and delicious dinner ! Definitely recommend
aaaaa
Greta C
Verified
July 13, 2020
easy, healthy lunch
These are a good go-to when its grocery day and there are no fresh veggies to make for lunch
Tips:
add some seasonings
aaaaa
Cyndal W
Verified
July 13, 2020
My fav!
This one had the most flavor! I have now added 3 to my subscription
aaaaa
Lindsay D
Verified
July 13, 2020
aaaaa
Carley R
Verified
July 12, 2020
Delicious!
The flavors are amazing! I will be ordering over and over again! I truly loved this meal and cannot wait to make it again
Tips:
Made on a skillet
aaaaa
Tiffany F
Verified
July 12, 2020
Great snack
Great for mid day snack
More Reviews