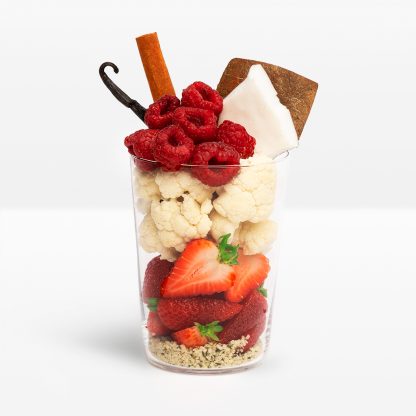 Coconut Cream
4.7
38 reviews
Coconut Cream is a dream! Our new KETO smoothie is packed with antioxidants, good fats, and fibre! Despite it being low on sugar and carbs, this smoothie is beyond delicious. Forget all you thought a Keto smoothie would taste like we beat all odds with this tasty and nutritious superfood smoothie.
Benefits
Fat Burning

Heart Healthy

Beautifying
The Goods
Strawberries
Cauliflower
Raspberries
Coconut Oil*
Hemp Protein
Psyllium Husk
Cinnamon
Vanilla
Stevia
Superfood Highlights
Coconut Oil*
Coconuts contain significant amounts of fat, but unlike other nuts, they provide fat that is mostly in the form of medium chain saturated fatty acids (MCFAs) in particular, one called lauric acid. Lauric acid in the body is a powerful antiviral, antifungal and antibacterial. Adding a moderate amount of coconut-derived foods in your diet may help protect the body from infections and viruses.
Cinnamon
This delicious spice helps your body fight infections and repair tissue damage. One unique quality of cinnamon is that it decreases the amount of sugar that enters your bloodstream after a meal, bye-bye blood sugar spikes!
Nutrition Facts

How To Blend
Step 1 Fill your smoothie cup all the way to the top with your favourite liquid
Step 2 Toss all the good stuff into your blender and blend until smooth
Step 3 Pour your delicious smoothie back into your ready-to-go cup, pop the lid back on and enjoy!
Reviews
Overall Rating: 4.7/5
based on 38 reviews
aaaaa
Jennifer W
Verified
March 27, 2020
Interesting
There were parts of this smoothie that I enjoyed, I liked the coconut flavor and the cinnamon was a nice little surprise but something gives it an odd acidic or carbonated taste to me. And maybe I'm just not used to super healthy food but I just want a little more sweetness in these smoothies! I used almond milk.
aaaaa
Kelly D
Verified
March 27, 2020
This one is my favorite #revive #smoothie


Tips:



aaaaa
Aiesha C
March 25, 2020
Good to try atleast once
It's hard for me to describe this one. The flavours combined are unique. It wasn't one of my favourites. After putting it in the fridge for a little while I feel like it tasted better.

For 60% off + 3 FREE (reusable) straws, use the code CAM595550
Tips:
Used vanilla almond milk
aaaaa
Kat C
March 20, 2020
Keto + Divine
A new favorite! Fruit-forward and a great way to start the day. I use unsweetened almond milk.
Tips:
For 60% off your first box and 3 free metal straws, use CHA507070
aaaaa
Palina B
Verified
March 16, 2020
YUM
smells like delicious strawberries! you can't really taste the coconut oil, either, which is a plus for me.
aaaaa
Peter A
Verified
March 15, 2020
**Free Bonus Gift + 60% off code **
Keto!!! Amazing
Love it
Tips:
Free Bonus gift +60% off
Use Code ANT605200
aaaaa
Christina M
Verified
March 13, 2020
Tropical delight
One of my favorite! Tastes a bit tropical!
Tips:
I add Baobab and it's amazing!!
aaaaa
canessa h
Verified
March 10, 2020
Coconut say whatttttt!!!
we blended these, packed them in a cooler and took to the beach. Soooo easy and you don't need to bring 20 different ingredients to the cottage with you. we also recently had at a girls weekend and we blended them with orange juice and added a splash of peach schnapps (shhhhh not just for healthy breakfast and pick me ups during the day). So many uses and very healthy.
highly recommend the coconut cream!!!!
Tips:
HES578010 is the promo code for 100$ off your first order of 24 cups and a free gift. Your welcome

aaaaa
CANDI F
Verified
March 9, 2020
Nutty taste
I like this one because the flavour isn't overpowering, a little nutty taste, with a tad of sweet from the berries
Tips:
Vanilla Almond milk
aaaaa
Adam F
Verified
March 9, 2020
Creamy Dreamy
Get this in your belly as soon as possible! Delicious!
Tips:
For 60% off PLUS 3 FREE reusable straws use code FRA576520
More Reviews