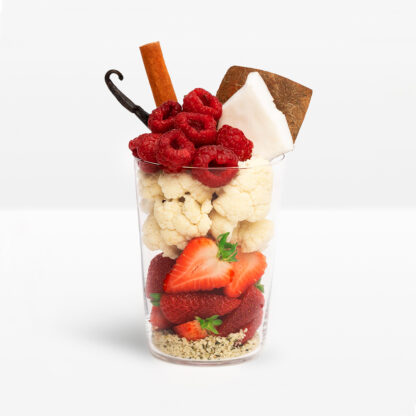 Coconut Cream
4.7
2426 reviews
Coconut Cream is a dream! Our new KETO smoothie is packed with antioxidants, good fats, and fibre! Despite it being low on sugar and carbs, this smoothie is beyond delicious. Forget all you thought a Keto smoothie would taste like we beat all odds with this tasty and nutritious superfood smoothie.
Benefits
Fat Burning

Heart Healthy

Beautifying
The Goods
Strawberries
Coconut
Cauliflower
Raspberries
Coconut Milk
Lemon
Hemp Protein
Psyllium Husk
Cardamom
Cinnamon
Non-Alcoholic Vanilla
Stevia
Superfood Highlights
Coconut
Coconuts contain significant amounts of fat, but unlike other nuts, they provide fat that is mostly in the form of medium chain saturated fatty acids (MCFAs) in particular, one called lauric acid. Lauric acid in the body is a powerful antiviral, antifungal and antibacterial. Adding a moderate amount of coconut-derived foods in your diet may help protect the body from infections and viruses.
Cauliflower
This vegetable can be made into pizza, rice, and mashed potatoes. This miracle veggie is incredibly versatile, mild in taste and is packed with tons of nutrients. Cauliflower is part of the cruciferous family and this group of veggies contains unique plant compounds that may reduce the risk of several diseases, including heart disease and cancer. Plus cauliflower is weight loss friendly (low calories, low carb and high fibre) and super easy to add to your diet.
Psyllium Husk
This husk is a form of fibre from a plant seed. Psyllium is a prebiotic which helps your gut bacteria produce nutrients which leads to a healthier digestive system. A healthy colony of good bacteria in the digestive system is essential for healthy immune function. Your body is better able to fight infection, reduce inflammation, and maintain healthy tissue and cells. Pysllium is great for keeping your digestive system regular.
Cinnamon
This delicious spice helps your body fight infections and repair tissue damage. One unique quality of cinnamon is that it decreases the amount of sugar that enters your bloodstream after a meal, bye-bye blood sugar spikes!
Nutrition Facts

How To Blend
Step 1 Fill your smoothie cup all the way to the top with your favorite liquid
Step 2 Toss all the good stuff into your blender and blend until smooth
Step 3 Pour your delicious smoothie back into your ready-to-go cup, pop the lid back on and enjoy!
Reviews
Overall Rating: 4.7/5
based on 2426 reviews
aaaaa
Skye D
July 14, 2020
Pretty good
This one is tasty I liked it
aaaaa
Melissa M
July 14, 2020
So creamy
Absolutely my favourite flavour . You can't taste the cauliflower in it at all .
Tips:
I added almond milk to it :)
aaaaa
Sarah C
July 14, 2020
Good
Not my favorite but impressed about the cover up of cauliflower flavor!
aaaaa
Lindsey A
July 14, 2020
One of my faves!
Nice and creamy and has great flavour!
Tips:
I use water and Arbonne vanilla protein with it and absolutely love it!
aaaaa
Shana B
July 14, 2020
Yum
Very creamy and naturally sweet.
aaaaa
Kathy K
July 14, 2020
Ok, but
Just received my box today and was so excited! I was really looking forward to the Coconut cream as I love coconut, and cream! Mixed it up and I would say, it was okay. To me, it was really gritty, and it just didn't really taste like I think of "coconut cream". I think the cinnamon/cardamom was a little overpowering in the overall flavor. It did taste healthy though. Looking forward to another new one tomorrow!
Tips:
I use almond milk as the liquid add-in
aaaaa
Melissa H
July 14, 2020
Delish!
One of my favs so far!!!
aaaaa
Tarryn T
July 14, 2020
Meh!
I found that I could barely taste the coconut in this one, and there was an odd tang to the smoothie as well! I spoke about this flavor with someone else and they agreed. There are definitely way better smoothies on the list!
Tips:
Used with vanilla almond milk.
aaaaa
Kyla C
July 14, 2020
Yummy flavour
yummy flavour

I would highly recommend trying these smoothies as they are so easy to make I just add more protein powder and liquid and blend and boom you are done!!!
aaaaa
Azizeh B
July 14, 2020
Re ordering
Unique and. Tasty smoothie. Getting a couple on re order.
More Reviews