Coconut Cream
4.6
14 reviews
Coconut Cream is a dream! Our new KETO smoothie is packed with antioxidants, good fats, and fibre! Despite it being low on sugar and carbs, this smoothie is beyond delicious. Forget all you thought a Keto smoothie would taste like we beat all odds with this tasty and nutritious superfood smoothie.
Benefits
Fat Burning

Heart Healthy

Beautifying
The Goods
Strawberries
Cauliflower
Raspberries
Coconut Oil
Vanilla Extract (non-alcoholic)
Ceylon Cinnamon
Hemp Seeds
Psyllium Husk
Monk Fruit
Superfood Highlights
Coconut Oil
Coconuts contain significant amounts of fat, but unlike other nuts, they provide fat that is mostly in the form of medium chain saturated fatty acids (MCFAs) in particular, one called lauric acid. Lauric acid in the body is a powerful antiviral, antifungal and antibacterial. Adding a moderate amount of coconut-derived foods in your diet may help protect the body from infections and viruses.
Ceylon Cinnamon
This delicious spice helps your body fight infections and repair tissue damage. One unique quality of cinnamon is that it decreases the amount of sugar that enters your bloodstream after a meal, bye-bye blood sugar spikes!
Hemp Seeds
Hemp hearts are rich in protein and have all 9 essential amino acids. They also contain omega-3, omega-6, stearidonic acid (SDA), and the rare omega-6 Gamma Linolenic Acid (GLA). What's so great about GLA? Well, GLA has been shown to help with cholesterol, inflammation, skin and hair health, balancing hormones, and general heart health.
Nutrition Facts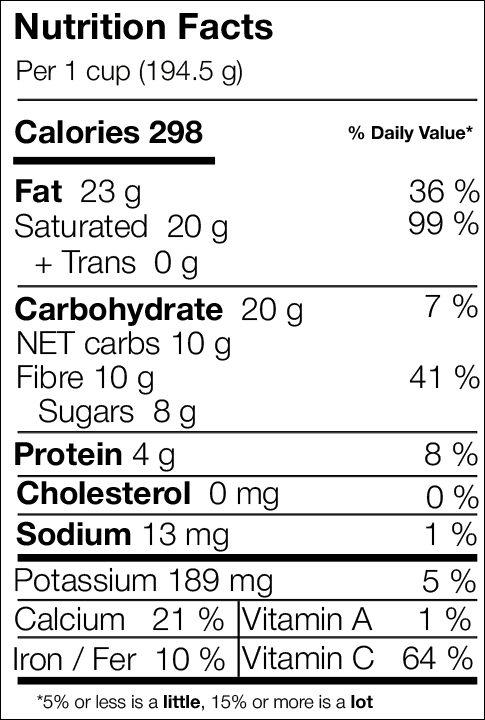 How To Blend
Step 1 Fill your smoothie cup all the way to the top with your favourite liquid
Step 2 Toss all the good stuff into your blender and blend until smooth
Step 3 Pour your delicious smoothie back into your ready-to-go cup, pop the lid back on and enjoy!
Reviews
Overall Rating: 4.6/5
based on 14 reviews
aaaaa
Carmen C
Verified
January 19, 2020
Fruity, tarty, but neither coconutty nor creamy
It didn't have much of a coconut taste. The strawberry and raspberry definitely stood out more than anything else. This resulted in the smoothie more tart than expected. Additionally, lemon wasn't listed as one of the ingredients, though the picture on the website includes it? Overall, a pretty decent smoothie as long as you're not expecting the "coconut cream"
aaaaa
Lisa M
Verified
January 8, 2020
Smoothie Review- RED ALERT
Absolutely amazing, I highly recommend these!!
Tips:
Almond Milk or Soy Milk work great!
aaaaa
Madalyn K
Verified
January 2, 2020
Love these smoothies
Such a good investment for self health, even at full price it works out to be around $6, which for a meal replacement that is packed full with nutrients is a steal of a deal! I'm a new mama of a 7 month old baby and she loves these as well, and I feel good I know she is getting fruits, veggies and more! And when my schedule is busy it's so easy to blend one up and I'm not skipping meals. It's totally worth trying for yourself for a month and if you don't fall in love with them, you can easily cancel future orders. Use my code Anytime for 50% off which makes each smoothie around $3 🙌🏼 Promo code: KID281190
aaaaa
Elisha M
Verified
December 29, 2019
Incredible smoothie flavor
Simply delicious! I'm not even doing Keto, but I absolutely love this flavor. I blend with cashew milk and it's divine!
Tips:
Don't contact customer service if you ever need help with anything....they are neither friendly nor helpful. (They said they wouldn't give me a refund, when I didn't ask for one in the first place? What?) But the smoothies almost make it worth it.
aaaaa
Khaldoun K
Verified
December 27, 2019
Delicious
I love it, because it tastes so fresh!
aaaaa
Lindsey B
Verified
November 11, 2019
Great!
One of my favourites so far! Great taste and great consistency.
aaaaa
Denise B
Verified
November 6, 2019
LOVED IT!!
This was a game changer for me! I had tried a few of the other flavors they were good but not this good!!
Tips:
almond milk
aaaaa
Bonnie D
Verified
October 29, 2019
My Favorite!!
It's keto friendly and it's so delicious
Tips:
I add coconut milk instead of water and splenda or monk fruit sugar
aaaaa
Rebecca A
Verified
October 29, 2019
Delicious
Not too sweet, I was hesitant because I hate cauliflower, but this smoothie was delicious. I rate this 8/10.
Tips:
I used coconut water as my liquid.
aaaaa
Juliette Z
Verified
October 29, 2019
Tastes Like a Strawberry Coolata!
This is super yummy, and not too sweet. This essentially tastes like a less sweet Dunkin Donut Strawberry Coolata. With that being said, something was a bit offputting in this and made my tongue tingle. I'm thinking it is either the lemon or psyllium husk.
More Reviews