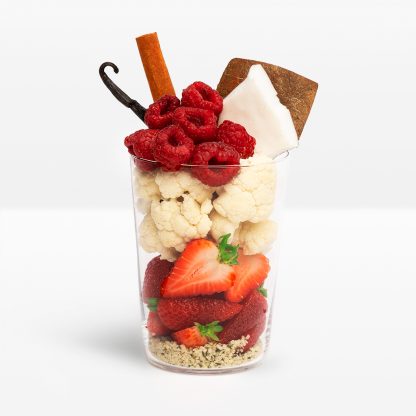 Coconut Cream
4.7
1531 reviews
Coconut Cream is a dream! Our new KETO smoothie is packed with antioxidants, good fats, and fibre! Despite it being low on sugar and carbs, this smoothie is beyond delicious. Forget all you thought a Keto smoothie would taste like we beat all odds with this tasty and nutritious superfood smoothie.
Benefits
Fat Burning

Heart Healthy

Beautifying
The Goods
Strawberries
Cauliflower
Raspberries
Coconut Oil*
Hemp Protein
Psyllium Husk
Cinnamon
Non-Alcoholic Vanilla
Stevia
Superfood Highlights
Cauliflower
This vegetable can be made into pizza, rice, and mashed potatoes. This miracle veggie is incredibly versatile, mild in taste and is packed with tons of nutrients. Cauliflower is part of the cruciferous family and this group of veggies contains unique plant compounds that may reduce the risk of several diseases, including heart disease and cancer. Plus cauliflower is weight loss friendly (low calories, low carb and high fibre) and super easy to add to your diet.
Coconut Oil*
Coconuts contain significant amounts of fat, but unlike other nuts, they provide fat that is mostly in the form of medium chain saturated fatty acids (MCFAs) in particular, one called lauric acid. Lauric acid in the body is a powerful antiviral, antifungal and antibacterial. Adding a moderate amount of coconut-derived foods in your diet may help protect the body from infections and viruses.
Psyllium Husk
This husk is a form of fibre from a plant seed. Psyllium is a prebiotic which helps your gut bacteria produce nutrients which leads to a healthier digestive system. A healthy colony of good bacteria in the digestive system is essential for healthy immune function. Your body is better able to fight infection, reduce inflammation, and maintain healthy tissue and cells. Pysllium is great for keeping your digestive system regular.
Cinnamon
This delicious spice helps your body fight infections and repair tissue damage. One unique quality of cinnamon is that it decreases the amount of sugar that enters your bloodstream after a meal, bye-bye blood sugar spikes!
Nutrition Facts

How To Blend
Step 1 Fill your smoothie cup all the way to the top with your favourite liquid
Step 2 Toss all the good stuff into your blender and blend until smooth
Step 3 Pour your delicious smoothie back into your ready-to-go cup, pop the lid back on and enjoy!
Reviews
Overall Rating: 4.7/5
based on 1531 reviews
Delicious!
Not super coconutty, more like strawberry cinnamon but very tasty and sweet regardless!
aaaaa
Amanda H
May 28, 2020
Love this one!
This is one of my favorites, I use vanilla Greek yogurt with mine!
aaaaa
Samantha S
May 28, 2020
Blah
I found this flavour to not mix well together. It is my least favourite out of all the flavours
aaaaa
Ashleigh V
May 28, 2020
MY FAVOURITE 😍
If you love cream and sweet then this one is for you! It's my all tome favourite and is so filling. It's sour and it just blends all together to make the absolute best smoothie!
Tips:
Blend cup with milk, then add water as needed!
aaaaa
Tania B
May 28, 2020
Great coconut flavour
Really good
aaaaa
Jenny S
May 28, 2020
Not my favorite
The cinnamon flavor felt overpowering
aaaaa
Ebony T
May 28, 2020
Lovely!
This smoothie is soooo good! Like wow! This flavor is easily my favorite.
aaaaa
Brooke H
May 28, 2020
Great combo of flavors!
Definitely similar to "strawberries and cream" with a hint of graham cracker flavor from the cinnamon!
aaaaa
Cathy C
May 28, 2020
Not What I Expected
Kinda bland. Not what I was expecting.
aaaaa
Elyse R
May 28, 2020
Coconut Dream
Love love love! The Ceylon cinnamon is such a nice addition.
Tips:
I used coconut water and it was really great.
More Reviews