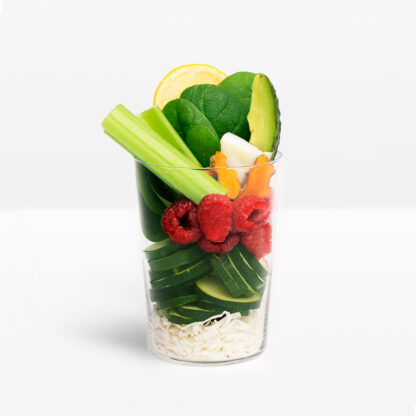 Clean & Green
4.6
1539 reviews
Creamy and delicious! Our Clean & Green KETO smoothie is packed with antioxidants, good fats, and fibre! Despite it being low on sugar and carbs, this smoothie is beyond delicious. Forget all you thought a Keto smoothie would taste like we beat all odds with this tasty and nutritious superfood smoothie.
Benefits
Fat Burning

Heart Healthy

Beautifying
The Goods
Strawberries
Avocado
Honeydew
Spinach
Celery
Zucchini
Lemon
Psyllium Husk
Turmeric
Stevia
Superfood Highlights
Avocado
This delicious fruit is filled with healthy fat and fibre. The powerful combination of fat and fibre helps you feel full longer. Further, avocados are nutrient-packed with over 20 vitamins, minerals and phytonutrients. Giving you a powerful and delicious nutrient boost!
Zucchini
This green veggie is very mild in taste and is packed with so much great nutrition plus it is very low in calories and low in carbohydrates. Zucchinis contain several antioxidants that may provide various health benefits. The highest levels are found in the fruit's skin.
Psyllium Husk
This husk is a form of fibre from a plant seed. Psyllium is a prebiotic which helps your gut bacteria produce nutrients which leads to a healthier digestive system. A healthy colony of good bacteria in the digestive system is essential for healthy immune function. Your body is better able to fight infection, reduce inflammation, and maintain healthy tissue and cells. Pysllium is great for keeping your digestive system regular.
Turmeric
The active compound in turmeric is curcumin and this bioactive compound delivers a one-two punch against free radicals. It blocks them directly, then stimulates your body's own antioxidant defenses!
Nutrition Facts

How To Blend
Step 1 Fill your smoothie cup all the way to the top with your favorite liquid
Step 2 Toss all the good stuff into your blender and blend until smooth
Step 3 Pour your delicious smoothie back into your ready-to-go cup, pop the lid back on and enjoy!
Reviews
Overall Rating: 4.6/5
based on 1539 reviews
aaaaa
Jessi D
July 14, 2020
Refreshing!
Such a clean taste! I love the avocado & berry combo
Tips:
Add soy milk
aaaaa
Bobbi-Jo M
July 14, 2020
Interesting
I wasn't super fond of this one. Kinda does taste like grass. However, I know it's super good for me and I'll drink the grass. I only add water to mine.
aaaaa
Azizeh B
July 14, 2020
A great green smoothie
Ordered a few in my first box. Both me and my friends who tried it were fans.
aaaaa
Cathy B
July 14, 2020
LOVE LOVE LOVE
We loved the Clean and Green!!! My husband was reluctant to try it because it was, well... green! 😂 One sip and he was hooked. Perfect mixture of veggies and fruits. We only added water and this smoothie really didn't need anything else. Kept us full all afternoon. 💕
aaaaa
Jenny G
July 14, 2020
Definitely green
Was good, a little more green than I was expecting; couldn't trick my daughter into trying it. Flavor was good though
Tips:
maybe banana?
aaaaa
Dilek B
July 14, 2020
get clean be clean
delicious
aaaaa
Sara R
July 14, 2020
It was okay
Did not really like this one. Not sweet just wasn't a fan
aaaaa
Karlie B
July 14, 2020
Good
This smoothie was good but did lack some flavor.
aaaaa
Joanna B
July 14, 2020
Awesome!
This give a ton of green power with a great flavor.
aaaaa
Tsering L
July 14, 2020
Go to
I find this is my go to smoothie and I specifically like the amount of
Cucumber used!
More Reviews