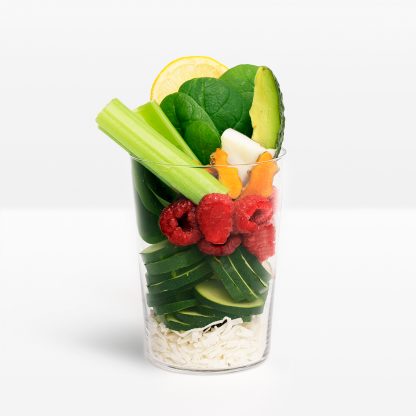 Clean & Green
4.7
33 reviews
Creamy and delicious! Our Clean & Green KETO smoothie is packed with antioxidants, good fats, and fibre! Despite it being low on sugar and carbs, this smoothie is beyond delicious. Forget all you thought a Keto smoothie would taste like we beat all odds with this tasty and nutritious superfood smoothie.
Benefits
Fat Burning

Heart Healthy

Beautifying
The Goods
Raspberries
Avocado
Spinach
Celery
Zucchini
Coconut Oil*
Lemon
Psyllium Husk
Turmeric
Stevia
Superfood Highlights
Coconut Oil*
Coconuts contain significant amounts of fat, but unlike other nuts, they provide fat that is mostly in the form of medium chain saturated fatty acids (MCFAs) in particular, one called lauric acid. Lauric acid in the body is a powerful antiviral, antifungal and antibacterial. Adding a moderate amount of coconut-derived foods in your diet may help protect the body from infections and viruses.
Turmeric
The active compound in turmeric is curcumin and this bioactive compound delivers a one-two punch against free radicals. It blocks them directly, then stimulates your body's own antioxidant defenses!
Nutrition Facts

How To Blend
Step 1 Fill your smoothie cup all the way to the top with your favourite liquid
Step 2 Toss all the good stuff into your blender and blend until smooth
Step 3 Pour your delicious smoothie back into your ready-to-go cup, pop the lid back on and enjoy!
Reviews
Overall Rating: 4.7/5
based on 33 reviews
aaaaa
Sherine D
Verified
March 27, 2020
Not bad
This smoothie flavour is not too bad. It's quite green which I like but it lacked a bit of flavour especially when I added half a scoop of plant based protein.
Tips:
Add more berries.
https://revivesuperfoods.com/ref/59146/
aaaaa
June P
March 26, 2020
healthy but bland
I know its keto and I like ingredients but find I need to add more fruit and a touch of maple syrup to make it taste better.
aaaaa
Zoe S
March 23, 2020
Do Not Buy from this Company!
Warning: If you are new to this site, beware. They are a scam. Do not fool yourselves by being a customer.
aaaaa
Mandy M
March 22, 2020
So yummy!
This is definitely a must have in your box. Not too sweet and also not too earthy!
Tips:
For 60% off your first box and 3 free metal straws use code: MAC637140

aaaaa
Aiesha C
March 22, 2020
Not bad
Not bad but it has a lot of raspberry seeds. I prefer matcha maker as a green juice because I find it to be smoother in texture.

For 60% off + 3 FREE (reusable) straws, use the code CAM595550
Tips:
I used vanilla almond milk
aaaaa
Kat C
March 20, 2020
Keto-friendly and delicious
Raspberry and spinach are the strongest flavors. You can taste the higher fat content and I recommend putting in a little extra liquid to help it blend easier. Unsweetened almond milk was great- dairy would be even creamier.
Tips:
For 60% off your first box and 3 free metal straws, use CHA507070
aaaaa
Stephanie M
March 19, 2020
I liked it
it was good I made it with almond milk and the flavor was ok. greens as it is expected the coconut gives it a good texture.I will pick this one again more for the benefices that for flavor. if you use my code MON593560 you can get 60off and help me get other straws ;)
Tips:
I would add protein powder maybe for flavor and to feel more full feeler if your are taking the smoothie to replace a meal.
aaaaa
Michaelia C
March 18, 2020
Delicious
I love the selection of smoothies available. I never received the complimentary straws with my first box and was told I would receive them in my second shipment - which didn't happen. My smoothies are delicious though!
aaaaa
Peter A
Verified
March 17, 2020
*** Free Bonus gift +60% off ***
Delicious healthy green smoothie!

Use Code ANT605200
Tips:
Free Bonus gift +60% off
Use Code ANT605200
aaaaa
canessa h
Verified
March 15, 2020
Veggie Mania
I love this smoothie for all the health benefits. I like opening the lid of my cups and seeing green. As a busy mom of 3 kids/nurse I find it hard to take care of myself and eat healthy-- Insert these into my life and thank you, I feel ready for whatever life throws at me that day. I add more raspberries and prefer with a thicker milk such as oat milk. You can switch it up with different flavors but our local store only carries the basic flavor.
Tips:
Here is the code to get 100$ off you first box and three free metal straws. Sharing the love over here. HES578010
More Reviews