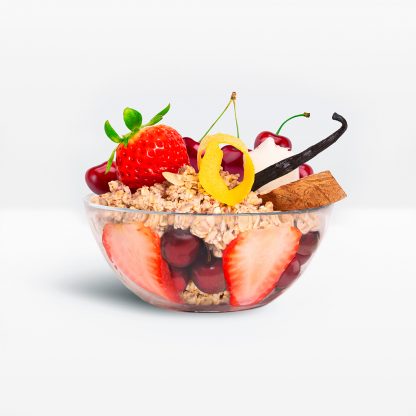 Cheery Cherry
4.7
237 reviews
The world needs more cheer and what a better way to bring that on than with a cherry and coconut oatmeal that's infused with notes of vanilla, lemon, and delicately sweetened with maple syrup. This delicious SuperOat is packed with antioxidants, immunity boosting agents, and heart healthy oats! Toast and coffee are boring! It's time to kick it up a notch without the added work – we take care of all of that for you. #OatstandingMorning
Benefits
Cleansing Detox

Heart Healthy

Immunity Boosting
The Goods
Gluten Free Oats
Cherries
Strawberries
Watermelon Seeds
Coconut Yogurt
Maple Syrup
Acai*
Pea Protein
Vanilla Flavour
Lemon Zest
Chia Seeds*
Himalayan Sea Salt
Superfood Highlights
Gluten Free Oats
Oats are among the healthiest grains on earth. They're a gluten-free whole grain and a great source of important vitamins, minerals, fibre, and antioxidants. Oats are high in the soluble fibre, which offer numerous health benefits. Studies show that oats can help reduce cholesterol and stabilize of blood sugar levels promotes healthy gut bacteria and increases feelings of fullness.
Watermelon Seeds
Like chia and flax seeds, watermelon seeds contain nutrients such as vitamin B, potassium, magnesium, and zinc, which studies have linked with various health benefits. They are also a good source of healthy fats and protein.
Acai*
Açai berries grow on açai palm trees in the Amazon rainforest. These berries are incredibly rich in antioxidants and contain 3x the amount found in blueberries.
Chia Seeds*
Despite their small size, chia seeds are one of the most nutritious dense foods. They're loaded with fiber, protein, omega-3 fatty acids and various micronutrients. Great news for those who don't consume dairy - gram for gram, the calcium content in chia seeds is higher than most dairy products. As a result, chia seeds may be considered an excellent source of calcium for people who don't eat dairy.
Himalayan Sea Salt
Himalayan salt is made from rock crystals of salt that have been mined from areas close to the Himalayas, often in Pakistan. It gets its rosy hue from trace minerals in the salt, like magnesium, potassium, and calcium.
Nutrition Facts

How To Soak
Step 1 Fill your oats cup ¾ of the way to the top with your liquid of choice
Step 2 Give your delicious oats a stir and pop the lid back on before placing in the fridge to soak overnight
Step 3 Take your overnight oats out of the fridge, give everything a stir and enjoy cold!
How To Heat
Step 1 Fill your oats cup ¾ of the way to the top with your liquid of choice and stir
Step 2 Pour all the good stuff into a saucepan or microwave friendly bowl and heat for 3-6 minutes, stirring halfway until ready
Step 3 Stir well, pour back into cup and enjoy!
Reviews
Overall Rating: 4.7/5
based on 237 reviews
Pretty Good
Nice flavour but not super memorable
aaaaa
Amanda H
May 28, 2020
Not My Thing
Not my favorite option, unfortunately.
aaaaa
Dana G
May 28, 2020
Cherry oat bowl is delicious
This is great for a morning meal ! So easy and yummy
aaaaa
Melody A
May 28, 2020
Ok
Good but mush fruit
Tips:
None
Not my fav
The taste was bland for my liking
aaaaa
Joni lee C
May 28, 2020
wheres my order
the smoothies are very delicious my daughter n i love them n want to continue with them! but my second order is marked as delivered the 27th of may 2020 n i still have no recieved it!! hoping someone can email as i tried to contact revive foods n no response! thank u!! [email protected]
aaaaa
Jenna J
May 28, 2020
just ok
not the best. I would try it cold next time
Tips:
use code JOH924950 for 55% off your next box!
aaaaa
Keli D
Verified
May 28, 2020
New fav
I love this! Feels summery
Tips:
Almond milk
aaaaa
Sarah P
Verified
May 28, 2020
aaaaa
Jessica B
Verified
May 28, 2020
Delicious!
I love all of the flavours in this one! Cherries are my favourite fruit and having them in oats was such a great combo! Can't wait to get more on my next order
More Reviews