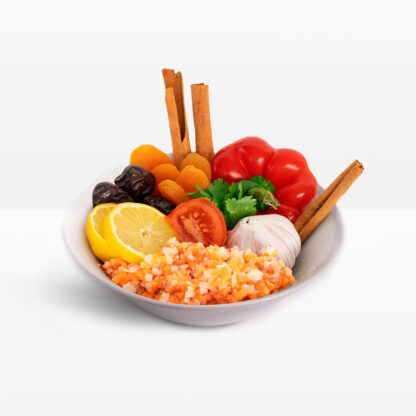 Caul It Couscous
4.5
65 reviews
Caul it what you wanna – this cauliflower couscous Moroccan inspired meal is to die for! This mid-day pick me up is infused with cognitive boosting cinnamon and elevated with sweet dried apricots. It's gluten free, delicious and super flavourful. Enjoy!
Benefits
Brain Health

Heart Healthy

Immunity Boosting
The Goods
Cauliflower Rice
Yam Rice
Dates
Apricot
Red Pepper
Tomato
Canola Oil
Garlic
Lemon
Cumin
Coriander
Cayenne
Spanish Paprika
Cinnamon
Salt
Pepper
Water
Xanthan Gum
Superfood Highlights
Red Pepper
Move over oranges!Red peppers contains 3x more vitamin C than an orange. Other vitamins and minerals in bell peppers include vitamin K, vitamin E, vitamin A, folate, and potassium.
Cinnamon
This delicious spice helps your body fight infections and repair tissue damage. One unique quality of cinnamon is that it decreases the amount of sugar that enters your bloodstream after a meal, bye-bye blood sugar spikes!
Nutrition Facts

How To Heat
Step 1 Pour your SuperMeal into a non-stick pan on medium high heat
Step 2
Stir for 2-4 minutes (no stock or water needed!)
Step 3 Once it's ready, pour your SuperMeal into a bowl and enjoy!
How To Microwave
Step 1 Pour your SuperMeal into a microwave friendly bowl
Step 2
Heat for 2-4 minutes stirring halfway through (no stock or water needed!)
Step 3 Once it's ready, take your SuperMeal out of the microwave and enjoy!
Reviews
Overall Rating: 4.5/5
based on 65 reviews
aaaaa
Skye D
July 14, 2020
Delicious
Love all of these cups. Perfect for the single person who wants to eat well but hates to cook. Bonus they're healthy and not stupid expensive!!
aaaaa
Jessi D
July 14, 2020
Great texture
Very flavorful
aaaaa
Brianna G
July 14, 2020
eh
not a fan of it at all. it smells very nice but i didn't like the texture of flavors
aaaaa
danielle b
Verified
July 14, 2020
personal favourite
I am obsessed with this so much I make two cups at a time. I walk on the wild side and fry it up in salted butter. SO GOOD.
aaaaa
Nikole D
Verified
July 13, 2020
Yum
Big fan of couscous and the flavors are delicious, just wish it was a little bigger portion.
aaaaa
Irene L
Verified
July 13, 2020
I didn't know anything so healthy tasted so good.
Wow the bowls are so easy to make in such short time
aaaaa
Tiffany F
Verified
July 12, 2020
aaaaa
Cheryl P
Verified
July 12, 2020
Portion sizes are smaller, good for a day you are looking for a quick, light lunch.
aaaaa
Cyndal W
Verified
July 11, 2020
Spicy
Not a fan, was spicy! It's the only one I didn't like.
aaaaa
Kelli P
Verified
July 11, 2020
Good
All of these meal cups have a great flavor.
More Reviews