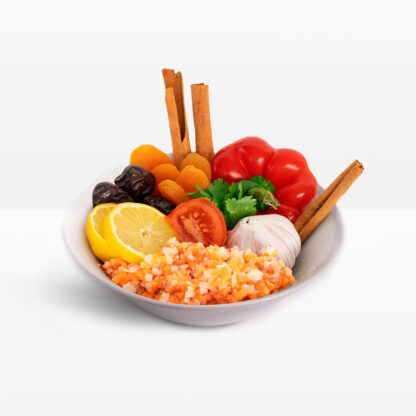 Caul It Couscous
4.6
106 reviews
Caul it what you wanna – this cauliflower couscous Moroccan inspired meal is to die for! This mid-day pick me up is infused with cognitive boosting cinnamon and elevated with sweet dried apricots. It's gluten free, delicious and super flavourful. Enjoy!
Benefits
Daily Defense

Fiber Up

Heart Happy
The Goods
Cauliflower Rice
Yam Rice
Dates
Apricot
Red Pepper
Tomato
Canola Oil
Garlic
Lemon
Cumin
Coriander
Cayenne
Spanish Paprika
Cinnamon
Salt
Pepper
Water
Xanthan Gum
Superfood Highlights
Red Pepper
Move over oranges!Red peppers contains 3x more vitamin C than an orange. Other vitamins and minerals in bell peppers include vitamin K, vitamin E, vitamin A, folate, and potassium.
Cinnamon
This delicious spice helps your body fight infections and repair tissue damage. One unique quality of cinnamon is that it decreases the amount of sugar that enters your bloodstream after a meal, bye-bye blood sugar spikes!
Nutrition Facts

How To Heat
Step 1 Pour your SuperMeal into a non-stick pan on medium high heat
Step 2
Stir for 2-4 minutes (no stock or water needed!)
Step 3 Once it's ready, pour your SuperMeal into a bowl and enjoy!
How To Microwave
Step 1 Pour your SuperMeal into a microwave friendly bowl
Step 2
Heat for 2-4 minutes stirring halfway through (no stock or water needed!)
Step 3 Once it's ready, take your SuperMeal out of the microwave and enjoy!
Reviews
Overall Rating: 4.6/5
based on 106 reviews
aaaaa
Jessica B
Verified
August 9, 2020
So yummy!
I loved this bowl! All the ingredients were perfect and I love how it's such an easy lunch with no dishes!
aaaaa
Sheri S
Verified
August 8, 2020
Needs A Protein
Maybe chicken or tofu...next time
The flavor is good though!!
aaaaa
Tabitha S
Verified
August 6, 2020
DELICIOUS
Absolutely amazing. The smell, the taste and the textures play wonderfully with the palate.
aaaaa
Sonia Z
Verified
August 6, 2020
Small Dinner
It wasn't too bad. It had a bit of a spice to it. Didn't seem like it would be filling but I had a huge glass of water with it And I actually don't really feel too hungry. Perhaps it's just because it has all the right and good foods in it.
Tips:
Perhaps it would be better paired with some meat but I just had it by itself. Quick and easy!
aaaaa
Megan B
Verified
August 5, 2020
Yum!
So delicious and love the texture of the foods, smells so good while it's cooking!
aaaaa
Christine H
Verified
August 4, 2020
Full of flavour
I cannot beleive it is cauliflour rice! Delicious flavoursto mask the taste of cauliflower (which I do not like but should as it is a great superfood)
aaaaa
Mal P
Verified
August 4, 2020
Epic!
Both me and my one year old loved it!
aaaaa
Annie P
Verified
August 4, 2020
Daughter made for dinner
Again, my daughter is eating almost all of the smoothies/super foods. She made this for dinner one night. We had to tell her to stop raving about it, so she could actually eat it.
Tips:
My daughter cooked it with eggs.
aaaaa
Ana P
Verified
August 4, 2020
Amazing, healthy and delicious
Amazing, healthy and delicious
Tips:
Amazing, healthy and delicious
aaaaa
Analis S
Verified
August 4, 2020
Amazing, healthy and delicious
Amazing, healthy and delicious
Tips:
Amazing, healthy and delicious
More Reviews