Carrot Spice
4.3
4 reviews
Tastes like carrot cake, without the added sugar! Perfectly sweetened by organics maple syrup and raisins. The notes of cardamom and nutmeg give this quick and nutritious breakfast it's kick! Powered by fava bean protein and chia seeds, you can't go wrong with this on the go meal. Toast and coffee is boring! It's time to kick it up a notch without the added work – we take care of all of that for you. #OatstandingMornings
The Goods
Whole Grain Gluten Free Oats
Chia Seeds
Coconut
Fava Bean Powder
Carrots
Pumpkin
Maca Powder
Nutmeg
Ginger
Maple Syrup
Vanilla Extract (non-alcoholic)
Himalayan Salt
Cardamom
Raisins
Ceylon Cinnamon
Nutrition Facts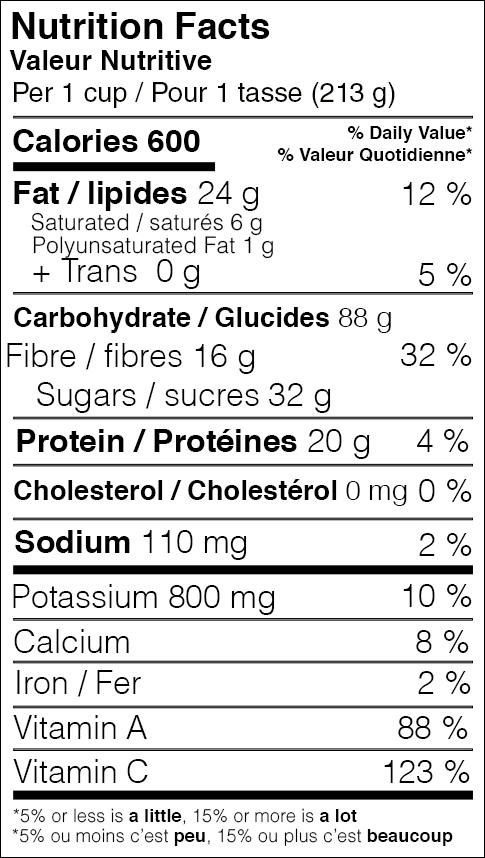 How To Soak
Step 1 Fill your oats cup ¾ of the way to the top with your liquid of choice
Step 2 Give your delicious oats a stir and pop the lid back on before placing in the fridge to soak overnight
Step 3 Take your overnight oats out of the fridge, give everything a stir and enjoy cold!
How To Heat
Step 1 Fill your oats cup ¾ of the way to the top with your liquid of choice and stir
Step 2 Pour all the good stuff into a saucepan or microwave friendly bowl and heat for 3-6 minutes, stirring halfway until ready
Step 3 Stir well, pour back into cup and enjoy!
Reviews
Overall Rating: 4.3/5
based on 4 reviews
aaaaa
Marie-Soleil S
June 27, 2019
No no no no.
I really didn't like this one. Was expecting more of a carrot cake type of oat, but the carrots were really hard and not sweet at all? Like carrots you would put in a salad or whatever. Worst of them all.
aaaaa
Jinghan Z
Verified
June 24, 2019
Great to have!
Very glad I ordered this. Tastes absolutely amazing very filling and worth it!
aaaaa
Chelsea C
Verified
June 10, 2019
Healthy carrot cake
This was quite tasty overall, but just had too many raisins for my liking. I enjoy raisins but only in small quantities.
Tips:
Made as overnight oats with vanilla oat milk, lovely texture.
aaaaa
Heather H
Verified
May 17, 2019
Carrot cake!
This one is great! It's like eating carrot cake batter but slightly less sweet. Very filling and delicious!
aaaaa
Shreena T
Verified
May 17, 2019
Healthy option
This is a healthy breakfast option. The only reason I gave it a 4 star is because I had this after the berry patch and this just sounds and tastes a bit healthier 😂