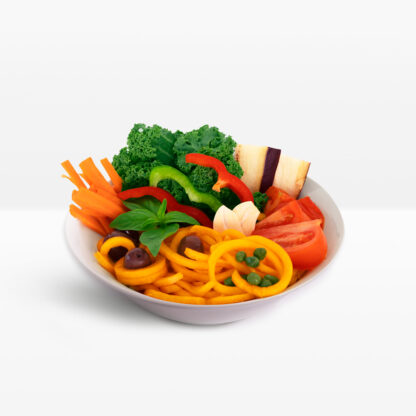 Buttanesca
4.6
76 reviews
Traditional Puttanesca, revived! This delicious meal features antioxidant rich butternut squash noodles that are coated with a delicious tomato sauce and topped with kalamata olives, capers, and kale. It's quick and nutritious making it the perfect grain-free meal!
Benefits
Brain Health

Cleansing Detox

Immunity Boosting
The Goods
Butternut Squash Noodles
Kalamata Olives
Capers
Kale
Julienne Carrots
Mediterranean Brunoise
Tomato
Courgettes
Aubergines
Red Pepper
Green Pepper
Garlic
Olive Oil
Basil
Red Pepper Flakes
Oregano
Salt
Black Pepper
Superfood Highlights
Red Pepper
Move over oranges!Red peppers contains 3x more vitamin C than an orange. Other vitamins and minerals in bell peppers include vitamin K, vitamin E, vitamin A, folate, and potassium.
Nutrition Facts

How To Heat
Step 1 Pour your SuperMeal into a non-stick pan on medium high heat
Step 2
Stir for 2-4 minutes (no stock or water needed!)
Step 3 Once it's ready, pour your SuperMeal into a bowl and enjoy!
How To Microwave
Step 1 Pour your SuperMeal into a microwave friendly bowl
Step 2
Heat for 2-4 minutes stirring halfway through (no stock or water needed!)
Step 3 Once it's ready, take your SuperMeal out of the microwave and enjoy!
Reviews
Overall Rating: 4.6/5
based on 76 reviews
aaaaa
Skye D
July 14, 2020
So good!
I love all of these cups. At first I thought the serving looked small, but it is all really filling.
Tips:
If I want a little bit more, I add extra rice or some chicken or some tofu. Are usually don't need to though, they're just great on their own
aaaaa
Jessi D
July 14, 2020
aaaaa
Jillian S
July 14, 2020
I need more
this is so so so tasty and definitely one of my favorites. I only wish they came in bigger portions
aaaaa
danielle b
Verified
July 14, 2020
topper for grains
This is full of flavour. I put it on top of rice or quinoa to make it stretch.
aaaaa
Gregory R
Verified
July 12, 2020
Absolutely awesome. It was surprisingly gourmet
When I opened it I first thought it looks good but I doubt it tastes great.

I put it in pan , put some olive oil on it and in three minutes I had an amazing aroma.

From there it was all uphill. I wish I had ordered more then one.
I'm am a foodie and a picky eater and wouldn't write a review if it wasn't that good. Buy a few of these without question.


Tips:
Add olive oil to keep it healthy.

The portion is decent but if you are hungry Id probably eat one...wait awhile and probably eat another one because from reading the Ingredients it's super healthy and low calories.
aaaaa
Cyndal W
Verified
July 11, 2020
Great!
Lots of flavor, easy to heat!
aaaaa
Daria G
Verified
July 11, 2020
Short but sweet
The taste of this is delicious. I was however, disappointed at the portion. The cup feels a little empty, and when it thawed it wasn't even a third full. Definitely not a meal, but a tasty, tasty side dish! I added my own cherry tomatoes, bell peppers and rice just to have a bit more on the plate.
Tips:
Use as a side dish, it's a bit small.
aaaaa
Kelli P
Verified
July 11, 2020
So good!
Haven't had a single meal that I don't like.
aaaaa
Adam F
Verified
July 11, 2020
very tasty
A great meal that is different than anything I would cook. I love having it on hand but the portions are small so make two at a time!
aaaaa
Natasha T
Verified
July 11, 2020
Awesome made Easy
great low calorie dish that is pretty tasty!
More Reviews