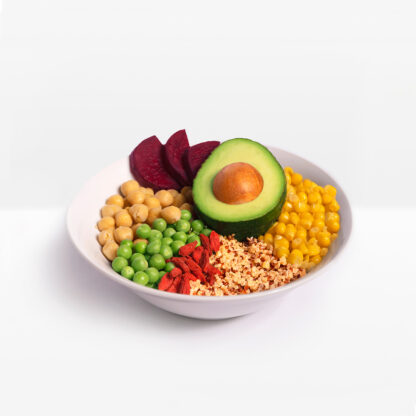 Buddhacado
4.7
807 reviews
Avocados gone wild! This creamy yet light SuperMeal makes for a delicious lunch/dinner dish and is packed with tons of good fats! Our chefs took rainbow quinoa, chickpeas, edamame, goji berries, and beets and brought them together in this nutritious combination of goodness.
Benefits
Daily Defense

Fiber Up

Heart Happy
The Goods
Rainbow Quinoa
Chickpeas
Avocado
Green Peas
Sunflower Seeds*
Goji Berries
Corn
Beets
Onion
Water
Coconut Milk
Canola Oil
Lemon Juice
Garlic Powder
Salt
Pepper
Superfood Highlights
Rainbow Quinoa
This whole grain is pseudo-cereal - they are cooked and eaten like a grain but in fact are a seed. This ancient grain is gluten-free, high in protein and one of the few plant foods that contain sufficient amounts of all nine essential amino acids! Quinoa is also high in fibre, and contains a good source of magnesium, B vitamins, iron, potassium, calcium, phosphorus, vitamin E and various beneficial antioxidants.
Chickpeas
Chickpeas also known as garbanzo beans, they are part of the legume family. They are high in vitamins, minerals, fiber and protein. These characteristics are responsible for most of their health benefits, which range from weight management to blood sugar control.
Avocado
This delicious fruit is filled with healthy fat and fibre. The powerful combination of fat and fibre helps you feel full longer. Further, avocados are nutrient-packed with over 20 vitamins, minerals and phytonutrients. Giving you a powerful and delicious nutrient boost!
Sunflower Seeds*
These seeds are a great alternative to nuts and are filled with protein and fibre. These seeds are especially high in vitamin E and selenium. These nutrients function as antioxidants to protect your body's cells against free radical damage, which plays a role in fighting several chronic diseases.
Goji Berries
This berry is both a fruit and an herb and packed with tons of nutrition. Gogi berries are rich in antioxidants, including immune-boosting vitamin C and selenium. They are also high in beta-carotene, which is great for skin health, immunity and vision. Gogi berries contain minerals such as iron and calcium.
Beets
Beets are rich in dietary nitrates, which your body converts to nitric oxide. Nitric oxide helps blood vessels dilate to promote proper blood flow and can improve exercise performance, lower blood pressure and aid in brain function.
Nutrition Facts

How To Heat
Step 1 Pour your SuperMeal into a non-stick pan on medium high heat
Step 2
Stir for 2-4 minutes (no stock or water needed!)
Step 3 Once it's ready, pour your SuperMeal into a bowl and enjoy!
How To Microwave
Step 1 Pour your SuperMeal into a microwave friendly bowl
Step 2
Heat for 2-4 minutes stirring halfway through (no stock or water needed!)
Step 3 Once it's ready, take your SuperMeal out of the microwave and enjoy!
Reviews
Overall Rating: 4.7/5
based on 807 reviews
aaaaa
Laura D
Verified
August 11, 2020
aaaaa
Bonnie T
Verified
August 11, 2020
Yummy
Delicious, my husband loves these and they're healthy and filling!
aaaaa
Suzanne S
Verified
August 11, 2020
Very Flavorful
This was super delicious. I wish there was a little more avocado but these heat up so nicely in the microwave.
Tips:
I added meat and will probably add some chopped scallions & fresh cilantro next time for a fresh element.
aaaaa
Valerie M
Verified
August 11, 2020
Very Good
Small portion, but it filled me up for lunch, very tasty.
aaaaa
Stephanie G
Verified
August 8, 2020
Surprised
Wasn't sure how I'd like this because I'm not a fan of all the ingredients but it was delicious!
aaaaa
Melissa C
Verified
August 8, 2020
Great combination
This is a lovely combination of flavors. I made chicken to eat along with this and it was really good!
aaaaa
Abby C
Verified
August 8, 2020
Cooked avocado?
I understand this would make a great bowl if fresh, but when you reheat the frozen avocado it melts.
aaaaa
Jessica M
Verified
August 8, 2020
Absolutely delicious!
I love this bowl! It doesn't seem like a lot of food, but it is filling and yummy!
aaaaa
Shannon G
Verified
August 6, 2020
aaaaa
Monika J
Verified
August 6, 2020
I'm in heaven!!!
I don't normally eat beets, was never forced at as a kid so I never ate them. This combination is sooooo awesome and the beets taste great!!! Love it!!
Tips:
I put a little bit of olive oil in the sauce pan before adding the contents of the cup. 🙃
More Reviews