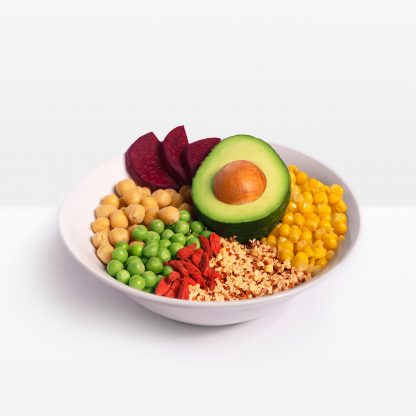 Buddhacado
5
3 reviews
Avocados gone wild! This creamy yet light SuperMeal makes for a delicious lunch/dinner dish and is packed with tons of good fats! Our chefs took rainbow quinoa, chickpeas, edamame, goji berries, and beets and brought them together in this nutritious combination of goodness.
Benefits
High Protein

Source of Good Fats

Digestive Support
The Goods
Rainbow Quinoa
Chickpeas
Avocado
Green Peas
Sunflower Seeds*
Goji Berries
Corn
Beets
Onion
Water
Coconut Milk
Canola Oil
Lemon Juice
Garlic Powder
Salt
Pepper
Superfood Highlights
Goji Berries
This berry is both a fruit and an herb and packed with tons of nutrition. Gogi berries are rich in antioxidants, including immune-boosting vitamin C and selenium. They are also high in beta-carotene, which is great for skin health, immunity and vision. Gogi berries contain minerals such as iron and calcium.
Beets
Beets are rich in dietary nitrates, which your body converts to nitric oxide. Nitric oxide helps blood vessels dilate to promote proper blood flow and can improve exercise performance, lower blood pressure and aid in brain function.
Nutrition Facts

How To Heat
Step 1 Pour your SuperMeal into a non-stick pan on medium high heat
Step 2
Stir for 2-4 minutes (no stock or water needed!)
Step 3 Once it's ready, pour your SuperMeal into a bowl and enjoy!
How To Microwave
Step 1 Pour your SuperMeal into a microwave friendly bowl
Step 2
Heat for 2-4 minutes stirring halfway through (no stock or water needed!)
Step 3 Once it's ready, take your SuperMeal out of the microwave and enjoy!
Reviews
Overall Rating: 5/5
based on 3 reviews
aaaaa
Kelly D
Verified
March 27, 2020
Delicious and convenient. Love #revive Meals


Tips:


aaaaa
Aiesha C
March 25, 2020
Healthy
I don't think the quantity is enough for a meal. However, it seems pretty healthy as a snack or add it to a salad for it to be more filling.

For 60% off + 3 FREE (reusable) straws, use the code CAM595550
Tips:
I added it to some salad
aaaaa
Chia C
March 22, 2020
***CHA636240*** Get 60% off and 3 free straws using code CHA636240
***CHA636240*** Get 60% off and 3 free straws using code CHA636240

I love avocado!
Tips:
***CHA636240*** Get 60% off and 3 free straws using code CHA636240
aaaaa
Madison K
March 19, 2020
Not included in my bos
I was very excited to try it, but it did not get added. Instead, I received two of the Berry Blast Oats.
aaaaa
Gary M
March 19, 2020
Absolutely Delicious
This Buddhacado (love the name almost as much as the meal) is so tasty. With only 4 grams of sugar and 10 grams of protein at only 240 calories it's just an awesome little meal. Fits my bachelor cooking skills perfectly and I only wished there was more of it although it's a great way to learn to eat smaller portions.
aaaaa
Adam F
March 19, 2020
AWESOME AWESOME
Love how easy it is and delicious.
You can't get better than this!
Tips:
To receive 60% off and a **FREE BONUS GIFT** in box, use code FRA576520
aaaaa
Peter A
Verified
March 15, 2020
***Free Bonus gift +60% off code***
Quinoa, Chickpeas, beets and more.
Delicious!!
Tips:
Free Bonus gift +60% off
Use Code ANT605200
aaaaa
mark c
Verified
March 9, 2020
BUDDALICIOUS AWESOME
this is a must for your first time out....super healthy and delicious
Tips:
to receive 60% off your entire order use promo code CHA579400 and get FREE THREE METAL STRAWS