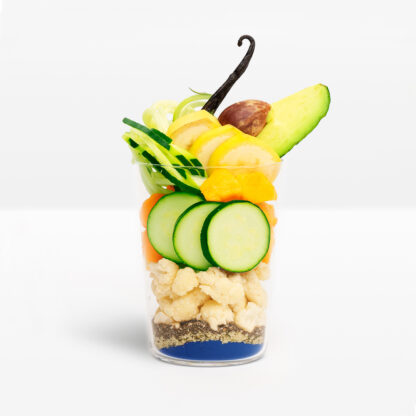 Berry Blü
4.7
1693 reviews
Take the blüs out of rushed mornings and enjoy every bit of that AM hustle with our SIGNATURE blue spirulina PROTEIN smoothie. It's fresh, delicious, and packed with antioxidants and anti-inflammatory properties. Loaded with superfoods like spirulina, Saskatoon berries (yup, right from the source) and hemp this smoothie is proven to reduce the effects of aging and protect against harmful pathogens. There's some cauliflower and zucchini in there too – don't tell the kids! At a whopping 7g of protein this smoothie is PERFECT for your active lifestyle to help repair your muscle tissue and maintain strong and healthy bones.
Benefits
Workout Recovery

Immunity Boosting

Digestive Support
The Goods
Banana
Cauliflower
Blueberries
Raspberries
Zucchini
Pineapple
Pea Protein
Lime
Non-Alcoholic Vanilla
Spirulina*
Chia Seeds*
Hemp Protein
Superfood Highlights
Cauliflower
This vegetable can be made into pizza, rice, and mashed potatoes. This miracle veggie is incredibly versatile, mild in taste and is packed with tons of nutrients. Cauliflower is part of the cruciferous family and this group of veggies contains unique plant compounds that may reduce the risk of several diseases, including heart disease and cancer. Plus cauliflower is weight loss friendly (low calories, low carb and high fibre) and super easy to add to your diet.
Blueberries
This popular berry has great health benefits – not only are the super low in calories they are packed with vitamin C and fibre. The concentrated amount of antioxidants in blueberries benefits brain function and plays a role in delaying mental decline.
Zucchini
This green veggie is very mild in taste and is packed with so much great nutrition plus it is very low in calories and low in carbohydrates. Zucchinis contain several antioxidants that may provide various health benefits. The highest levels are found in the fruit's skin.
Spirulina*
Spirulina is a type of blue-green algae that grows in both salt and fresh water. It may be one of the nutrient dense foods on earth. Spirulina has powerful anti-inflammatory and antioxidant powers. Spirulina is also a great source of protein supplying you with the essential amino acids you need for tissue repair, energy production, and nutrient absorption.
Chia Seeds*
Despite their small size, chia seeds are one of the most nutritious dense foods. They're loaded with fiber, protein, omega-3 fatty acids and various micronutrients. Great news for those who don't consume dairy - gram for gram, the calcium content in chia seeds is higher than most dairy products. As a result, chia seeds may be considered an excellent source of calcium for people who don't eat dairy.
Nutrition Facts

How To Blend
Step 1 Fill your smoothie cup all the way to the top with your favorite liquid
Step 2 Toss all the good stuff into your blender and blend until smooth
Step 3 Pour your delicious smoothie back into your ready-to-go cup, pop the lid back on and enjoy!
Reviews
Overall Rating: 4.7/5
based on 1693 reviews
aaaaa
Erica M
July 14, 2020
aaaaa
Lila B
July 14, 2020
Cool color and tasty
This smoothie was really good, I liked that you can taste all the ingredients separately and combined they have such a great flavor.
Tips:
I made this smoothie with part coconut water and part almond milk since I had two almost empty containers in the fridge. It turned out great!

aaaaa
Jessi D
July 14, 2020
Yummy!
Very blue & fruity. Can't even taste the cauliflower
Tips:
Soy milk
aaaaa
Lindsey A
July 14, 2020
Love it
This is one of my favourites! I really enjoy this flavour and it turns a nice blue colour!
Tips:
I add vanilla protein and water and it is refreshing and delicious!
aaaaa
Azizeh B
July 14, 2020
Yes !
One of my favs, it's going in my next box.
Tips:
Cacao nibs are great
aaaaa
Jessica F
July 14, 2020
Delicious
Amazing and love my straw
aaaaa
Charlotte R
July 14, 2020
Pretty good flavour
I likes this one but info prefer the green smothies
aaaaa
Kendra C
July 14, 2020
Didnt like this one!
Not a very pleasant taste to me
aaaaa
Veronica M
July 14, 2020
Good Flavor
One of my favorites
aaaaa
Paloma S
July 14, 2020
A white smoothie
I bought two of this smoothie for the colour, but both blended up white. I'm not sure there was any spirulina in there at all.
More Reviews