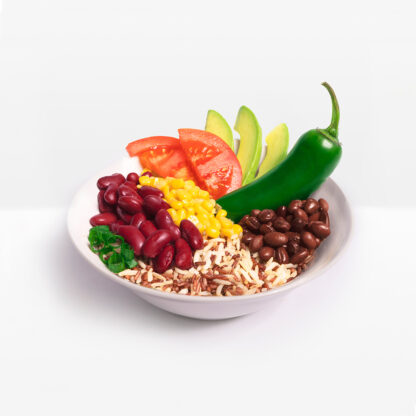 Bean to Baja
4.7
783 reviews
Hearty, but not heavy this delicious SuperMeal tastes just like a burrito bowl without the hassle or the calories! Our chefs have carefully crafted this Mexican inspired dish with chipotle in adobo to give it just the right amount of smokiness and sweetness. It's perfection in a cup!
Benefits
High Protein

Source of Fiber

Source of Good Fats
The Goods
Mexicana Grain Blend
Black Beans
Kidney Beans
Jalapeno
Corn
Avocado
Chipotle In Adobo
Green Onion
Tomato
Brown Rice
Red Rice
Multi-Colored Split Peas
Hemp Seeds
Red Pepper
White Onion
Amaranth
Water
Canola Oil
Tomato Puree
Lime Juice
Salt
Cumin
Garlic
Oregano
Superfood Highlights
Black Beans
Like, chickpeas and kidney beans black beans are full of fibre and protein. However, black beans pack a little more fibre and magnesium than their counterparts, so they've got a leg-up on other beans.
Kidney Beans
These beans are rich in protein. A - 3.5 ounce serving has 9 grams of protein. Kidney beans are also very high in fibre and contain resistant starch; resistant starch is a carbohydrate that resists digestion in the small intestine and ferments in the large intestine. The resistant starch acts as a prebiotic, which feeds the friendly bacteria in your gut. This helps the gut bacteria produce nutrients for your colon cells and leads to a healthier digestive system.
Avocado
This delicious fruit is filled with healthy fat and fibre. The powerful combination of fat and fibre helps you feel full longer. Further, avocados are nutrient-packed with over 20 vitamins, minerals and phytonutrients. Giving you a powerful and delicious nutrient boost!
Hemp Seeds
Hemp hearts are rich in protein and have all 9 essential amino acids. They also contain omega-3, omega-6, stearidonic acid (SDA), and the rare omega-6 Gamma Linolenic Acid (GLA). What's so great about GLA? Well, GLA has been shown to help with cholesterol, inflammation, skin and hair health, balancing hormones, and general heart health.
Red Pepper
Move over oranges!Red peppers contains 3x more vitamin C than an orange. Other vitamins and minerals in bell peppers include vitamin K, vitamin E, vitamin A, folate, and potassium.
Nutrition Facts

How To Heat
Step 1 Pour your SuperMeal into a non-stick pan on medium high heat
Step 2
Stir for 2-4 minutes (no stock or water needed!)
Step 3 Once it's ready, pour your SuperMeal into a bowl and enjoy!
How To Microwave
Step 1 Pour your SuperMeal into a microwave friendly bowl
Step 2
Heat for 2-4 minutes stirring halfway through (no stock or water needed!)
Step 3 Once it's ready, take your SuperMeal out of the microwave and enjoy!
Reviews
Overall Rating: 4.7/5
based on 783 reviews
aaaaa
Shaniqua B
July 14, 2020
Ridiculously Good
So good I wanted to lick the plate! Lol.
aaaaa
Brianna G
July 14, 2020
amazing
this is my favorite thing ever! its so flavorful i love having it by itself or in a tortilla with some guacamole
Tips:
put in a tortilla with some guac!
aaaaa
America H
July 14, 2020
SOOOO GOOOD
This was my first box shipment so I decided to do a variety and this was sooo good! The minute I took the seal off, it smelled yummy! I didn't even have to add anything, it has a little sauce/flavor frozen cube that just melted while it cooked. It was very filling and the avocado was fresh tasting!!
Tips:
I did have some leftover grilled chicken so I threw it in there but would have still been tasty and filling without!! Added more of these to my next box!!
aaaaa
Paige G
July 14, 2020
So surprised??
Maybe it's just me, but dumping a cup of frozen veggies and grains onto a pan doesn't sound too appetizing. I was really pleasantly surprised with this one. Really good base of flavors, and perfect to make your own dish by adding anyhting
Tips:
I seasoned my bowl with my fav chile lime salt and wrapped in a whole grain tortilla to make it a bit more filling
aaaaa
Candice J
July 14, 2020
Yummy!
Super tasty, a little small, added some rice and it was perfect!
aaaaa
stephanie g
July 14, 2020
has some bite!
i am normally not a spicy food lover, but this one had some kick to it but it wasn't unbearable. I also found it to be on the small side.
aaaaa
April P
Verified
July 13, 2020
Yummy
So good, a little on the spicy side
aaaaa
Melanie R
Verified
July 13, 2020
love this
I really like this one and it pairs well with all kinds of different proteins
Tips:
I've made this with venison and beef and it was a great meal, I think pretty much any meat or other protein would go well with it
aaaaa
Greta C
Verified
July 13, 2020
hearty, filling and easy meal
kinda small but made a good filling lunch with a small salad on the side
aaaaa
Cyndal W
Verified
July 13, 2020
Love
This is my second favorite! So much flavor!!
More Reviews