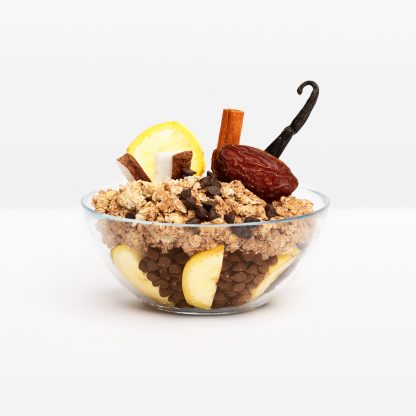 Banana Nut
4.7
30 reviews
Nothing better than banana and chocolate – without the guilt! This filling breakfast has all the good stuff your body craves. Get that kick of protein from our pure pea protein, too! Toast and coffee is boring! It's time to kick it up a notch without the added work – we take care of all of that for you. #OatstandingMornings
Benefits
Cleansing Detox

Heart Healthy

Digestive Support
The Goods
Gluten Free Oats
Banana
Coconut
Dates
Vegan Chocolate Chips
Maple Syrup
Pea Protein
Cocoa
Vanilla
Cinnamon
Chia Seeds*
Superfood Highlights
Gluten Free Oats
Oats are among the healthiest grains on earth. They're a gluten-free whole grain and a great source of important vitamins, minerals, fibre, and antioxidants. Oats are high in the soluble fibre, which offer numerous health benefits. Studies show that oats can help reduce cholesterol and stabilize of blood sugar levels promotes healthy gut bacteria and increases feelings of fullness.
Coconut
Coconuts contain significant amounts of fat, but unlike other nuts, they provide fat that is mostly in the form of medium chain saturated fatty acids (MCFAs) in particular, one called lauric acid. Lauric acid in the body is a powerful antiviral, antifungal and antibacterial. Adding a moderate amount of coconut-derived foods in your diet may help protect the body from infections and viruses.
Cinnamon
This delicious spice helps your body fight infections and repair tissue damage. One unique quality of cinnamon is that it decreases the amount of sugar that enters your bloodstream after a meal, bye-bye blood sugar spikes!
Chia Seeds*
Despite their small size, chia seeds are one of the most nutritious dense foods. They're loaded with fiber, protein, omega-3 fatty acids and various micronutrients. Great news for those who don't consume dairy - gram for gram, the calcium content in chia seeds is higher than most dairy products. As a result, chia seeds may be considered an excellent source of calcium for people who don't eat dairy.
Nutrition Facts

How To Soak
Step 1 Fill your oats cup ¾ of the way to the top with your liquid of choice
Step 2 Give your delicious oats a stir and pop the lid back on before placing in the fridge to soak overnight
Step 3 Take your overnight oats out of the fridge, give everything a stir and enjoy cold!
How To Heat
Step 1 Fill your oats cup ¾ of the way to the top with your liquid of choice and stir
Step 2 Pour all the good stuff into a saucepan or microwave friendly bowl and heat for 3-6 minutes, stirring halfway until ready
Step 3 Stir well, pour back into cup and enjoy!
Reviews
Overall Rating: 4.7/5
based on 30 reviews
aaaaa
Kara M
March 28, 2020
try this hot!
i had mine hot with cashew milk added. I put it in the microwave for about 3 mins and topped with a bit of honey and extra fruit. This is a great breakfast for on the go!
USE MY CODE FOR 65% OFF AND FREE STRAWS
MCC611660
Tips:
Add milk of your choice and honey!
aaaaa
Huimin C
March 23, 2020
Recommend not to eat hot
It does not taste very good after microwaving. I microwaved around 5 minutes and it 'exploded'. Even though, the oat is not soft enough. I can feel the crunchy oat shell. And I think it's the banana in it, when eating hot, it's a little bit sour.
aaaaa
Alexandra C
Verified
March 18, 2020
The BEST!! 😍😍
Taste's amazing! Highly recommend!!
Tips:
Use code CHA497800 for 60% off and 3 FREE reusable straws 💖
aaaaa
Peter A
Verified
March 15, 2020
**Free Bonus Gift + 60% off
Banana+chocolate+delicious

=awesome

Tips:
Free Bonus gift +60% off
Use Code ANT605200
aaaaa
canessa h
Verified
March 10, 2020
tastes like banana bread.
Moms of new babies or night shift workers. pop this in your fridge with alittle almond milk. Great for pick me ups during the night when you want to grab for something unhealthy. Especially those all nighters. P.s oats are a natural lactation supplement= more milk production - just saying.
Tips:
for 100$ off your first box of 24 I'll share a promo code. Gift included.
HES578010
aaaaa
Erin W
Verified
March 10, 2020
So good!
This was amazing - tasted just like a banana/nut muffin. Not too sweet and the texture was great. Will eat again!
Tips:
I used almond milk and microwaved for 3 minutes to get a porridge-like texture. Microwave for longer or add less liquid if you want it thicker!
aaaaa
Test L
Verified
March 9, 2020
A great blend!
Loved the mix of oats and chocolate! A sweet true that feels good for you.
Tips:
Try almond milk!
aaaaa
Adam F
Verified
March 9, 2020
The perfect combination
This is what it's all about right here!
Tips:
For 60% off PLUS 3 FREE reusable straws use code FRA576520
aaaaa
Paulina B
Verified
February 21, 2020
Loved the chocolate and dates!
Tried this one warm, expecting not to really like it because banana in things is not my fave, but I was pleasantly surprised!
Tips:
Oat milk, warm
aaaaa
Gilda B
Verified
February 10, 2020
Amazing
I blended this like a smoothie with a little extra almond milk and it tasted like a chocolate shake it was so good. One of my favorites so far.
More Reviews