Banana Nut
4.6
14 reviews
Nothing better than banana and chocolate – without the guilt! This filling breakfast has all the good stuff your body craves. Get that kick of protein from fava beans, too! Toast and coffee is boring! It's time to kick it up a notch without the added work – we take care of all of that for you. #OatstandingMornings
Benefits
Cleansing Detox

Heart Healthy

Digestive Support
The Goods
Whole Grain Gluten Free Oats
Chia Seeds
Coconut
Fava Bean Powder
Banana
Medjool Dates
Cocoa Powder
Ceylon Cinnamon
Vegan Chocolate Chips
Maple Syrup
Vanilla Extract (non-alcoholic)
Himalayan Salt
Superfood Highlights
Whole Grain Gluten Free Oats
Oats are among the healthiest grains on earth. They're a gluten-free whole grain and a great source of important vitamins, minerals, fibre, and antioxidants. Oats are high in the soluble fibre, which offer numerous health benefits. Studies show that oats can help reduce cholesterol and stabilize of blood sugar levels promotes healthy gut bacteria and increases feelings of fullness.
Chia Seeds
Despite their small size, chia seeds are one of the most nutritious dense foods. They're loaded with fiber, protein, omega-3 fatty acids and various micronutrients. Great news for those who don't consume dairy - gram for gram, the calcium content in chia seeds is higher than most dairy products. As a result, chia seeds may be considered an excellent source of calcium for people who don't eat dairy.
Coconut
Coconuts contain significant amounts of fat, but unlike other nuts, they provide fat that is mostly in the form of medium chain saturated fatty acids (MCFAs) in particular, one called lauric acid. Lauric acid in the body is a powerful antiviral, antifungal and antibacterial. Adding a moderate amount of coconut-derived foods in your diet may help protect the body from infections and viruses.
Fava Bean Powder
Fava beans are incredibly nutritious and an excellent source of soluble fiber, plant protein, folate, manganese, copper, and iron! Fava beans are heart-healthy and are rich in phytonutrients such as isoflavone and plant sterols, which have been shown to lower cholesterol.
Ceylon Cinnamon
This delicious spice helps your body fight infections and repair tissue damage. One unique quality of cinnamon is that it decreases the amount of sugar that enters your bloodstream after a meal, bye-bye blood sugar spikes!
Himalayan Salt
Himalayan salt is made from rock crystals of salt that have been mined from areas close to the Himalayas, often in Pakistan. It gets its rosy hue from trace minerals in the salt, like magnesium, potassium, and calcium.
Nutrition Facts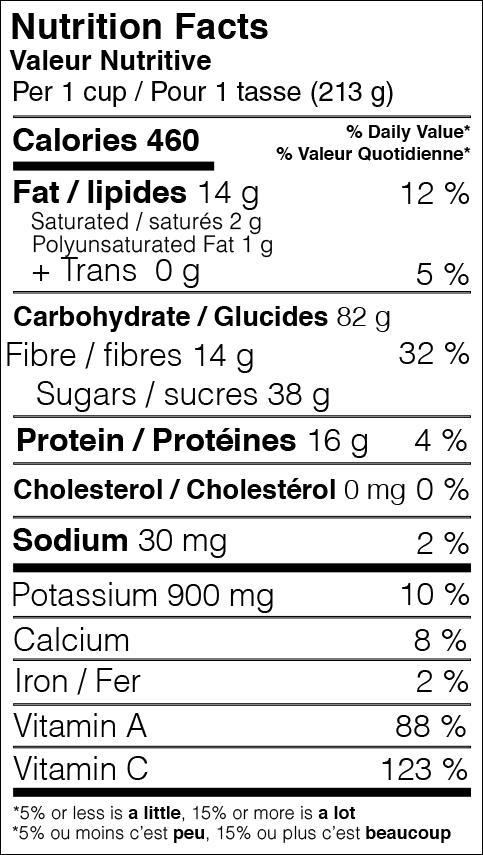 How To Soak
Step 1 Fill your oats cup ¾ of the way to the top with your liquid of choice
Step 2 Give your delicious oats a stir and pop the lid back on before placing in the fridge to soak overnight
Step 3 Take your overnight oats out of the fridge, give everything a stir and enjoy cold!
How To Heat
Step 1 Fill your oats cup ¾ of the way to the top with your liquid of choice and stir
Step 2 Pour all the good stuff into a saucepan or microwave friendly bowl and heat for 3-6 minutes, stirring halfway until ready
Step 3 Stir well, pour back into cup and enjoy!
Reviews
Overall Rating: 4.6/5
based on 14 reviews
aaaaa
Mikaela T
Verified
November 18, 2019
Like a brownie
The first time I had this cold I thought it was so delicious and the chocolatey-ness was perfect. I was scared to warm it up because I didn't want to ruin it
BUT it tastes even better warmed up —just like a brownie!
Tips:
Try warming it up!
aaaaa
Karina G
Verified
November 11, 2019
Delicioso!
you seriously need to try this! super good on the morning !!!
aaaaa
Tiffany D
Verified
November 4, 2019
My favorite overnight oats!
I love how the cocoa makes it almost a desert In the morning. I wish the fruit was in smaller pieces so I didn't have a huge mouth full of banana but, I'm in LoVE!!
Tips:
Cut up bigger fruit before soaking overnight. It makes it easier to eat on the go. :)
aaaaa
Niki S
Verified
October 29, 2019
Great and Hearty
It was good. It has no sweetness. Great for some who prefer that. I added some sweetness for me.
Tips:
I added brown sugar and cinnamon for sweetness.
Will try maple syrup or honey next time.
aaaaa
Stefanie R
Verified
October 19, 2019
Really good !
This has to be a trick! This is too good to be good for you! I am in love with this one and cant wait to have more
Tips:
Add vanilla almond milk
aaaaa
Ella W
Verified
October 19, 2019
SO GOOD!!!
I have tried plenty of overnight oats and this is hands down the best. Sweet and filling, it is easy to transport and eat at work.
Tips:
Unsweetened Almond Milk
aaaaa
Nisa G
Verified
September 3, 2019
Amazing
Ok. I never write reviews but I had to after seeing some of these. This is sweet but no more sweet than eating pancake or toast with jam for breakfast. I actually find it less sweet than the other cups.
The size isnt big but it's good. I'm mind blown that people have said they can only eat half. They must have the stomach of a chihuahua haha. I'm a petite thin girl in her 20s and I devoure a cup and feel satisfied until lunch but I would never say stuffed or even full full.
I've pretty much been eating it everyday. I will say my only complaint is that there doesn't seem to be a set amount of ingredients in each cup.
Sometimes there's more product and sometimes less which definetly impacts how much almond milk I put (the recommend 3/4 cups works perfectly for some cups and ends up as soup for others so you really have to judge based on the product you're seeing)
Also some cups will have more choco chips etc (which I love)
So the consistency from cup to cup- from someone eating it every morning- is definetly variable
Overall, still 5 stars because it's great, fresh, convenient, tasty and well priced
aaaaa
Jolene B
Verified
August 13, 2019
so much chocolate
this was too sweet for breakfast but would be a great option when you are craving something thats not good for you!
aaaaa
Marie-Soleil S
Verified
July 21, 2019
One of my faves
This one is pretty good! The bananas are a little too ripe tho, it makes a funny texture sometimes. Taste is great.
aaaaa
Jinghan Z
Verified
June 24, 2019
Super tasty!
Perfect to have in the morning, easily prepared. Very filling and tastes amazing. Great booster.
More Reviews