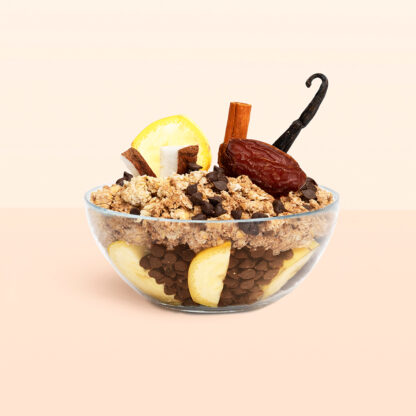 Banana Nut
4.7
700 reviews
Nothing better than banana and chocolate – without the guilt! This filling breakfast has all the good stuff your body craves. Get that kick of protein from our pure pea protein, too! Toast and coffee is boring! It's time to kick it up a notch without the added work – we take care of all of that for you. #OatstandingMornings
Benefits
Cleansing Detox

Heart Healthy

Digestive Support
The Goods
Gluten Free Oats
Banana
Coconut
Dates
Vegan Chocolate Chips
Maple Syrup
Pea Protein
Cocoa
Non-Alcoholic Vanilla
Cinnamon
Chia Seeds*
Superfood Highlights
Gluten Free Oats
Oats are among the healthiest grains on earth. They're a gluten-free whole grain and a great source of important vitamins, minerals, fibre, and antioxidants. Oats are high in the soluble fibre, which offer numerous health benefits. Studies show that oats can help reduce cholesterol and stabilize of blood sugar levels promotes healthy gut bacteria and increases feelings of fullness.
Coconut
Coconuts contain significant amounts of fat, but unlike other nuts, they provide fat that is mostly in the form of medium chain saturated fatty acids (MCFAs) in particular, one called lauric acid. Lauric acid in the body is a powerful antiviral, antifungal and antibacterial. Adding a moderate amount of coconut-derived foods in your diet may help protect the body from infections and viruses.
Cinnamon
This delicious spice helps your body fight infections and repair tissue damage. One unique quality of cinnamon is that it decreases the amount of sugar that enters your bloodstream after a meal, bye-bye blood sugar spikes!
Chia Seeds*
Despite their small size, chia seeds are one of the most nutritious dense foods. They're loaded with fiber, protein, omega-3 fatty acids and various micronutrients. Great news for those who don't consume dairy - gram for gram, the calcium content in chia seeds is higher than most dairy products. As a result, chia seeds may be considered an excellent source of calcium for people who don't eat dairy.
Nutrition Facts

How To Soak
Step 1 Fill your oats cup ¾ of the way to the top with your liquid of choice
Step 2 Give your delicious oats a stir and pop the lid back on before placing in the fridge to soak overnight
Step 3 Take your overnight oats out of the fridge, give everything a stir and enjoy cold!
How To Heat
Step 1 Fill your oats cup ¾ of the way to the top with your liquid of choice and stir
Step 2 Pour all the good stuff into a saucepan or microwave friendly bowl and heat for 3-6 minutes, stirring halfway until ready
Step 3 Stir well, pour back into cup and enjoy!
Reviews
Overall Rating: 4.7/5
based on 700 reviews
aaaaa
Alicia A
July 4, 2020
Favorite
This is my second favorited !
aaaaa
Aimee M
July 4, 2020
Liked it but didn't love it
I didn't enjoy the bowls as much as I had hoped
aaaaa
Jessica M
Verified
July 4, 2020
Love this one
A great combo for overnight oats
aaaaa
Kortney K
Verified
July 3, 2020
Love it
definitely ordering more!
aaaaa
Kayla W
Verified
July 2, 2020
Delicious!
Very filling and you can really taste the banana and chocolate combo. Yummy!
aaaaa
Amber A
Verified
July 2, 2020
Chocolate Dream
I loved the chocolate flavours in this bowl, but wasn't really a fan of the bananas. I had eaten it warm and they got very mushy, I would suggest eating this one only as overnight oats.
aaaaa
Audra B
Verified
July 2, 2020
Yummmmy
Love the chocolate chips for a extra treat
aaaaa
Cheryl G
Verified
July 2, 2020
Delicious
The perfect amount of sweetness
aaaaa
Christin L
Verified
June 30, 2020
Flavorful punch
This bowl has a lot of flavor and can be blended into a smoothie also.
aaaaa
Alexandra P
Verified
June 30, 2020
Goo oatmeal but could absorb better
Wish this oatmeal absorbed more liquid but the flavour was good
More Reviews