Banana Nut
4.4
8 reviews
Nothing better than banana and chocolate – without the guilt! This filling breakfast has all the good stuff your body craves. Get that kick of protein from fava beans, too! Toast and coffee is boring! It's time to kick it up a notch without the added work – we take care of all of that for you. #OatstandingMornings
The Goods
Whole Grain Gluten Free Oats
Chia Seeds
Coconut
Fava Bean Powder
Banana
Medjool Dates
Cocoa Powder
Ceylon Cinnamon
Vegan Chocolate Chips
Maple Syrup
Vanilla Extract (non-alcoholic)
Himalayan Salt
Nutrition Facts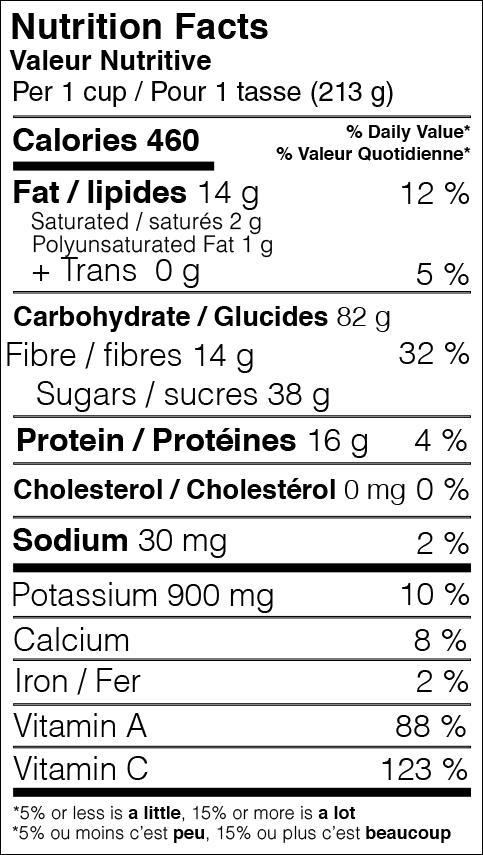 How To Soak
Step 1 Fill your oats cup ¾ of the way to the top with your liquid of choice
Step 2 Give your delicious oats a stir and pop the lid back on before placing in the fridge to soak overnight
Step 3 Take your overnight oats out of the fridge, give everything a stir and enjoy cold!
How To Heat
Step 1 Fill your oats cup ¾ of the way to the top with your liquid of choice and stir
Step 2 Pour all the good stuff into a saucepan or microwave friendly bowl and heat for 3-6 minutes, stirring halfway until ready
Step 3 Stir well, pour back into cup and enjoy!
Reviews
Overall Rating: 4.4/5
based on 8 reviews
aaaaa
Nisa G
Verified
September 3, 2019
Amazing
Ok. I never write reviews but I had to after seeing some of these. This is sweet but no more sweet than eating pancake or toast with jam for breakfast. I actually find it less sweet than the other cups.
The size isnt big but it's good. I'm mind blown that people have said they can only eat half. They must have the stomach of a chihuahua haha. I'm a petite thin girl in her 20s and I devoure a cup and feel satisfied until lunch but I would never say stuffed or even full full.
I've pretty much been eating it everyday. I will say my only complaint is that there doesn't seem to be a set amount of ingredients in each cup.
Sometimes there's more product and sometimes less which definetly impacts how much almond milk I put (the recommend 3/4 cups works perfectly for some cups and ends up as soup for others so you really have to judge based on the product you're seeing)
Also some cups will have more choco chips etc (which I love)
So the consistency from cup to cup- from someone eating it every morning- is definetly variable
Overall, still 5 stars because it's great, fresh, convenient, tasty and well priced
aaaaa
Jolene B
Verified
August 13, 2019
so much chocolate
this was too sweet for breakfast but would be a great option when you are craving something thats not good for you!
aaaaa
Marie-Soleil S
Verified
July 21, 2019
One of my faves
This one is pretty good! The bananas are a little too ripe tho, it makes a funny texture sometimes. Taste is great.
aaaaa
Jinghan Z
Verified
June 24, 2019
Super tasty!
Perfect to have in the morning, easily prepared. Very filling and tastes amazing. Great booster.
aaaaa
Chelsea C
Verified
June 10, 2019
Like chocolate cake!
This was very decadent, and more like a dessert to me than a breakfast! Probably perfect for those with a sweet tooth. A little too sweet for me.
Tips:
Made as overnight oats with (unsweetened) vanilla oat milk - I wouldn't want to add sweetened milk to this!
aaaaa
Brianne B
Verified
May 17, 2019
Good flavour bad texture
This bowl is delicious but it has the consistency of cake batter. It needs a little less cocoa because it is very dark.
Tips:
There is so much in this bowl that it is enough for two servings.
aaaaa
Kendra B
April 27, 2019
Too much Tumeric
This one was tough to drink.. I actually had to throw it out after a few sips as I just couldnt do it. I even had a coworker try and she agreed it was not great. I won't be ordering this flavour again, that's for sure.
aaaaa
Danielle F
Verified
April 11, 2019
Really Yummy
Love the sweetness of the maple syrup and the vegan chocolate chips!
Tips:
Even yummier when warm
aaaaa
Tess U
April 3, 2019
Needs Work
Too much chocolate, not enough banana or nut. Needs real nuts not just coconut
Tips:
I find adding walnuts and more oats helps otherwise it's too liquidy
aaaaa
Sasha P
Verified
March 30, 2019
Insert Drool Here.
Okay, so I've been a fan of overnight oats for years! I think they're are one of the best breakfast meals out there and pack so much good stuff in them! However, I rarely find the time and energy to make them - hello REVIVE! I absolutely love these. Just fill with liquid of choice the night before and voila - oats in the AM. Perfect for our busy life and my kids LOVE THEM TOO! Insert happy dance now! I can't wait for new flavours to be introduced!
Tips:
I like to top my oats with some fresh seasonal fruit :)